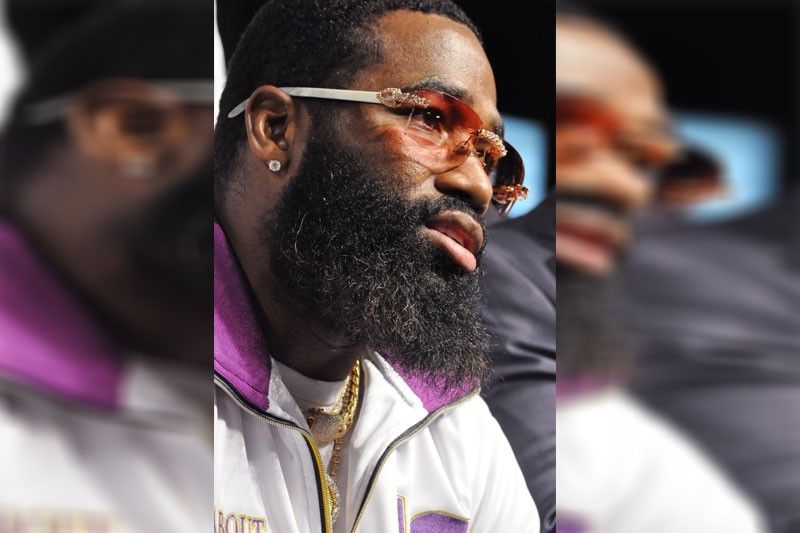 Adrien Broner
Abac Cordero
Adrien Broner told: 'Shave it off'
Abac Cordero
(The Philippine Star) - January 19, 2019 - 12:00am
LAS VEGAS – Team Pacquiao wants Adrien Broner to shave off his beard.
Nice and clean.
Manny Pacquiao's trainers, Buboy Fernandez and Freddie Roach, raised the issue Thursday before the Nevada State Athletic Commission.
Word is that Broner will comply.
"It will go," his trainer, Mike Cunningham, said.
Broner, who fights Manny Pacquiao on Saturday, has grown his beard so thick it almost covers half his face.
Under the rules, the NSAC shall determine whether a fighter's head or facial hair, fingernails or toenails "present any hazard to the safety" of his or her opponent or will interfere with the conduct of the contest.
Team Pacquiao believes so.
"It could be a strategy," said Fernandez, adding that Broner's beard may cause harm to Pacquiao's eyes when they get close to each other.
"Kapag natusok ang mata mo, paano na? (What happens if the hair pokes your eyes?)" said Fernandez.
Dr. Ed dela Vega, a Filipino orthodentist and cutman who provides Pacquiao with his customized mouthguards, aired his thoughts.
"For his own safety, Broner must shave," said Dela Vega.
"I look at it positively. If Broner suffers a cut in that area, it will be very difficult for his cutman to access the cut because of the beard," he said.
"Hindi mo makikita ang cut (You cannot see the cut," he added.
Twice before, Broner's beard had become an issue prior to a fight. On both occasions, he did climb the ring shaven.
MP Promotions head Joe Ramos said they would be happy if Broner at least trims his beard to a more comfortable length.
"We feel that it's a little bit long. But whether or not he has a beard, Manny will beat him," he said.
The beard has to go.