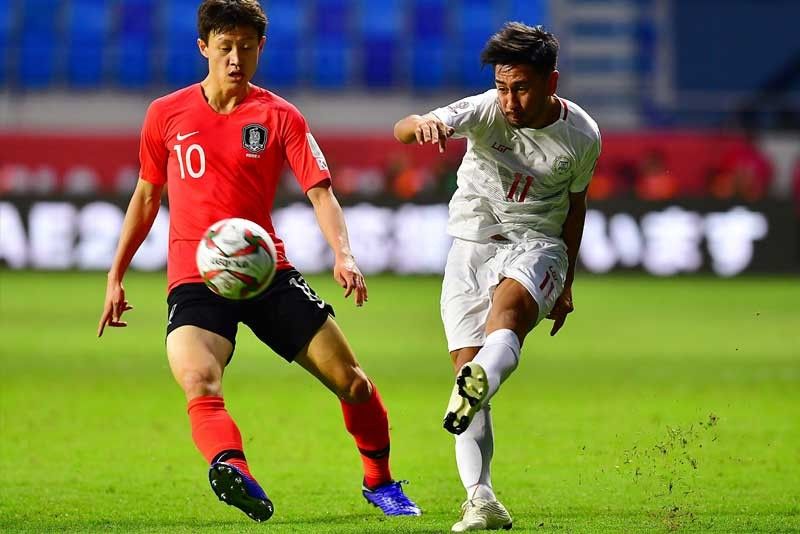 Daisuke Sato (right) fights for the ball during the 2019 AFC Asian Cup football game between Korea and Philippines at the al-Maktoum stadium in Dubai.
AFP
Coach lauds Azkals' tough stand vs Korea
Olmin Leyba
(The Philippine Star) - January 9, 2019 - 12:00am
MANILA, Philippines — On record it was a 0-1 setback to Korea Republic but for the debuting underdog Philippine Azkals, the gutsy stand against one of the title favorites in the AFC Asian Cup sure felt like a confidence-building victory.
"I'm proud of the team that went out there. We stood up to them," said Azkals coach Sven Goran Eriksson, whose brave wards held the mighty Taeguk Warriors to a scoreless stalemate until the 67th minute when Hwang Ui-jo blasted home the winner for the 2015 runners-up.
The Koreans, who famously upset holder Germany in the last Fifa World Cup and won gold at the 2018 Asian Games, enjoyed a dominant possession rate of 82 percent but the resolute defense of Phl anchored on Alvaro Silva and keeper Michael Falkesgaard held them to five shots on target out of their 12 total.
Despite having only 18 percent of possession – the lowest in the Continental showpiece since 2011 – the Azkals managed to pose some threat on counter-attacks with frontman Javi Patino firing two shots on-target, one off and one blocked and Silva, Manny Ott and Iain Ramsay also sneaking in an attempt each, albeit off the mark.
"I think we showed here that this country can play good football. They (Korea) had the ball much more than we had but we did a lot of good things defensively and created chances and with a little bit of luck, we could have gotten a different result," said Eriksson.
Foiling forecasts of an easy Korea win augurs well for the Filipinos' spirits and mindset heading into the next two Group C games against China (Jan. 11) and Kyrgyz Republic (Jan. 16).
"We surprised everyone with the performance tonight (Monday)," skipper Stephan Schrock was quoted by the AFC website. "We have confidence, that's why we qualified in the first place and we believe always in ourselves to upset someone and be annoying to other teams."
"We played one of the best teams in the tournament and we created chances against them and that gives us hope in our next two games to do better," said Eriksson. "Even if we lost, the confidence was high. I spoke to the players and the mood was good. They know we did a good job. The future, hopefully, is good."