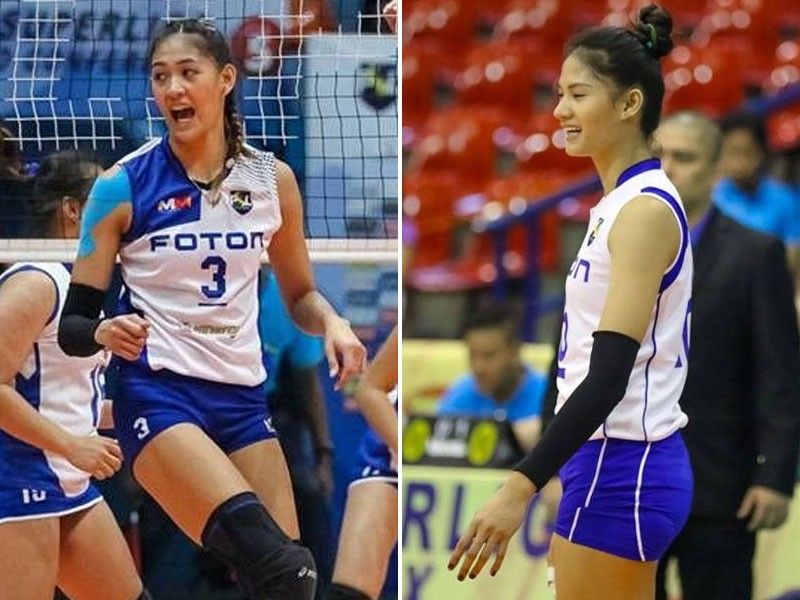 Sisters Jaja Santiago and Dindin Santiago-Manabat
Philippine Superliga/Roman Prospero
Foton upbeat on PSL bid even sans Jaja, Dindin
MANILA, Philippines – The absence of Jaja Santiago and Dindin Manabat would hardly affect the campaign of Foton in the Philippine Superliga All-Filipino Conference starting October 30 at the Filoil Flying V Centre in San Juan.
Foton team manager Diane Santiago said their frontline remains solid despite losing the towering Santiago sisters, who opted to bring their talent to the prestigious V.Premier League of Japan.
Diane said Maika Ortiz, CJ Rosario, Gen Casugod and Bea de Leon would all return to man the middle of the Tornadoes.
De Leon, who reportedly signed a lucrative two-year deal with the Tornadoes last June, is confirmed to see action despite campaigning for Ateneo-Motolite in the Premier Volleyball League.
"We don't see any conflict; Foton is her club team while Ateneo is her university team," said Diane, the amiable sister of Santiago and Manabat.
"And besides, the league allows a player to play in the other league provided that she plays for her university team. So we don't see any conflict there."
Aside from their towering frontline, the Tornadoes will also parade a new coach in Aaron Velez, who replaced Rommel Abella following a lackluster performance in the Invitational Conference.
Diane said "so far, so good" as far as Velez is concerned.
"He knows that this is already the club level so he's treating the girls with a mixture of being strict and being loose."
"He has an entirely different coaching approach so we're looking forward to having him produce good result."
The Tornadoes will formally announce its complete lineup in the press conference and general technical meeting on Thursday.