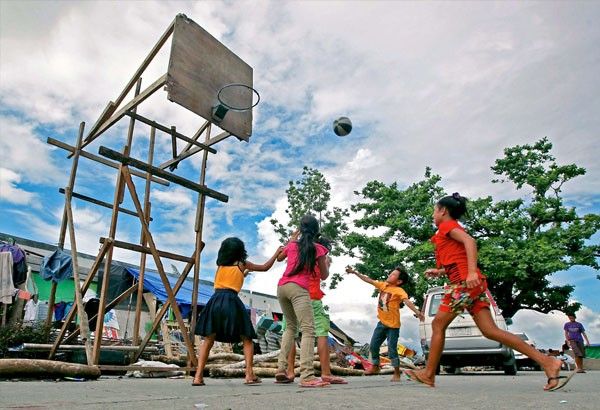 The PBA gave gifts to street children and drew cheers in a street court in Marikina and in three nearby barangay courts Thursday to kick off its new outreach program that brings the league stars closer to the fans. Ernie Peñaredondo/Philstar.com/File Photo
PBA reaches out to barangay youths
MANILA, Philippines — The PBA launched its new outreach program that effectively reaches out to the youth with PBA top players and a legend playing ball with barefoot ballers in barangay courts.
The PBA gave gifts to street children and drew cheers in a street court in Marikina and in three nearby barangay courts Thursday to kick off its new outreach program that brings the league stars closer to the fans.
Rain or Shine's Beau Belga, Magnolia's Rodney Brondial and cage legend Benjie Paras led the PBA group in the initial sortie of the "PBA Homecourt" program introduced by league officer-in-charge Willie Marcial.
"We made several kids very happy. We gave them that great feeling of being with the PBA players," said Marcial.
The PBA group gave away gift packs, pins and balls in their unannounced visits in the playing courts in Barangay Marilag in Quezon City and Barangays Jesus dela Peña and Tanong in Marikina.
"We also dropped by a street court where kids were playing barefoot. We saw in their eyes their great surprise as Beau Belga, Rodney Brondial and Benjie Paras joined them in shooting the ball," said Marcial.
"The kids and we in the PBA had great fun. We'll continue this program until I'm the PBA officer in charge," Marcial added.
Marcial said they would do the same in the PBA road games.
"If we pass by a basketball court with kids playing, we'll stop by and bring goodwill," Marcial said.
The plan is to make the sortie at least thrice a month to reach out to the fans and promote the game.
"Tinanong ko nga si Beau, kung nung bata ka nadalaw kayo sa court ni Robert Jaworski, ano mararamdamam mo? For sure, great feeling," said Marcial. "That's what we want to bring to the kids in our barangays."