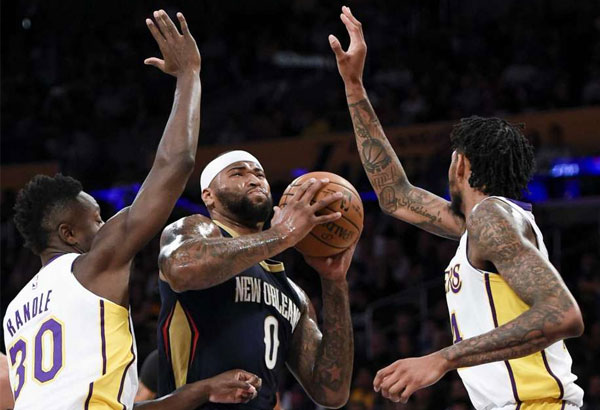 New Orleans Pelicans center DeMarcus Cousins, center, drives the ball between Los Angeles Lakers forward Julius Randle, left, and guard Brandon Ingram during the first half of an NBA basketball game in Los Angeles, Sunday, Oct. 22, 2017. | AP Photo/Kelvin Kuo
Pelicans hold off huge Lakers rally for first win
(Associated Press) - October 23, 2017 - 6:09am
LOS ANGELES — The New Orleans Pelicans were watching another double-digit lead evaporate, with the Los Angeles Lakers using a furious 27-4 run to take a five-point lead.
This time, the Pelicans were ready for the challenge.
They answered with an 11-0 run of their own to beat the Lakers 119-112 on Sunday night (Monday Manila time) for their first victory of the season.
"We have to stop letting off the gas when we have big leads," New Orleans center DeMarcus Cousins said. "This is something we've done the previous two games and we're trying to stop it on the fly."
The Pelicans (1-2) were able to ward off the challenge from the Lakers (1-2) behind 27 points and 17 rebounds from Anthony Davis, and 22 points and 11 rebounds from Cousins.
"We started off the game playing well," said Pelicans coach Alvin Gentry, who earned his 400th career victory. "Then in the third quarter, our transition defense just wasn't good."
The Lakers' late rally was led by reserves. Jordan Clarkson topped Los Angeles with 24 points, while Kyle Kuzma added 20 points to match guard Kentavious Caldwell-Pope.
Lakers prized rookie Lonzo Ball struggled with his shot (3 of 13) and finished with just eight points, but did contribute 13 assists and eight rebounds.
"I like Lonzo's aggressiveness, he just didn't make shots," Lakers coach Luke Walton said.
The Lakers missed their first eight shots of the game, falling behind by double digits early. New Orleans went up by as many as 22 in the second quarter and was still ahead 94-74 when the Lakers went on their run.
Clarkson and Kuzma scored the last nine points of the third, and then with reserves Julius Randle and Josh Hart aiding the comeback, outscored the Pelicans 18-4 to open the final period.
"We let them back in the game, and that's on us, but we kept fighting," Davis said.
New Orleans trailed 110-106 with 4:46 to play when it answered with its 11-0 run. E'Twaun Moore (19 points) and Cousins sparked the comeback, with Jameer Nelson — just signed Sunday — hitting a key 3-pointer.
"I think he already earned his contract," Gentry said. "He made the biggest shot of the night."