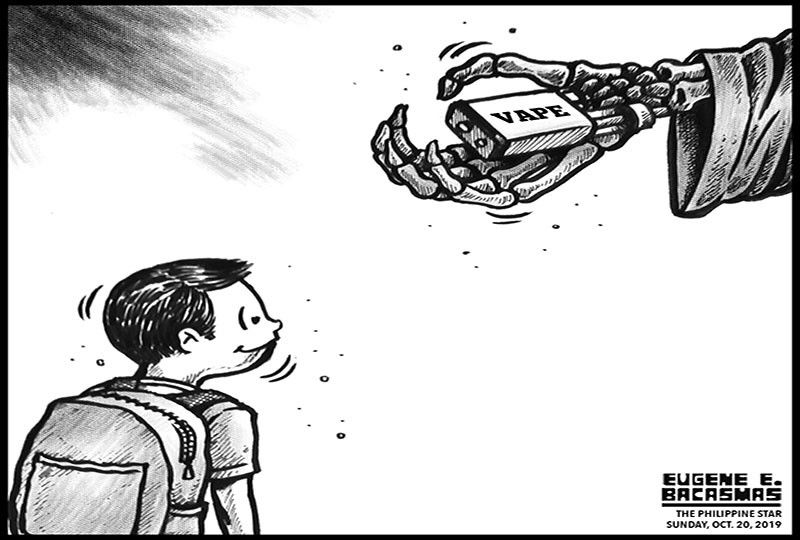 EDITORIAL - Regulating e-cigarettes
(The Philippine Star) - October 20, 2019 - 12:00am
From 26 deaths related to vaping recorded just last week in the United States, the number has risen to 33, the US Centers for Disease Control and Prevention reported on Oct. 17. The total number of cases also jumped from 1,300 last week to 1,479, with about 80 percent occurring among people under age 35, the CDC reported.
The deaths from respiratory illnesses have led to state-wide vaping bans in California, Hawaii, New Jersey, New York and several other areas, with limited bans also in place in other states as the Trump administration considers banning flavored electronic cigarettes from the US market.
The US Food and Drug Administration has been regulating e-cigarettes as tobacco products since August 2016, and has also banned their sale to minors. In contrast, the Philippine FDA, which is under the Department of Health, has been stopped by a Pasig trial court from regulating the manufacture, distribution and use of Electronic Nicotine Delivery System or ENDS gadgets, known as vapes or e-cigarettes. In response, the DOH has said it would continue its campaign to warn the public about the harmful effects of e-cigarettes.
The DOH is also considering the inclusion of e-cigarettes in the nationwide ban on smoking in public places. While experts are still determining the specific substance that caused the deaths in the US, the common element is that all the fatalities engaged in vaping. Certain chemicals in e-cigarettes are being eyed as possible culprits. The DOH is warning e-cigarette users of asthma attacks, allergic reactions, breathing difficulties and irreversible destruction of lung tissue. Nerve paralysis has also been reported in some vaping cases.
There are already about 150 e-cigarette retailers and manufacturers registered with the FDA. Several vape products come in flavors that US regulators say are meant to lure youths. The World Health Organization had recommended as early as August 2016 to ban e-cigarettes in indoor areas where regular tobacco products are banned.
The world is moving rapidly to regulate what is increasingly seen as a product that poses serious risks to health. With e-cigarettes now widely available in the Philippines, the country should not be moving in the opposite direction.