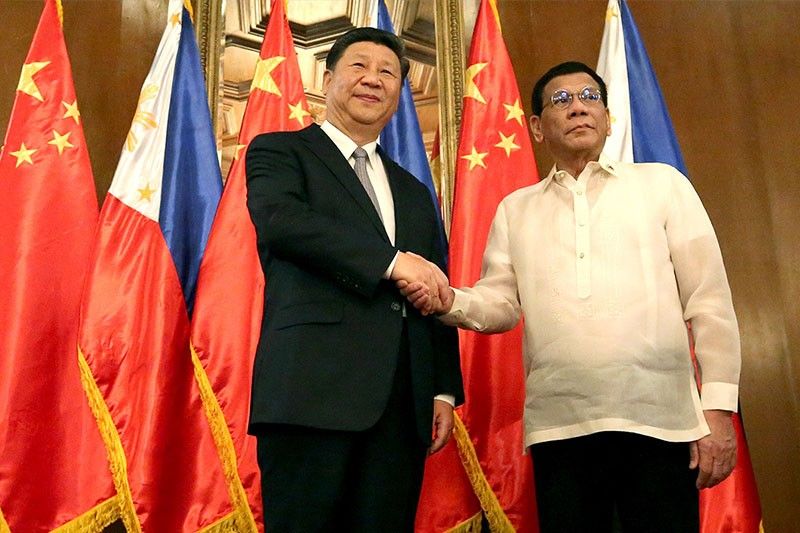 In this Nov. 20, 2018 photo, President Rodrigo Duterte and Chinese President Xi Jinping pose for a photo prior to their expanded bilateral meeting at the Malacañan Palace.
Presidential Photo/Richard Madelo
We need to stop putting China first
INTROSPECTIVE
-
Tony Katigbak
(The Philippine Star) - June 25, 2019 - 12:00am
Despite the fact that many have tried to spin the maritime incident involving Chinese fishing vessel Yuemaobinyu 42212 ramming Filipino fishing boat Gem-Ver 1 near Recto Bank in the West Philippine Sea – the issue still won't fade into the night. And rightfully so. Even as I commended the president for trying to take a diplomatic tack when it came to addressing the maritime incident with the Chinese, I still think he needs to consider both the Filipinos involved in the sinking and the Philippines in general.
First of all – I believe he waited too long before finally making a statement. I understand wanting to get all the facts right before saying anything (something that President Duterte doesn't normally do actually), but a week to respond to an international incident is far too long. How will Filipinos believe that the president truly has our backs when he makes it seem that a calculated response is more important to him than the welfare of his own people? I'm sure the many that expected the president to jump right into the arena and defend us were severely disappointed.
While it is true, as I mentioned in my previous column, that we have a business relationship with China and while it is also true that it is probably not in our best interest to get on their bad side, the government can't always put China ahead of our own people simply because we fear angering them or losing their support. At some point you need to protect the country and our rights too. If we don't it will just be more of the same – China believing they can get away with anything because all we do is let them.
There are a lot of questions that need to be asked and people that need to be held accountable for the maritime incident. This was no "accident" as the President said following the Chinese line that is wasn't as big a deal as people were making it out to be. And while incidents like this may happen more often than we know when it comes to fishing boats in the open sea, it doesn't mean we should care less or we should just shrug our shoulders and think "Oh well, these things happen." Especially in the wake of a pattern of Chinese militia harassing the fishing boats of their neighbors.
Probes into the sinking should not just include who was at fault or what level of responsibility they need to take for their actions, but should also include what the Chinese vessel was doing in the Philippines' Exclusive Economic Zone in the first place. As I mentioned previously, had the tables been turned and we rammed a Chinese vessel and abandoned their crew for dead in their own territory, I'm 100 percent sure the story would be extremely different. Heck if we rammed them in our own territory it would be different.
I still feel the same as I did last week when I said the president's cautious approach, although somewhat disappointing for many, makes sense. However, as the situation has developed and grown it has become increasingly clear that he is towing the Chinese line when it comes to how he is handling the situation.
Over the weekend it was said that the Philippines agreed to a joint investigation of the incident. I don't think this is a good idea . The Chinese are well within their rights to hold their investigation. In fact they should. Their findings can be used to help defend their people should the time come that they be held accountable for their actions. However, they should not expect – much more demand – that the Philippines does a joint investigation with them. After all, this happened in our jurisdiction and we should not allow outside influence on the investigation we need to conduct for ourselves.
What's more – perhaps just having the Philippines and China conduct the investigation is not enough. Vice President Leni Robredo spoke strongly about asking a third non-biased party to join in the investigation as well to help get to the truth. I think this is a good idea and can provide a non-biased report of the incident based on all the evidence and individual accounts. Honestly, if China truly believes they did nothing wrong then they have nothing to hide.
At the end of the day, while we should keep things respectful and peaceful between the Philippines and China, we can't allow them to impinge on our sovereignty within our own jurisdiction. Should this incident just get swept under the rug – like many others – then we are slowly giving them more and more power of us and this should not be the case. We should take a page from Hong Kong's book. When they felt China stepped over the line – they weren't afraid to let them know.
* * *
The United States needs to find a better way to handle its problem of undocumented asylum seekers – most especially the children. Those detention facilities have once again come under fire not being "safe or sanitary" for the kids there – who have already been separated from their parents. Reports have shown that they are made to sleep in extremely tight quarters on a cold cement floor with aluminum foil "blankets" and no basic toiletries like toothbrushes or soap.
While they are not the first to utilize detainment and these centers, the Trump administration was in court for the bad conditions these detainment centers were in and took a severe beating from US circuit court judges who could not believe that they were being told that the children do not need soap or beds. Senior US circuit judge A Wallace Tashima said "If you don't have a toothbrush, if you don't have soap, if you don't have a blanket – it's not safe and sanitary. Wouldn't everybody agree to that?"
Apparently not – as the representative of the administration Sarah Fabian, a lawyer for the Justice Department, tried to argue the semantics of what "safe and sanitary" actually meant claiming that the stipulations for such were never fully enumerated. Her argument was so ludicrous that the judges could barely believe what they were hearing and honestly neither could I. I understand that the US feels they need to manage their burgeoning illegal immigrant problem – but this throwback to concentration camps is hardly the way to do it.