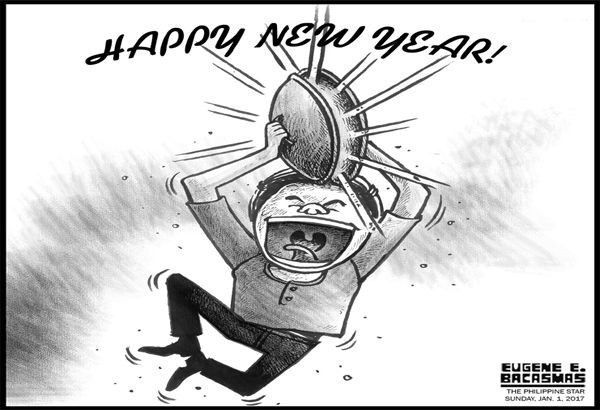 EDITORIAL - Looking ahead
(The Philippine Star) - January 1, 2017 - 12:00am
After looking back and bidding 2016 goodbye, we look ahead, to a year that promises daunting challenges. Drug-related deaths will continue to dominate national events, with battle lines already drawn between the forces for and against the mass killings. The battle threatens to distract the national leadership from the numerous problems plaguing the country.
There are roads and bridges to be built, airports and seaports to be upgraded, telecommunications services to be improved, transport facilities to be expanded and modernized. Health care and public education still have a wide room for improvement.
While economic growth has been sustained, it has yet to be inclusive. Some 40 million Filipinos live below the poverty line. The nation is near the bottom among the members of the Association of Southeast Asian Nations in terms of many economic and human development indicators. We trail many of our neighbors in terms of competitiveness, ease of doing business, tourism, agricultural output, manufacturing and levels of foreign direct investment. Measures to confront climate change need urgent attention.
The year will open with the nation hosting the Miss Universe pageant, followed by events leading up to the annual summit of the Association of Southeast Asian Nations. For these events the nation must put its best foot forward, serving as gracious host.
In Metro Manila, the traffic mess calls for long-term measures particularly in improving mass transport facilities. But there are certain actions that can be quickly undertaken to ease traffic flow, with no need for emergency powers, such as ending the passenger quota system for public utility vehicle drivers and the opening of more roads in government compounds and private subdivisions.
In terms of public safety, while police officials claim a general drop in criminality, the homicide rate is significantly up, and a survey showed a majority of people fearing for their safety because of the bloody war on the drug menace. In Mindanao, the Abu Sayyaf continues to earn a fortune from kidnapping and pillaging, while the newly formed Maute group is sowing terror.
The nation cannot afford to have these matters sidelined by the efforts in Congress to restore capital punishment and amend the Constitution to shift to a federal form of government.
A survey showed a record-high 95 percent of Filipinos again looking forward to the new year with hope. The national leadership must not disappoint.
May you all have a joyous, prosperous New Year!