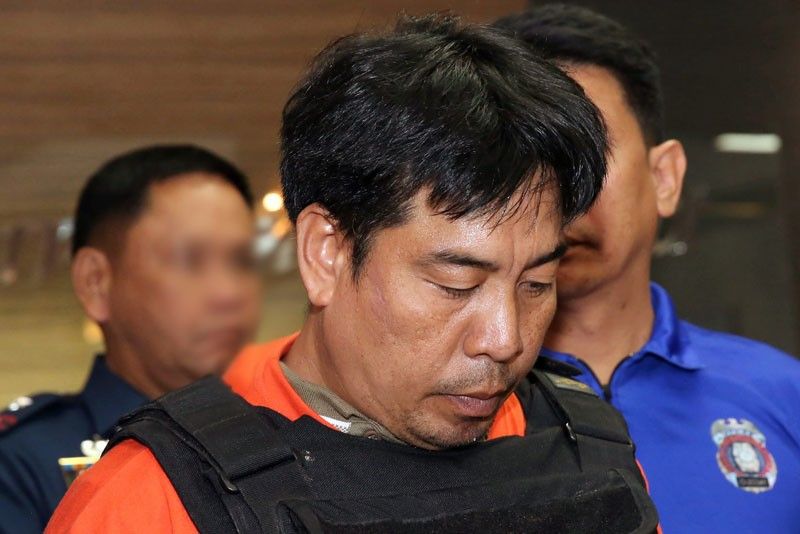 Subic trader's slay: Gunman held, brother tagged as mastermind
MANILA, Philippines — A brother of a prominent businessman killed at the Subic freeport last December has been tagged as the mastermind in his killing.
Philippine National Police (PNP) chief Director General Oscar Albayalde said the alleged gunman, Edgardo Luib, identified Dennis Sytin as the brains behind the killing of Dominic Sytin, chief executive officer and founder of United Auctioneers Inc. (UAI).
Albayalde said Luib, who was presented to the media yesterday, executed an extrajudicial confession that also tagged former UAI employee Ryan Rementilla.
Luib was arrested in Sto. Tomas, Batangas on Tuesday last week.
Police said three guns, one of which matched the bullet shells recovered at the crime scene, and a sachet of marijuana were recovered from Luib.
"From all indications, this high-profile murder of Dominic Lim Sytin was apparently motivated by rivalry among siblings and carried out through a... contract with a hitman," Albayalde told a press briefing at Camp Crame.
"With these smoking gun evidence, we now have an airtight case that we will file... against... Luib and all those who conspired for the hit job," he said.
Criminal Investigation and Detection Group chief Director Amador Corpus said the Sytin siblings had been at odds over how UAI is being run.
Corpus said Dominic kicked out Dennis from UAI in August 2015 after being accused of diverting funds to a new company that he set up.
Rementilla, who worked at UAI since 2001, was reportedly fired in August 2018 for alleged embezzlement of the earnings of the company worth around P1 million.
Luib claimed Rementilla and Dennis plotted Dominic's murder. He said he was promised P1 million in exchange for the killing, but received only P50,000.
Chief Superintendent Joel Napoleon Coronel, Central Luzon police director, said information about the gunman was provided by an informant after Sytin's family offered a reward of P1 million.
Dominic was shot in front of the Lighthouse Marina Resort Hotel. His driver Efren Espartero was seriously wounded when he tried to fight back.
'Innocent'
Meanwhile, Dennis denied any role in the killing of his brother.
"I receive with much sadness news reports linking me to the killing of my brother... I'm innocent. I did not nor did I have anything to do with the killing of my brother," Dennis said in a statement.
He said the allegations brought "great injustice" to him and his family.
Dennis said he cooperated in the investigation of the murder, adding that he is only being used as a "scapegoat."
"Those who are truly responsible for the crime are free and seemingly no longer the subject of an investigation," he lamented. – With Non Alquitran