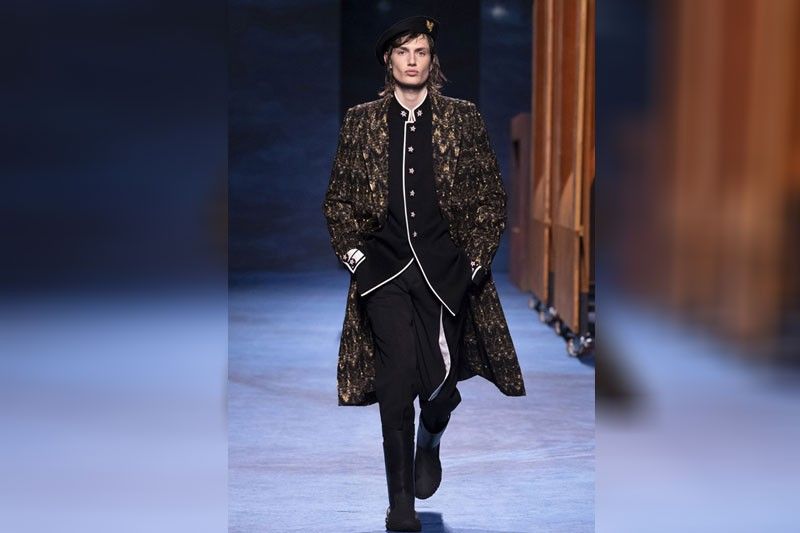 What will you be able to find in the new Dior store when it opens in Greenbelt by the end of June?
Spring/summer will still be on the racks by then, but fall/winter will come soon enough, and that's what Dior artistic director of menswear Kim Jones showed us on Friday.
Dressing up to step out feels like a big ceremony as quarantined weeks roll into months, into a year in two months, and Jones' collection is giving us the fantasy of being able to go all out.
Collaborating with Scottish artist Peter Doig for the clothes and accessories as well as the scenography inspired by Doig's masterpiece "Milky Way," his brush strokes are interpreted by the house's tradition of embroidery and embellishment. The collection features highly collectible pieces. One mohair sweater features Doig's painting of Christian Dior's dog Bobby. Another depicts Dior in the lion suit Pierre Cardin made for a fancy dress party in 1949. The artist's brush strokes were recreated in embroidery. His shadowy figures and landscapes were woven into outerwear, breathtakingly so in a coat duplicating "The Milky Way." Doig also sculpted a lion belt buckle, while another lion is hand-painted on a bowler hat. Doig's palette of dusty pinks and mauves, the sunset oranges and acidic yellows, the blues of a Caribbean dusk, and the deep green of tropical flora are pops of rich vivid color against Dior go-to colors of gray, camel and navy. It's a dream art-fashion collab where neither aesthetic is sacrificed for the other.
Something about the contrast of the pomp of ceremonial tail coats (based on the ceremonial tail-coated attire required of artists when they're inducted into the Academie des Beaux-Arts in Paris, with buttons adapted from a Christian Dior haute couture dress designed by Marc Bohan in 1960) and the structure and swagger of uniforms, grounded in the present by the side-striped tailored trousers executed in a slouchy '90s fit with accessories like a knit cap and gold and silver sneakers — the comfy with the dressy — reminds me of the unbeatable pandemic dressing duo of sweats and Zoom tops, but this one is made for showing off.
Down to the accessories like new iterations of the Saddle Bag, it's menswear that men actually want to wear. (And women, too.)
* * *
In the Philippines, Dior is at The Shoppes at Solaire.