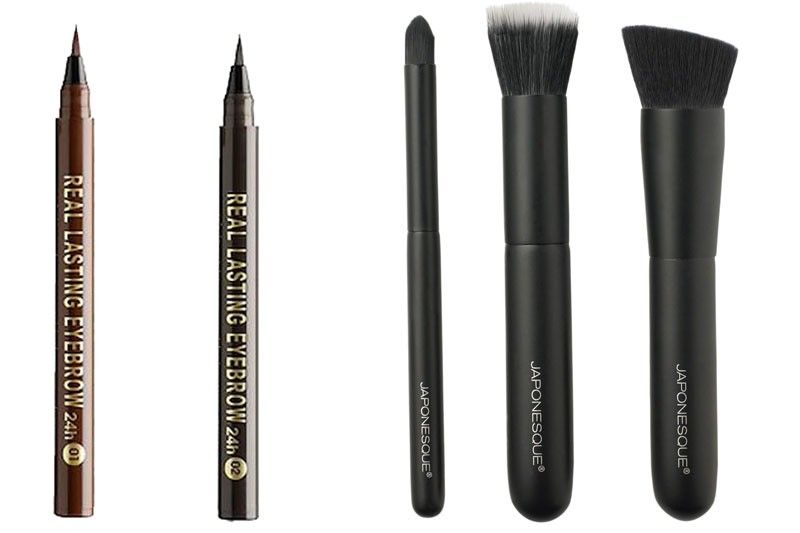 Beauty Bar's Japanese beauty bestsellers: KPalette brow pens and Japonesque brushes
The best of J-Beauty & K-Beauty at Beauty Bar
Has it really been 20 years? Two decades of dropping by Beauty Bar, checking out what's new. I remember me and my school friends chancing upon the very first Beauty Bar in Glorietta, a multi-brand concept store unlike any other at the time carrying cult favorites that we only read about in magazines. That was in October 1999. My first purchase was Japanese powdered oil blotting sheets.
"Not your mama's beauty store" is how a friend describes it, yet my mom and I bond at Beauty Bar. Ten years after it opened, Beauty Bar launched Dashing Diva, a nail salon housed in select branches. I like its efficient basic mani-pedis, while my mom luxuriates in two-hour massages and masques.
Beauty Bar launched its e-commerce arm in January 2011. In 2014, Beauty Bar revamped its concept and launched its flagship store in Central Square Mall. Two years later, complementing Dashing Diva, they opened Beauty Bar Plus hair salon. The latest milestone is Beauty Bar Pass, a tiered VIP rewards program.
I like how it's laid out and curated with a beauty girl in mind. When a hot new brand or formula comes up, Beauty Bar has it. So when the J-beauty and K-beauty wave started gaining momentum, Beauty Bar was already carrying the brands' bestsellers on its shelves.
What's the difference between the two? Both are "clean" before it became a beauty buzzword. Clean means no colorants, alcohol, parabens, artificial ingredients and animal ingredients.
I find that Japanese beauty tends to borrow methods from different disciplines in its artisanal history, and perfects it for modern beauty needs. There's also a focus on textures and a weightless finish for skincare.
On the other hand, Korean beauty, which gained global hype later in the game, changed the industry by making cost effective skincare out of food-grade products based on traditional Korean medicinal practices. Most products are soothing and plumping, "chok chok" in Korean.
While Western regimens focused on stripping by abrasive physical exfoliation or slathering with creams, their Eastern counterparts were all about balancing the pH, and then protecting it with softening, nurturing formulas. This approach means new steps — essences, waters, milks, strips and masks — never before included in Western routines that are now essential to regimens around the world. Over the years, I've found my picks at Beauty Bar.
Japanese Beauty
I discovered micellar water, back then an unfathomable concept, way before the beauty trend (typically attributed to the French) took over brands of every category, thanks to Koh Gen Do, which was first in Manila via Beauty Bar. Called Cleansing Spa Water, it's the most gentle of all makeup removers I've tried (and I have tried a lot), yet the most effective. It doesn't require rinsing or double-cleansing. I remember balking in disbelief at its claims at first and tested it on my waterproof mascara. With one swipe of a moderately saturated cotton pad, it was removed with no tugging and rubbing. It's been years, and I haven't found anything that comes close. My skin also feels more hydrated with every use, without leaving a sticky residue. It's formulated with the brand's signature Spa Blend Water: a blend of mineral-enriched hot spring water from Izumo, Betula platphylla japonica juice, and six herbal extracts. These days, I see celebrity makeup artists and A-list celebrities using the brand on their Insta stories — the Maifanshi Aqua Foundation in particular is a hit for its skin-like finish — and I get giddy knowing I had it first.
There's a saying among Filipina beauty fans: "Kilay is Life." Many products have come, some have gone, but none with the literal staying power of K-Palette's 1-Day Tattoo products. The brow inks are applied with a super-fine brush, like a calligraphy pen, with translucent ink so your brows are never too dark while also allowing you to draw hair-thin strokes. It's still one of the store's bestsellers to this day.
I purchased my first lash curler from Japonesque, after none of the available curlers in the market could lift and hold my short, straight lashes. The brand is inspired by Japanese makeup artists in Kabuki theater. I've since grown my Japonesque collection of their tiny brushes — a must for detailing around my small eyes.
Have you heard about the crazy foot peel, Baby Foot? It's a one-time-use plastic sock that you wear for a few minutes, allowing the proprietary 17 types of natural fruit acids in its formulation to soak in. A pack is sold every three seconds in Japan. Here in Manila, I recommend planning three to four days of your workweek around shoes that are closed all the way to your ankles because it will peel like crazy. With a high pH of 3.5, it's even been known to cure athlete's foot. Once the peeling is done, your feet will be flawless and baby-soft.
I wouldn't recommend the same approach for the face. For a milder peel, there's Cure. I see Korean brands adapting the same technique now, but Cure started it over 14 years ago. It's a clear gel that you rub to lift dead skin cells without being abrasive or exfoliating it chemically, lifting only what's ready to be removed. Now that all your pores are cleared, you're ready for the benefits of Hadabisei's collagen masks.
Korean Beauty
We can't all look like our favorite Korean celebrities, but we can try, and enjoy the soothing feel of most Korean skincare products while bingeing their latest dramas.
You can't talk about Korean skincare without bringing up CosRx. The brand is unique for being built on feedback from crowdsourcing in social media-savvy Korea. Because of this, it started three trends in K-beauty. First is the Acne Pimple Master Patch, which turns the Band-Aid approach on its head with hydrocolloid patches that promise to dry zits and whiteheads overnight. They even have an option that you can wear under makeup. Second is the Low Ph Good Morning Gel Cleanser, made for sensitive or sensitized skin. Third are its pre-soaked pads, like the One Step Moisture Up Pad and, my favorite, One Step Original Clear Pad, which delivers the right amount of acids.
Among all vitamin C products I've tried, Dear, klairs' Freshly Juiced Vitamin Drop has zero stinging and leaves me with no redness and irritation, only clearer skin. The entire Dear, Klairs line promises to contain only high-performing key ingredients at a reasonable price point.
Neogen distinguishes itself as a dermaceutical — dermatologist-grade cosmetics — but I find that it stands out with product formats that make for quick-and-easy application. They also have solution-soaked gauze pads. They have face-cleansing sticks. I love their new O2 Energy Power Serum Spray, which is infused with 80% Oxygen Water, gas-free. It's perfect for those who find they're always too tired to do their skincare. You just mist it on, and your skin gets an instant boost of moisture. Long term, it's meant to help improve the look of sagging skin.
The newest member in the Beauty Bar family is Benton, its name inspired by the movie The Curious Case of Benjamin Button. Leading character Benjamin is born as an old man and he becomes younger and younger as time goes by and ultimately dies as a newborn baby. You get the idea — it's an anti-aging-focused line. Its most popular product is the Snail Bee High Content Mask that works while you sleep. It features hydrating snail mucin, reparative bee venom, and soothing camellia sinensis leaf water and sh-Oligopeptide-1.
* * *
Beauty Bar is under Stores Specialists, Inc. with stores located at Alabang Town Center; Central Square in Bonifacio High Street Central; Eastwood; Estancia; Glorietta 2; Greenbelt 5; Lucky China Town; Robinson's Galleria, Magnolia, and Midtown; Marquee; SM Mall of Asia; Paseo de Sta. Rosa; Podium; Power Plant Mall in Rockwell; Shangri-La Plaza Mall; TriNoma; UP Town Center; and online at beautybar.com.ph. Follow @BeautyBarPH on Facebook or Instagram for updates.