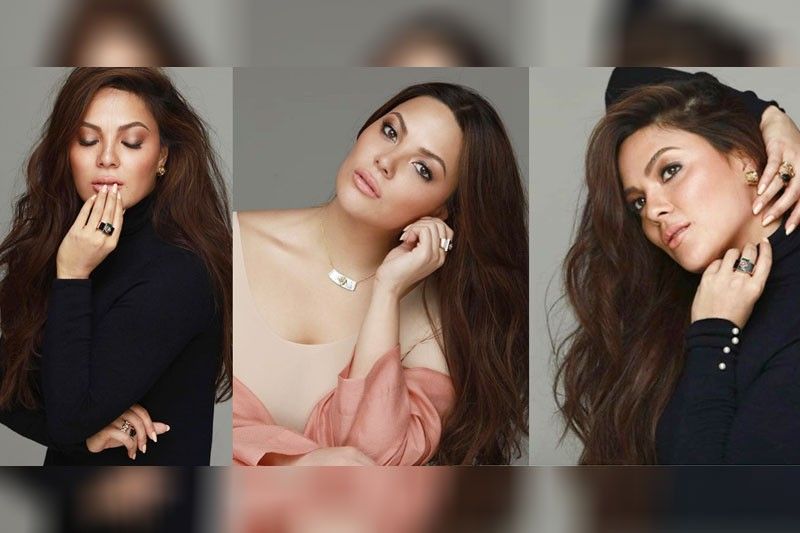 'That's why I called it 'Avec Moi by Kristina' — it's French for 'with me.' So if you have your own Avec Moi piece, when you pass it on, you will be with the receiver wherever they go.'
KC Concepcion comes back abloom with her own fine jewelry line
MANILA, Philippines — The photo wall is is literally a wall of lush, red roses. (8,000 blooms in total, according to an insider.) KC Concepcion, actress and now freshly-minted fine jewelry designer, arrives at the chichi Manila House wearing a Jot Losa "Rose dress," finished off with a pair of Sophia Webster Rosalind Crystal sandals. The dress is made of guipure, heavy lace that features bold, repeating roses, something Jot found during a trip abroad. He meant to make a festive frock out of it as a birthday gift for KC, but a 2:30 a.m. call had Jot scrambling to finish it now. His muse, in her preoccupation with the nitty gritty of her fine jewelry collection launch, totally forgot to think of what she was going to wear.
You see, Avec Moi by Kristina is not one of those celebrity projects where a star's only involvement is slapping his or her name onto a product, calling it a day, and waiting for the ROI to kick in. No. KC was there every step of the way: "From ideation to design, to finding the right craftsmen, to sitting at the ateliers, to packaging, to branding, to working with the right people for marketing, to merchandising, and pricing," she tells us, it was a "one-woman show."
In the past year, she has been quietly working on this cohesive collection inspired by the people, things and places that have helped define her: Her late, fabulous grandmother Elaine Cuneta; the rose, her favorite flower; and Paris, where KC lived for five, colorful years. The influence of her beloved Mamita informs everything—from the stone choices ("I particularly like onyx cause my lola's favorite color was black.") to the branding ("I always wear her rings because it feels like she's always with me. That's why I called it Avec Moi—it's French for 'with me.' So if you have your own Avec Moi piece, when you pass it on, you will be with the receiver wherever they go.") All pieces feature the queen of flowers, hand-drawn by KC and painstakingly hand carved by some of the best Philippine craftsmen. Her fascination with Paris and its architecture is manifested in the geometric shapes of the rings, earrings, and necklaces. Each one is labeled "1/1," with her signature "K," an artist's proof that signifies "no one else has the same piece as you." Diamonds, precious stones, 14K and 18K yellow, rose, and white gold—these intersect in KC's most personal project to date.
She found "excitement" in the design process, often sketching between 12 midnight and 5 a.m., sometimes with a glass of wine in hand, always with cohesiveness in mind. This is not her first foray into designing jewelry, but it's her first time creating objets meant to be sold. "I wear a lot of jewelry that I designed but I never say it," she reveals. "Suddenly, it's like, 'How do I put this in other people's hands? Where do I sell them? How do I price them?' I had to make calls one by one. I had to send emails. I feel like I went to business school in a year. I just learned so much."
Rather than expend her energy on fast-moving goods like makeup or clothes, she chose to focus on fine jewelry. Aside from her deep love for sparklers, she wanted to create something "timeless," investment pieces that appreciate — not depreciate — over the years. Avec Moi is a business, an expensive risk, but throughout this adventure, she decided to shut out the doubters. "It's so important for women, young women in their early 30s, to really think of what is the one thing you want to build from now on. And to just believe in your dreams," she stresses. "You need the right people around you. You cannot listen to (everyone's) opinions. The wrong people, they'll ruin it and you'll never finish anything."
In the middle of this intimate conversation, KC sits up straight and remembers an anecdote. "I have to admit something though," she says, with a sheepish smile. "I had to YouTube how to draw a rose," eliciting laughter from her audience.
For someone self-taught, for someone who got into the fine jewelry business armed with nothing but sheer passion and intuition, Avec Moi by Kristina is a sparkling success. As of press time, the entire Rose collection has been wiped out and bespoke private orders from as far as North America and Dubai are coming in. (She demurs when asked about pricing, but a little sleuthing reveals Avec Moi pieces retail for around US1,000 to US2,000 each.)
Not bad for a rose who had YouTube teach her "how to draw a rose."
* * *
Follow @alwaysavecmoi on Facebook, Twitter, and Instagram.