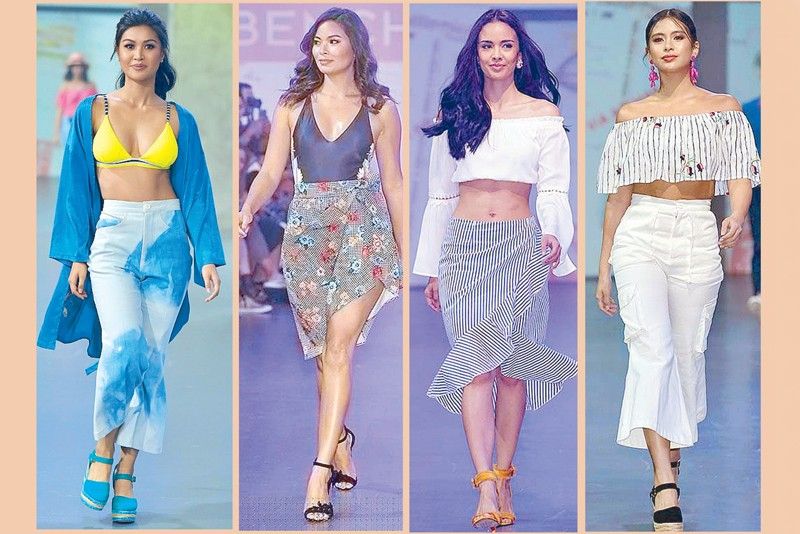 The best of Bench Fashion Week Spring/Summer 2018
(The Philippine Star) - March 16, 2018 - 12:00am
MANILA, Philippines — What an eventful 30 strong years it has been for Philippine retail giant Bench. In a celebratory mood all year round, Bench Fashion Week spring/summer 2018 was a three-day affair that looked to the future, highlighting local fashion's bests — true to Bench founder Ben Chan's campaign to #LoveLocal — along with the umbrella company's international franchises that affirm its global vision. More importantly, these are clothes in which you'll be creating some great memories, whatever your style or agenda.
The first day is all about romancing the dog days. The designer Vania Romoff opened Bench Fashion Week with her take on high summer, followed by Danish label Vero Moda, BFW newcomer British womenswear label Karen Millen, and our very own Kashieca.
Day two infuses summer with a jolt of youthful energy from American Eagle Outfitters and Human. Fresh off their Tokyo Fashion Week debut are the first Bench Design Awards 2017 winners Jenni Contreras of Problem, RJ Santos of Randolf Clothing and Jaggy Glarino of Jaggy.
A newcomer to BFW runways is multibrand concept store Assembly featuring brands like Paul Smith, Philosophy di Lorenzo Serafini and Axel Arigato, followed by the OG Bench for day three. Joey Samson closed BFW to the tune of Frank Ocean's take on Moon River with tailored-meets-sportswear detailing in genderless hybrids. (Learn more about the rekindled love from Samson himself on Page F-3.)
Known for launching — and validating — stars, BFW SS18 introduced new faces to watch out for. Miss World 2013 Megan Young leads a bevy of crowned beauties during the Bench show — a refreshing return to the runway for the erstwhile model — as she is welcomed to the Bench family. Nico Bolzico's sister Josefina is the latest brand ambassador to join Human's breed of edgy, cool kids.
The three-day affair always feels like a reunion among the growing Bench family and the brand's friends and family, but for the spring/summer edition, one took place on The Playground runway itself. Kashieca girls Liza Soberano, Kelsey Merritt and Carla Abella were joined by Kashieca girl (of 11 years!) Bea Alonzo — their first time together.
But what does this all mean for our spring/summer wardrobe refresh, especially now that we can shop the current runway collections in BFW's pop-up space at the Bench Flagship Store until March 25? YStyle presents the best of BFW. — Marbbie Tagabucba
Bench: Open paradise
Just in time for the heat wave that's slowly creeping in, Bench has released a collection that's geared towards the summer state of mind. In celebration of the season, the lineup features a side of tropical kitsch prints and vibrant hues that are seen on some of their more casual pieces. Not to be missed on the runway — or any Bench fashion show for that matter — are the floral-printed undies and one-piece bathing suits for the ladies, as well as the color-blocked swim trunks and flora-printed shirts for the men. Other pieces to look out for? Their collection of off-shoulder looks that can instantly give you that flirty flair for the summer. If there's one thing that Bench understands, it's how to make a statement in breezy ensembles. — Francine Gacrama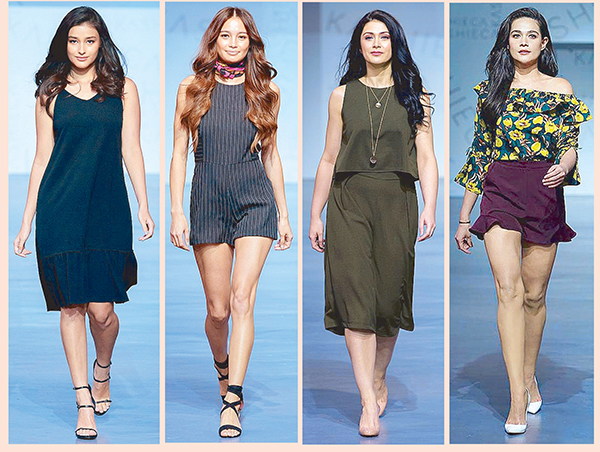 Kashieca: Dainty twists
There is a sense of joie de vivre in Kashieca's summertime presentation and it translates into the clothes: embroidered gingham tops are paired with floral print skirts, lilac shirtdresses are left unbuttoned in the middle to reveal olive green calf-length trousers, ruffled off-shoulder tops get even more frilly with flounced shorts, and sleeveless striped tops get a dainty twist with a lace full-midi skirt. It's a collection that doesn't shy away from color, pattern, print, texture — anything, really. Nothing uptight here, the pieces are made for ease of movement and, yes, maximum enjoyment. And the finale, where Kashieca endorsers Liza Soberano, Bea Alonzo, Kelsey Merritt and Carla Abellana grinned at each other as they walked the runway side by side, certainly proved that. In a word? Fun! — MJ Benitez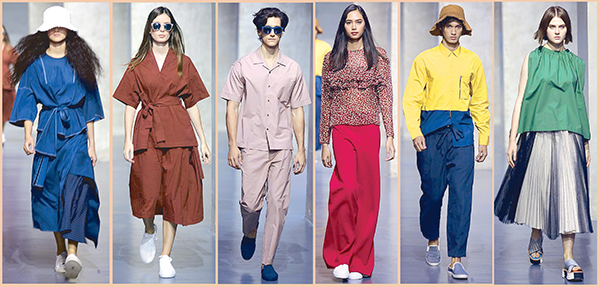 Assembly: Retail edit
International multi-brand concept Assembly presents the latest spring/summer collection of Italian fashion house Emilio Pucci, British brand Paul Smith and Assembly staple, Maison Mihara Yasuhiro. In line with this release, Assembly presents a new roster of brands for the season. Enter: P.L.C. New York, Minki London and Kindersalmon. The presentation showcased a monochromatic color palette focusing on deep tones, while a high-end street aesthetic inspired the silhouettes. Despite the more serious color palette that opened the show, an injection of vibrant patterned dresses and separates soon took over the runway. Talk about a carefully curated lineup. — FG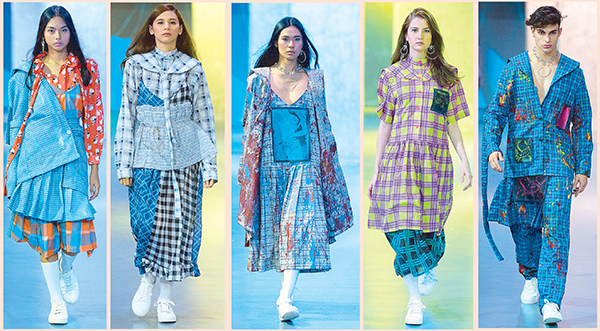 Pr()blem: Sailor soldiers
It was an "Afterskool" special at Pr()blem spring/summer 2018 as designer Jennifer Contreras gets creative with the simple conceit of "uniform dressing." Think schoolgirl checks and plaids, but dipped in acid hues; ecchi meets kawaii digital prints on frocks and jackets; laminated sweaters and disheveled layers held our interest, not to mention the BDSM-inspired jewelry. The total effect: punk corporate dressing meets not-safe-for-work motifs. — Martin Yambao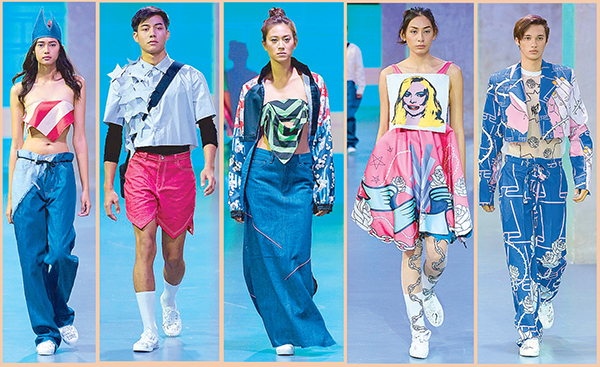 Randolf clothing: Prints charming
You can always see an innocuous sense of craft woven deep into RJ Santos' Randolf Clothing; sometimes naïve, sometimes evoking the image of someone hand-stitching and heat-pressing his pieces from start to finish. That charm wasn't lost on his most recent outing for Bench Fashion Week — titled "Take Me to Prom," it was '90s nostalgia on full display with handkerchief hems, larger-than-life denims and contemporary versions of the classic bandeau. The silk printed suit for his finale? Quintessential Randolf. — MY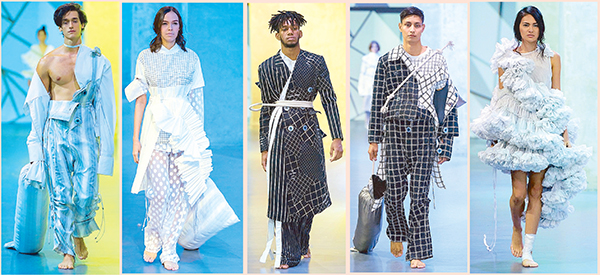 Jaggy: Dripping finesse
Since last year's winning-show at Bench Fashion Week 2017, designer Jaggy Glarino continues to bring the same level of technical finesse and material ingenuity for his spring capsule collection titled "Cuddle." Sending a coterie of sleepwalkers down the runway, his mien of reverse-engineered tailoring in outsize silhouettes walked the strip to a sensuous syrup-y soundtrack. Speaking about his mastery of his materials, observe: a slick patchwork trench cinched by a cord at the waist, wrapped around an obi-like pillow at the small of the model's back; not to mention an ambitious "cloud dress" confected from 40 yards of ruched bias-cut cotton shirting. Honestly, we're all still in awe at his pieces. Bravo. — MY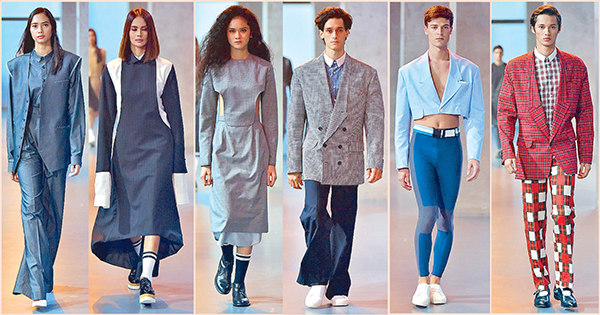 Joey Samson: Master tailor
Known for his audacious take on design and immaculate workmanship, Joey Samson rekindles his love affair with menswear — but with a twist. Think of it as a downplay on traditional suits with a bolder approach to proportion. This season, the designer mixed different elements while working with a slew of patterns: checks, plaid and stripes. Samson still kept true to his aesthetic by marrying his deconstructed silhouettes with elements of sportswear, which shows his versatility as a designer. Zero in on his craftsmanship and attention to detail and it's clear that his collection is anything but basic. — FG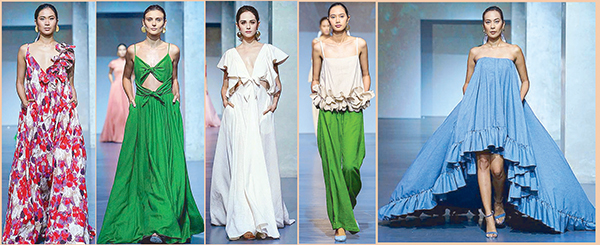 Vania Romoff: High summer
Designer Vania Romoff transports us to a dreamy, sun-soaked European setting this summer as she presents a collection that acts as both a form of escapism and romanticism. While her penchant for elegant, feminine styles is still reflected in her designs, the general feeling is distinctly more relaxed. From the roomy silhouettes and soft textures to a luxurious take on linen, each piece is thoughtfully crafted with the wearer in mind, acting as a sartorial reminder for us to just, well, breathe easy. Cases in point: a deep-V, wide-leg linen jumpsuit in khaki is belted to cinch the waist, the VR version of the little white dress is reworked with tiered fringes, and a strapless chambray dress gets a dramatic spin with ruffles and a floor-sweeping train. Ever the romantic, Romoff also incorporates flower motifs into her dresses, either appearing as hand-cut linen blooms perched atop netted column dresses or as vivid bouquet prints on ruffled gowns. On the beauty front, bronze lids, glossed lips and long ivory silk bows wrapped around low ponytails make a pretty statement without stealing attention away from the clothes. Deceptively simple, definitely beautiful. —MJB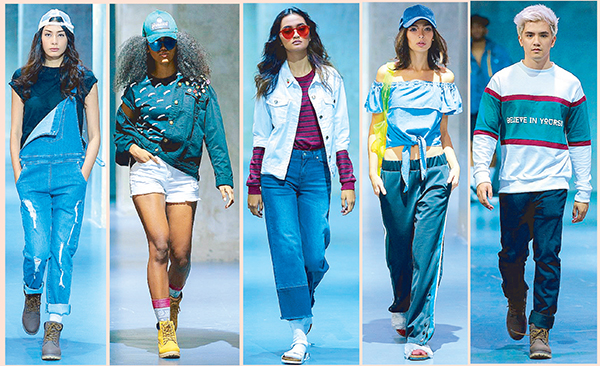 Human: Urban underground
Slogan tees, distressed denims, color-blocked knits and nostalgic rave motifs took the lead for Human's newest collection, super-charging their spring 2018 drops with urban sophistication. From slip-on sheathes segmented with a modern riff on ruffles to slinky knit tops hemmed with a lace bottom, it's the usual athleisure staples you expect from the local streetwear brand, but updated with a forward-looking edge. — MY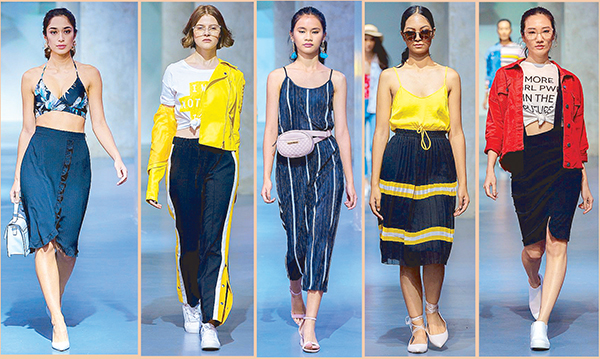 Vero moda: Cheek to cheek
Summer's looking mighty bright at Vero Moda, as the Denmark-born brand gets playful with color in their spring/summer collection. From crimson denim jackets and canary leather jackets to tangerine-tone ruffled dresses and navy pinstripe jumpsuits, standout hues take classic wardrobe staples into contemporary territory. Frills, pleats, lace, chiffon, and a smattering of floral prints also find their way into Vero Moda's latest wear, giving their more breezy, tropical weather-friendly offerings an ultra-feminine touch. Pastel pleated mini?
Check. Floral bikini? Check. Lace-trimmed puff sleeve blouse? Check, check, and check. — MB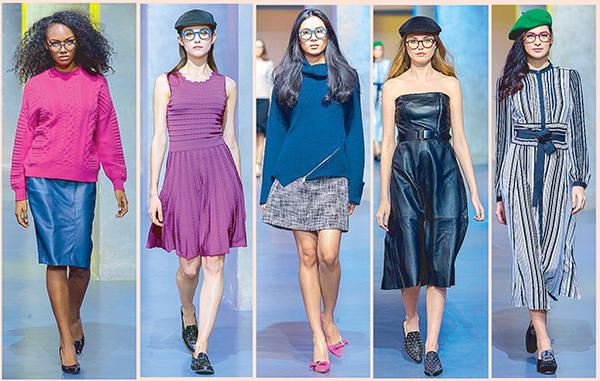 Karen millen: Ultra feminine
This season, London label Karen Millen makes leather and knit work for the summer by giving 'em a jovial dose of pattern and color. Observe: a cable knit sweater and leather pencil skirt pairing gets an exciting jolt with magenta and indigo hues; long-sleeved frocks earn their stripes; and a leather midi dress gives summertime dressing a decidedly edgy spin with a belted tube silhouette. Meanwhile, quirky accessories in the form of colored frames, newsboy caps, and forest green berets are thrown in the mix, lending the runway looks extra cheek. —MB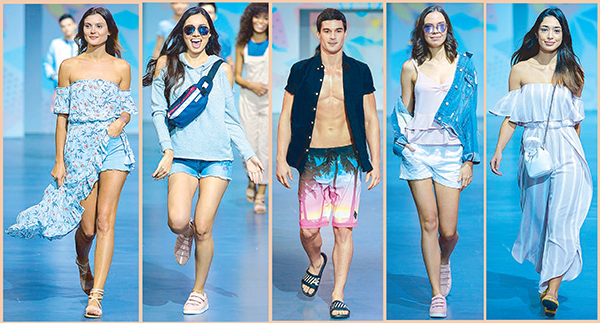 American Eagle Outfitters: Hot topic
It's summer in the tropics meets classic Americana for American Eagle Outfitters spring/summer 2018. The international retailer dresses down in warm-weather shapes in the most breathable of fabrics; poplin button downs, easy knit hoodies and casual denims round out the line up. Meanwhile, AEO ups the accessory game with leather cross-body slings, statement sunnies and beach-ready duffel bags. Our forecast? Your best dressed summer yet. — MY