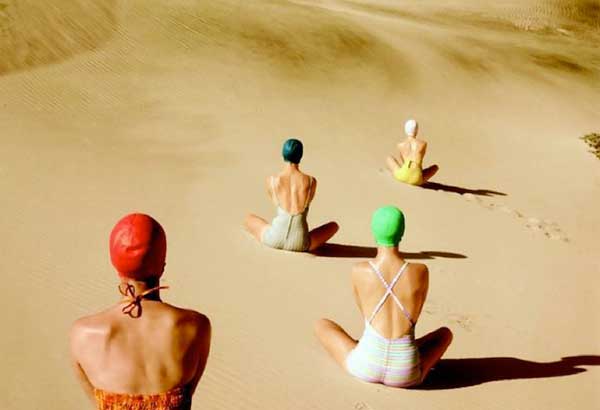 Something strange has been happening to me lately. For the first time in my life I have an active lifestyle, doing yoga each morning, cycling at night and learning to surf at the weekends. I've been making an effort to be mindful, to rest and practice self-care. I suddenly am really watching what I eat, giving up caffeine and soda, and maintaining a low-carb and low-sugar diet. I've been doing intermittent fasting for nearly a month now, eating only for eight hours from 12 noon to 8 p.m. and fasting the rest of the time. I've been setting intentions, did a moon ritual during Tuesday's solar eclipse, cleansing my home and myself with sage.
And so far I really, really feel good.
That said, it's so weird to feel a change happening to yourself. I'm shopping for rashguards and bra tops and sports sunblock instead of Vivienne Westwood and lipstick. I'm booking trips based on where the waves are good and choose weekend beach trips that leave at 4 a.m. over staying out in Time or 20:20 until 4 a.m. It's strange to set my alarm each morning to get to a hot yoga class on time, when I usually would start my day at noon. It's bizarre to no longer eat every two hours, and just have that self control to stop all food consumption when the clock strikes eight. Its odd to make sure to have a yoga mat, blocks and trainer fits in my suitcase, more than a few extra outfits.
My friends are beginning to take the piss, calling me Sports Mich and laughing at my antics. At Surfcuit, the intensive surfing training course I've been doing weekly with Paolo Soler's Philippine Surfing Academy, my pals who I dragged to do the course with me took instagram stories of me doing yoga before classes because they just thought it was hilarious. My friend Cecile looked at me in shock when I said I wanted to buy a Go Pro the other day, saying "You're so weird now!! Who are you and when did this happen??"
Oddly enough, I think, just like my move to become more active with my feminism, this whole attitude of mindfulness and self-care was a result of my pre-egg freezing anxiety. I wasn't allowed to have caffeine, sugar and alcohol. I had to manage my anxiety in ways that didn't involve partying or bingeing, plus my being solo meant that I had to find ways to deal with my emotions on my own. I learned to do yoga and meditate. I had to stop working myself to exhaustion each day, and even skipped a season at Fashion Week because I was advised to avoid anything stressful — and as a workaholic that thrived on being busy, that was definitely the hardest part. I took time to rest and slept properly.
Post-egg freezing, I went back to my old habits. I was back to having a few cups of coffee a day and indulging in sugary treats, slacking off with yoga and exercise, going out late and not sleeping well to stay up and work. Oddly enough, while it felt good to be back to being my old liberated self for a while, I had noticed that I was far more energetic and less sleepy when I didn't drink coffee. While I was mindful of health pre-egg freezing, my normally sickly self didn't even get a cold. I felt so much better when I did yoga daily than when I slept in all morning. So I made a conscious effort to go back to these habits I formed pre-freezing and stick to it.
I had expected it to be difficult, but it's funny how feeling the change and feeling good in your own skin is such a powerful motivator. I know it's early on, but I actually love going to yoga and am addicted to it, doing everything from hot, to flow, to my new favorite, yin. I love being active, something I had never thought I could be since I was in college and dancing. I love seeing the effect of my fast on my body (I've lost six pounds since I started three weeks ago) and the way my body is changing and how I don't even feel hungry during the fast hours is really motivating me to keep going. I like having this newfound confidence in trying new things that I thought I never had the stamina or balance to do. I love actually having a work-life balance — taking time for myself and for rest and realizing that being busy and overworking myself at the risk of my well-being isn't something I should consider a badge of honor.
I'm not trying to be preachy, but somehow, I, who never cared much about working out, mindfulness or self-care, suddenly find myself in this unfamiliar yet extremely great place of adapting to it. So if I, who never thought I could stay silent and sit still for 20 minutes, can change the pace of my life to take breaks and make time for my well-being, then I think that it's a possibility for everyone, no matter how stressed, busy or tired you are.