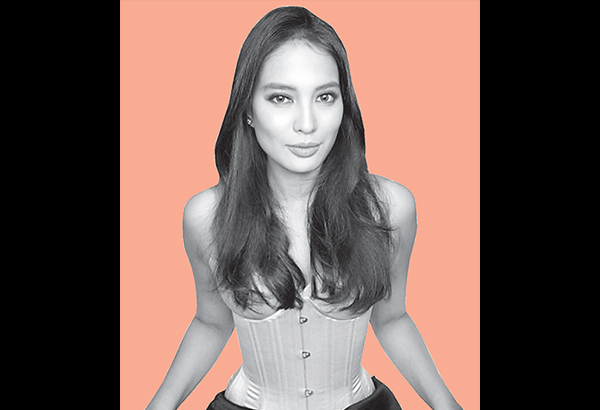 Actress Isabelle Daza in a bespoke creation by the author.
Being back in the Philippines has me booked solid with possibly my most in-demand product — a bespoke corset. I've been making bespoke corsets for a while now but all my clients and potential clients come in with the same questions, so I thought it would be a good idea to finally break it down and answer most of the frequently asked corset questions I get.
Why invest in a corset?
I truly believe that every woman should have a good-fitting corset as part of their wardrobe. Whether you are a bride to be looking to slim down for the big day, or a girl who needs that extra bit of confidence in a tight dress, a bespoke corset is a lifetime investment. You only need one, and the lacing allows it to be flexible for fluctuation in weight. It is also a really epic piece of lingerie with added benefits in the sack.
How thin will it make me look?
The first time you wear your corset it will already take off at least two inches on your waist measurement. The more you wear it, the more your body will adapt and you will be able to lace your corset tighter. As your body will be supported by the corset, the change to your posture will also make you look slimmer, and your assets will be pushed into the right places, changing the overall shape of your body.
Is it comfortable? Does it hurt?
I'm not going to lie — a corset is made of four layers of fabric with many metal strips built into it. Obviously, wrapping this around your body tight for hours at a time will feel a lot more constrictive than your usual day-to-day outfit. However, a bespoke-made corset ensures that it will be the most comfortable corset you can get, as all the proportions of the corset will be your actual proportions. Have you ever bought a ready-made corset and felt the jabbing of the metal stays either below your breasts or on your hip? This happens because the stays aren't the length appropriate to your body.
You and your body will get used to the feeling of wearing a corset after a few days of wearing it. Wearing a tank top underneath will also take the pressure off your skin. Personally, I don't wear one because a tank top doesn't go with my look — I will choose style over comfort any day, even when it comes to my undergarments!
Will it help me lose weight?
In the beginning it will hinder you from eating too much because as you eat, more pressure will be added along the waist. However, it will not be a long-term solution to losing kilos as you will get used to functioning in it (eating included). It may help you lose inches on the surface, but weight-wise, you'll still need to keep at that diet.
Are there different types of corsets?
Yes, the corset style you choose depends on the shape you want your body to achieve, as well as the purpose of your corset. Do you want to wear it as a top, or do you want to wear it under your garments? Do you want a Victorian looking silhouette that presses your boobs flat, or do you prefer one that has built in cups and padding?
For people who want to wear the corset for waist training or as an aid to look slimmer under their clothing, I usually recommend an underbust corset that is worn with your own brassieres. This is my most popular product as it is the most versatile piece.
All corsets can be made with a hip gore or without in order to suit the shape you want your body to look like. If you aim for a 1950s hourglass figure, then a gore is necessary, but if you want less emphasis on the hips then I recommend a goreless corset.
How much does it cost? Why is it so expensive?
A bespoke corset ranges from P28,000 to P40,000 depending on the type of corset. A corset it a complex piece of clothing to make, from pattern to sewing, and its bespoke nature means that this process must be done specially for each client. All our materials are imported from London and we use only the best quality metal busks and stays.
How do I order one and how long does it take to make?
You can book an appointment for measurement by emailing hello@michdulce.com. We require a 50-percent downpayment at measurement to begin the production process for your corset. From your measurement date, you will have to wait around three to four weeks (possibly longer depending on the amount of orders we have) for your corset to be 80 percent completed. We will then ask you to come in for your corset fitting, and after two weeks you will be able to collect your corset.