Save the squad
October 1, 2015 | 10:00am
MANILA, Philippines - These days, everyone wants to be part of a squad. But, as these groups from various subcultures prove, it takes more than a bunch of people to become #squadgoals. Watch your back, Taylor Swift.
Gone are the days when the barkada reigned supreme. Behold: the squad. It's your typical group of friends but with higher aspirations and better Instagram feeds. Think: Taylor Swift and her army of #girlbosses in the Bad Blood music video.
The squad generated buzz by way of Instagram and Twitter. It's like seeing your life peg hang out with your other life pegs. All your #TeamInternet faves in an awards show or the hundreds of celebrity guests Taylor Swift invited to her concert inspire you to take your squad to the next level. You just have to tag all your friends with the hashtag #squadgoals to let them know that that's what you aspire your group to be.
This week, we gathered three squads we can't help but want to be part of. From travel photographers to a mishmash of fashion folks, these squads are making noise online and offline. If having a #squadgoal pushes your group to do better things and aspire for more, then we see nothing wrong with that. After all, teamwork makes the dream work.
Roberto Seña Jr., 23; JP del Mundo, 22; Eric Trono, 24; BP Valenzuela, 20; King Puentespina, 23
How they met: King, Robert, JP and Eric met each other in high school. Two years ago, they took their friendship to the next level and created a musical collective called Logiclub along with other musicians like Rez Toledo of Somedaydream. BP joined Logiclub shortly after. Now, they're making noise in the music industry as a collective and individually. King recently performed at our YS Prom this year as CRWN. BP is taking over both local and international –– such as Singapore –– stages. Aside from his solo project St. Vincent and the Grenadines, Robert is also part of indie rock band She's Only Sixteen. JP creates music under the name John Pope. He's bound for Paris, France in a few months for the Red Bull Music Academy. Eric is part of a musical trio called DancePlayCreate with Bryan Moya, and Matthew Azad.
Squad song: Kakaibabe by Donnalyn Bartolome and Di Ako Hustla' by RAD4.
Honorary members: Merlin from the game Assasin and Merlin. Or Drake!
What makes a squad work: Team work makes the squad work. Same wavelength dapat lahat. (You need to have a) shared passion, and with us, it's music.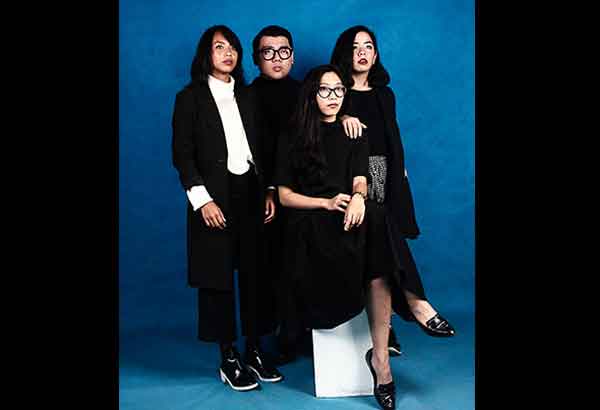 Ecks Abitona, 22; Koji Arboleda, 23; Esme Palaganas, 22; Nikki Ruiz, 23
How they met: Esme and Nikki first met in high school. Their friendship grew in college when they became part of The SDA Project, a college fashion website based in College of St. Benilde's School of Design and Arts. In 2011, they met Koji and Ecks through Stache, an online magazine for and by the creative youth. Four years later, they are all doing their own thing –– all under the stylish umbrella of fashion –– and #winning in their respective fields. Koji and Nikki are both up and coming fashion photographers while Esme designs for her own clothing brand Basic Movement. Ecks, on the other hand, styles for various publications such as Benchmark and does a bit of farming on the side.
Squad uniform: All black! For the girls, black knitted skirt or trousers. Si Koji definitely shorts. Feeling namin school girl/boy vibes din. Of course, designed by Basic Movement.
Honorary celebrity squad member: Tilda Swinton. Di ba? Ang perfect ng vibe nya for us. And Alexander Wang.
Secret to friendship: We share the same sentiments and the same struggles. "Nasan na yung cheke?" yung mga ganun. Even though we're in different fields, we understand the struggles. And walang competition since iba-iba yung styles namin.
Thomas Caja, 23; Kimi Juan, 23; Melissa Gatchalian, 23; Elena Ortega, 19; Jelito de Leon, 23
How they met: In true Internet friendship form, the group already knew each other on Instagram before formally meeting in person. Their first meeting happened in a press event for a camera brand and everything jumped off from there. It's not hard to see why their friendship worked so well. They share the same passion for photography, travel and everything Instagram-worthy. Just check out their individual feeds. Take one photo from each of their accounts, lay them out in a grid and it will still look like a cohesive and well-curated account. While photography is the group's common hobby, Melissa is also a graphic designer for Sunnies Studios and Elena models for youth publications such as Young STAR and Candy magazine.
Favorite memory: Definitely our Mt. Pinatubo trip. It tested our friendship. It was really hard but it was fun. We were so tired but we never had an attitude towards each other. Pagdating namin sa car after the hike, edit lang kami nang edit.
Reality TV show name: The Squadders Area!
One filter they will use for the rest of their life: VSCO film A6!
Photos by Arabella paner