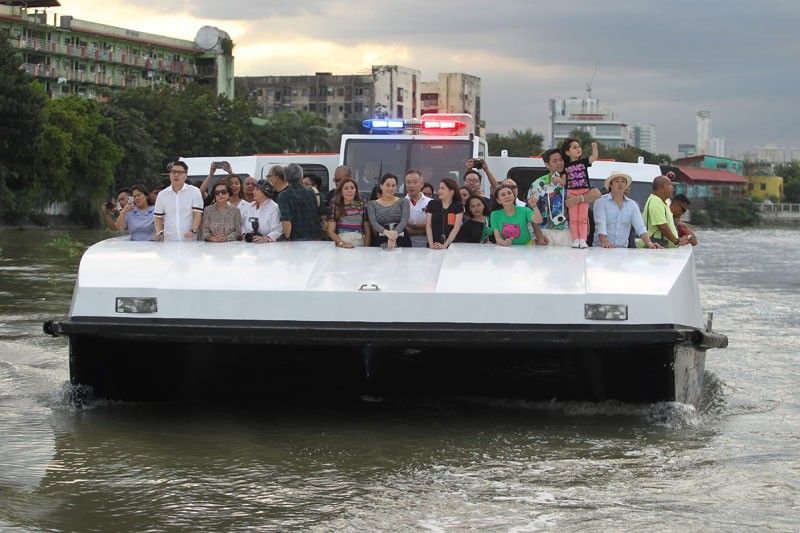 Shipshape: The Pasig River Ferry is ready to take its passengers to explore the metro. Note the Bench billboards that dominate this scene.
All aboard the Pasig River Ferry with Berna & Isko
Tourism Secretary Bernadette Romulo-Puyat and Manila Mayor Francisco "Isko Moreno" Domagoso, fondly known as Yorme, share a dream: to open more tourist destinations in the country. After all, it's more fun in the Philippines! And DOT and the Metro Manila Development Authority (MMDA) offer a new fun way to explore Metro Manila for tourists and locals (while easing traffic flow in the metro): via the Pasig River ferry tourist cruise.
And so, one balmy Wednesday afternoon, we hop on a ferryboat, simply go with the flow and immerse ourselves in a lot more fun on this maiden journey of the Pasig River Ferry, starting at the Guadalupe Ferry Station and ending at the Escolta Ferry Station. But first, to sweeten our trip, we get our fill of chocolate with Auro's fine, proudly Filipino-origin chocolates and Lampara's Auro chocolate-infused dishes.
"It's like a chocolate tour and there are also good food tours," Secretary Berna Romulo-Puyat teases our taste buds.
The glory that was Pasig River
It's a leisurely one-hour ride via the Pasig River from the Guadalupe Station to the Escolta Station. Surely time enough for the incurable romantics among us to look back on the glory days of the Pasig River when this muse captured people's hearts. But time flowed away, and soon it became a dumping ground for industrial and chemical wastes. While past attempts to clean up the Pasig River were not all that successful, a more earnest government cleaning-up started last year.
"I don't smell anything anymore," says Lovely Romulo. "The ferry ride down the river is a lot more pleasant now."
"We're reviving Pasig River as an alternative mode of transportation," Berna discloses. "Abroad, people use the river to commute."
Past Malacañang Palace, we're ready to disembark at the Escolta Station. Already standing at the entrance is a beaming Mayor Isko Moreno who welcomes all 100 of us. As soon as we enter the station, we're offered all sorts of hopia, empanadas, and cold bottled water. We're in the heart of Binondo, and the first thing that catches our eye is the newly restored, beautifully lit Jones Bridge. We marvel at the new Jones Bridge with its new well-lit lampposts and ornamentals, as well as its gold-painted lower walls. A project of the City of Manila under its young dynamic Yorme, it cost P20 million to restore the century-old Jones Bridge, once the "Queen of Bridges," to its former glory.
"I was not fortunate enough to enjoy the old Jones Bridge," Yorme confesses. "So, when this national treasure was lost and I was given the opportunity, we did our research and tried to bring back a semblance of the past, at the very least a semblance."
He adds with a wide grin, "We will continue to develop that place where you landed in Escolta and call it Escolta River Walk, all of 400 meters of a place to go."
Some of us take the tranvia (electric street tram) while the others opt for the mini jeep and still others go on foot for a tour of Fort Santiago and other parts of Intramuros. With Intramuros now well lit-up at night and with its own security, it's so much safer — and more fun — to do a walking tour here. It used to be open only until 8 p.m., but now, due to public demand, it closes at 11 p.m. The dungeons in Fort Santiago are now lighted up, too.
"We're very happy that the DOT, under Sec. Berna, and the Intramuros Administration are working in harmony with the City of Manila," Yorme asserts. "There's synergy between national and local governments. As you can see, they did the capiz lamps to light up the trees. But if you look at the whole picture, it's like just one entity did it. That's what I mean when I say cooperation."
Berna returns the compliments, "Yorme is so supportive and understands what tourism is all about."
The selfie mayor
We continue with our walking tour, interrupted only by requests for selfies from young students. Yorme always makes time for selfies, which he says are part of public service. Many selfies later, we see a building with changing holograms on its facade. "It's a presentation of old pictures of Intramuros to show how you can use architecture as a canvas to display Filipino art and history," says Dino Lising.
And so, we've come to the end of our tour and for all the walking that we did (at least for some of us, including seven-month-pregnant Cristalle Belo-Pitt), we're rewarded with an elegant dinner at the Marble Hall of Ayuntamiento de Manila, where Happy Ongpauco has laid out a feast of modern Filipino food (think crispy adobong pusit, roast Angus beef in lechon spices, pasta aligue, etc.).
"I'm trying to develop a tourism circuit where you can connect all the best foods from the metro," says Berna. "I'm hoping to create one from Pasig to Pateros, where you have the balut. A lot of people come to Manila and they don't know what to do. Before, nobody would think of bringing people to Intramuros, but now, it's a go-to place. By the end of the month, we'll be opening the golf course in Intramuros, and so much more!"
MMDA, in collaboration with DOT, is allocating one 150-seater air-conditioned ferry for those who may want to explore Manila, Pasig, Mandaluyong and Makati using the river transport and its 11 ferry stations.
Guide to the Philippines will initially offer, using Guadalupe and Valenzuela Stations, an exclusive Poblacion Chocolate Bar Crawl highlighting Makati's scintillating night life, with a delicious twist on both food and drinks using a local Filipino chocolate brand, and Escolta Station for the Binondo culinary tour.
The Pasig River Hop On Hop Off Ferry Tour, packaged by the Philippine Tour Operators Association, Guide to the Philippines, and DOT-National Capital Region, is offering two main categories — Hop On Hop Off and MICE program initially using select stations.
So, hop on for so much more fun in the city!
* * *
The commercial run of the Pasig River Hop On Hop Off Ferry Tour starts in March 2020, pending logistical operations and booking facilities. Interested parties may inquire directly at PHILTOA, 88124513, or email info@philtoa.com, and Guide to the Philippines via its website guidetothephilippines.ph.