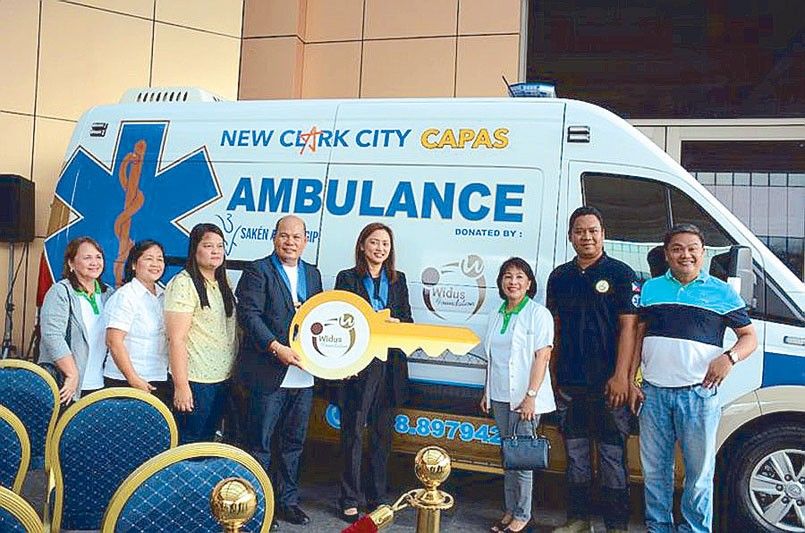 Widus Foundation executive director Agnes Liwanag (center) turns over a fully-equipped ambulance to Capas Mayor Rey Catacutan (fourth from left) and health officers of Ospital Ning Capas led by Dr. Bienvenida Cabezon (third from right)
(The Philippine Star) - December 13, 2019 - 12:00am
Widus Foundation Inc. (WFI) has donated a fully-equipped ambulance with advanced life support facilities to Capas, Tarlac.
WFI executive director Agnes Liwanag and WFI manager Ronnel Golimlim together with Capas Mayor Rey Catacutan led the turnover rites of the brand new Hyundai H350 recently at Widus Hotel and Casino.
The vehicle was converted to a functional ambulance with the latest life-saving equipment such as monitor, stretcher and many more amounting to P3 million.
"Most ambulances are designed to just respond to emergencies and transport patients to treatment facilities. This ambulance is our latest health care project that aims to improve the mobile emergency medical services here in Central Luzon. We have specifically equipped the ambulance with life-saving tools, equipment and interventions to give patients better chances of survival while in transit. We made sure that our first ambulance unit passes both local and international standards," said Liwanag.
Mayor Rey Catacutan lauded the efforts of WFI highlighting emergency medical services (EMS), a vital part of health care which often means the difference between life or death.
The ambulance was utilized during the SEA Games and will be stationed at the Ospital Ning Capas to serve the community.