It doesn't get any better than this
My photographer friend Dennis Saco had invited me earlier to Bohol for vacation. But I had to decline because it was at the height of the elections. Politics was the ultimate concern then. I was deep into the campaign supporting Mar Roxas and Leni Robredo.
I was nursing a broken heart for Mar's loss but was also quite happy that Leni had won. The day after the proclamation, I left for Bohol to go to Pure Shores Villa at the Anda side of Bohol. I have been to Panglao many times and always enjoyed it. I was excited to see another side of Bohol I have not visited.
Pure Shores Villa is two hours away by car from Panglao. When we got there and entered the Villa, I was stunned by the dramatic beauty of the view that was staring me in the face. From an elevation, I could see the blue of the swimming pool, which seems to blend seamlessly with the sea behind it. The villa is luxurious, airy and while it is imposing, it does have an ambience that is quite friendly and relaxed. The whole property has five big rooms, a common veranda where people can lounge, a separate dining area and kitchen run by very friendly and efficient staff. There is a huge green grassy area where one can run around. And there is a very inviting swimming pool to swim in with the sea as background.
Owner Dean Elder explained to me the villa concept, which is already popular in Indonesia and Bali. It is not the usual resort or hotel where you share the facilities, board and lodging with people you do not know. When you rent the villa, you have it exclusively to enjoy. The whole villa is all yours. Think of family or friends' reunions, getaways, or a destination boutique wedding. You can bring up to 10 adults plus children. No other strangers can rent any of the rooms except you and your friends whether you use them or not. It becomes a very private and exclusive place just for you.
During my stay, I took a separate room nearer the ocean. It was a great idea. I was away from everyone else.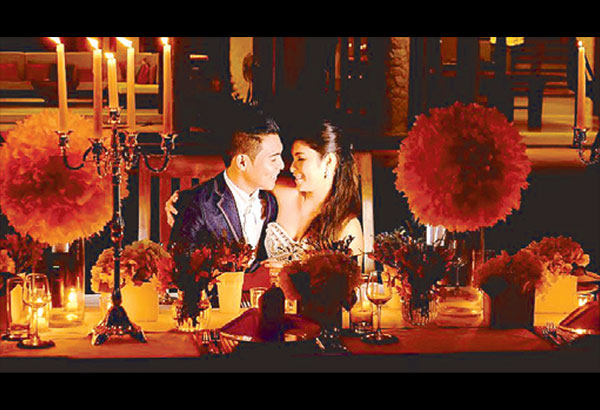 The perfect small wedding
When I got to Pure Shores Villa, Dennis was busy with a whole project underway. He was there to shoot for a magazine. Artem Levy, a very talented Russian photographer, was there, too. I volunteered to assist. A great thing that happened was all three of us got along very well.
There I was on vacation but I was doing one of the things I really love to do, which is to take pictures. In Manila, I rarely have time to go out and look for great scenery, or have access to the "right" model to take pictures of. And suddenly here I was in a setting so magical and breathtaking with fellow photographers shooting the beautiful Aussie-Pinay Amanda Arles as subject.
The setup for the shoot was quite elaborate. It was a wedding scene. It involved many props. The requirements were to find locations to shoot the bride on her wedding day, the banquet, and some romantic photos. A lot of equipment was brought in from Panglao. Thankfully, it was not my project so I shot pictures without pressure. I was taking a leisurely pace. I could go for a swim if I felt like taking a break, which I did often.
I really enjoyed Dennis Saco and Artem Levy's tips on how to shoot different scenes, capturing themes under different conditions. They are pros and they have done this kind of shoot many times. I learned a lot. We also laughed a lot and just had a good time hanging around. I had to ask myself the question, "Does it get any better than this?" How could I not ask when I was unexpectedly soaking in all the fun, beauty with so much passion?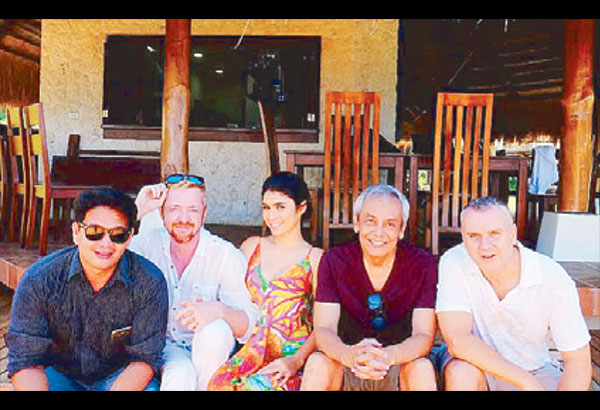 Dennis Saco, Artem Levy, Amanda Arles, the author Jim Paredes and Dean Elder
* * *
To inquire about Pure Shores Villa, email info@pureshoresvilla.com or call 09175305412, +6593390753. Ask for Dean or Marcelle Elder.