MANILA, Philippines - Samar may not be the first place that comes to mind when one thinks of going on a holiday. After all, this Eastern Visayas province has been associated with typhoons, foremost of which was Super Typhoon Yolanda.
Samar Governor Sharee Ann Tan remarked, "I know not much is known about Samar, except perhaps as one of the provinces badly hit by Typhoon Yolanda."
She continued: "People are not aware that there are actually three Samar provinces: Eastern Samar, Northern Samar and the mother province, Samar, which is also known as Western Samar. Our province, Samar, needs to be recognized as a tourist destination. We have a lot of natural resources that are waiting to be discovered more."
She then promptly gave us the opportunity to discover these still largely unheard of destinations. The first stop was the Sohoton Cave in Basey, Samar. The road trip to this site may be a bit daunting for newbies, with rough roads that seem to go on for miles. However, with a little patience and goodwill, one reaches the cave after a 20-minute boatride. It is a curious sight, with an entrance about 50 meters high and a gallery of stalactites and stalagmites forming even more curious shapes.
Visitors to Sohoton Cave are advised to wear light and comfortable clothing, as touring the cave would involve a lot of walking and dodging rocks.
As soon as we stepped out of the cave, our guides pointed to us the nearby Panhulugan Cliff, a steep rock formation that owes its name to the Waray-waray term hulug which means drop. And indeed, we were told that during the Filipino-American war, local rebels would wait atop the cliff and launch attacks at the enemies passing down below.
We were also able to visit the women banig-weavers of Saub Cave in Basey. These women come to the cave to weave sleeping mats made of reed grass. As to why they choose to work here, they chorused that the cool temperature of the cave gives their raw materials better flexibility.
"We cannot weave anywhere else because the hot temperature outside tends to make our materials brittle and difficult to work on," they said. The women have been at it since childhood, explaining that they inherited the art of weaving from their ancestors. They sell these mats here, although visitors would be very lucky if there are any on hand. The banigs, with their colorful designs and sturdy workmanship, are fast-sellers and easily snapped up by entrepreneurs from nearby provinces.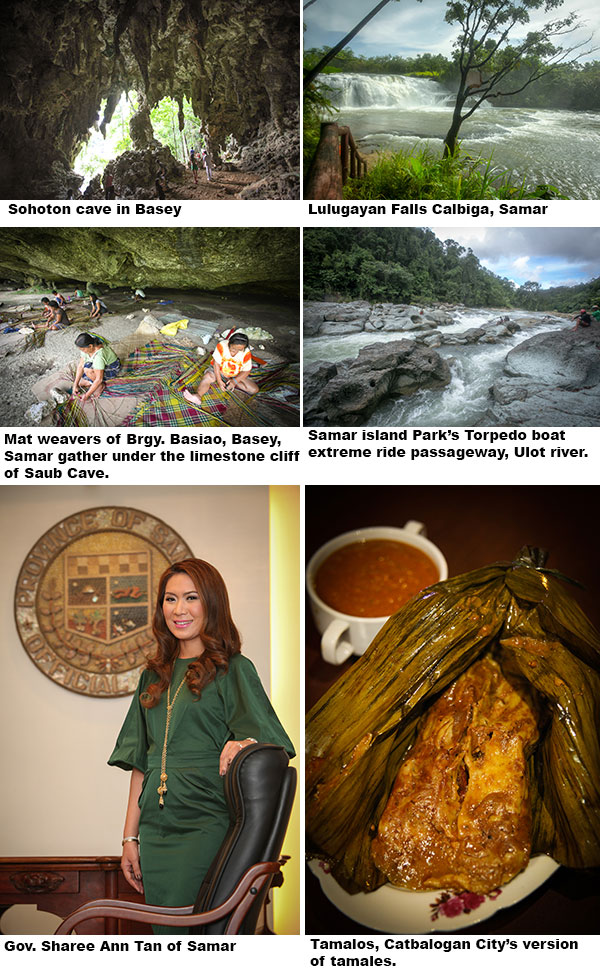 A good 10-minute drive from Saub Cave brought us to the municipality of Marabut, home of the marine park that boasts of 15 towering rock islands. These islands are a sight to behold, glorious in the sunlight. This side of the province was badly hit by Typhoon Yolanda, with some devastated resorts rented out to Red Cross volunteers. However, things are starting to pick up, with confident local merchants setting up shop and eager to start afresh.
One notable, if not unforgettable, destination turned out to be Lulugayan Falls and Rapids in Calbiga, Samar. This tourist spot requires almost two hours of mostly rocky roads to reach from the main highway. Once we reached Barangay Literon, we had to trek for 20 minutes more to reach the 60-meter wide falls. What a reward it was to finally see what tourists have been calling the "mini Niagara Falls." Tourists can take a little guarded dip here. The rocks tend to be slippery, so travelers with children must be very careful. Otherwise, this is a fantastic place, a true natural wonder that made us, well, wonder why this continues to be out of the radar for most nature-trippers.
When we commented that the tourist attractions require better roads and access, Tan replied, "Right now we are making Samar more tourist-friendly by investing in manpower and infrastructure. Give us a year and you will see the difference."
There is also another reason for pushing Samar as the next "It" destination. She said, "We have been trying to find an alternative livelihood for the citizens after suffering from Yolanda. Tourism, we realized, could be the answer to bring significant development to Samar.
"As a tourist destination, we can be at par with the other emerging provinces. This is not saying that we are competing with, say, Northern or Eastern Samar because they have their own distinct attractions and offerings. Truth is, we complement one another. They have their diving sites and islands, we have the caves, the waterfalls and the cold springs. Since we are the third largest island in the Philippines, we can say that there is more to explore."
"Add also the fact that Samareños are a naturally friendly, hospitable people. They make you feel welcome, and are eager to please. Our food is really delicious, too," she said.
The local cuisine includes traditional Samar dishes like Catbalogan's version of tamales called tamalos; the kiseyo of Gandara, Samar, which is sharp and salty white cheese; and the binagol from Calbiga. Even their lechon has its own character: it requires no sauce as it bursts with flavors on the first bite.
Tan concluded, "As you have seen in your short visit, what we offer are destinations not usually experienced in other places. I think Samar is a great place for an adventure."
Indeed we agree. There is still a long list of destinations to visit in Samar, so another trip should be forthcoming. Photos by FERNAN NEBRES