MANILA, Philippines - A trip to the spa is always a welcome treat. It gets better when the spa happens to be Devarana Spa in Dusit Thani Manila. Deverana turns out to be true to its name, which in Thai-Sanskrit means "garden in heaven."
For years, its loyal clients have described Devarana Spa as heavenly, referring to its facilities, treatments and ambience.
Surely, the sight of water running the length of the spa's foyer is relaxing enough. Go deeper to experience the treatments and discover that there really is more to Devarana Spa – much more.
Right now, the spa is offering special promotions and packages to give tired travelers and urban dwellers the relaxation they deserve.
Being offered until Aug. 31 is the Rainy Day Retreat, a special package that includes a 30-minute Exotic Pandan & Mint Bath or a 30-minute Aromatic Thai Herbal Steam, and a 90-minute body massage of your choice.
The superb Stellar Sanctuary treatment package, on offer until Dec. 31, is highly recommended by Devarana Spa manager Sara Jan-Im. "We believe that whatever you do, zodiac sign-wise, affects your business, love life, and family," Jan-Im says.
The package allows guests to choose the stress-relieving treatment which best suits his personality traits as indicated by his zodiac sign, star influence and body element.
Devarana Spa's four Stellar Sanctuary spa programs are classified according to the 12 zodiac signs and four body elements of earth, water, wind and fire. It is believed that there is a connection between the zodiac and the body. All massages therefore should be applied in the specific areas that affect each element and zodiac sign. The massages and the body polishes used in this program are chosen uniquely for every individual.
"What is great about Devarana Spa is that guests experience true Thai hospitality and service here," she says. "When you come here, the staff pays you respect, makes you feel at home and serves with warmth and humility."
Jan-Im recommends getting a massage at least once a week. She explains, "Sometimes you should listen to your body when it wants to relax."
The best time to get a massage, she adds, is before bedtime. "You feel more relaxed that way. It is great so that after the massage, you easily fall asleep. Some guests who are stressed at work prefer an aromatherapy massage because it eases their headaches."
The Devarana Signature Massage, for example, works best for these types of individuals. It brings together the strong pressures of Thai, Ayurveda and Shiatsu techniques with Swedish and aromatherapy influences.
"When you lie face down, you are provided underneath with a special bowl of hot water with freshly sliced kaffir lime and orange, and some essential oils. You can smell and take it all in. It is perfect for guests with runny noses."
Devarana Spa has six treatment rooms: one Grand suite with a shower room, an outdoor shower, a steam room, a bath, a massage area and lounge; one Corner Suite with a built-in steam shower, bath, massage area and lounge; two Deluxe Suites with built-in shower, outdoor shower, bath, massage area and lounge; and two Standard Rooms with built-in shower and massage area. There is also a manicure and pedicure treatment area within the premises.
For years Devarana Spa has been hailed as among the country's best spas. It recently earned the nod of customers and travel industry experts when it was included in the 2014 list of World's Best Spa Hotels by leading hotel booking site Agoda.com. Devarana Spa was hailed for its pampering program, which includes everything from body scrubs to jet lag recovery treatments, and for its caring and flawless service.
The best part of all these, naturally, is to experience it. Once in a while, a special treat should be forthcoming, and in this day and age when stress takes over one's life, a little indulgence would not hurt.
Devarana Spa promises a virtual garden in heaven in the middle of a bustling, busy metropolis.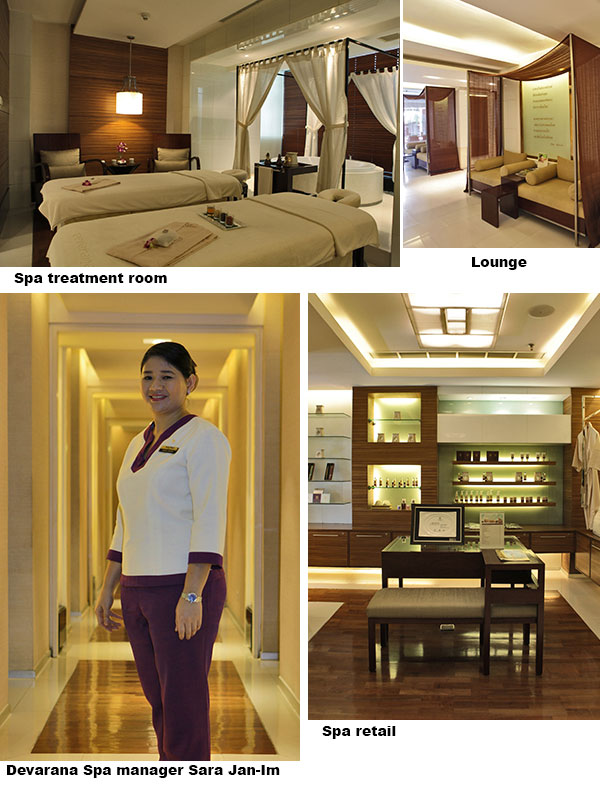 * * *
Devarana Spa is located at the second floor of Dusit Thani Manila, Ayala Center, Makati City. For more information, call +63(2) 238-8888 ext. 8856 or the direct line at +63(2) 238-8856; fax at +63(2)238-8867; email manila@devaranaspa.com; or visit the website at www.devaranaspa.com. Photos by FERNAN NEBRES