MANILA, Philippines - Make that three Holiday Inn hotels in two days. Though the stay was short, it gave everyone in the media tour a glimpse and feel of Holiday Inn's brand of hospitality and accommodation. The itinerary covered all three Holiday Inns: Manila Galleria, Clark Pampanga, and Makati.
The first stop of this trip was Holiday Inn Ortigas where the group enjoyed the hearty buffet breakfast of Fab Restaurant. Of course, we were also fed with interesting information about Holiday Inn. For example, did you know that Holiday Inn was borne out of its founder Kemmons Wilson's disappointment over the poor quality of roadside accommodations during a family road trip? In 1952, he opened the first Holiday Inn to address the situation by giving travelers an affordable hotel that was consistently clean and friendly.
It did not take long before Holiday Inn found its way to a welcoming Philippines. Holiday Inn Manila Galleria is the first international mid-market hotel in the business district of Ortigas. It has 285 deluxe rooms and suites with floor areas ranging from 32 to 234 square meters.
In true Holiday Inn form, it has something for everyone. Since Filipinos are known for their healthy appetites, Holiday Inn Manila Galleria is proud of its Fab Restaurant, an all-day dining outlet offering buffet breakfast and whole-day ala carte menu with local and international dishes. For partygoers looking for a nightspot, Bar One should prove to be the place to unwind.
After these interesting introductions about Holiday Inn, it was time to head off to Holiday Inn Clark in Pampanga. A new set of adventures was waiting for us, a far cry from the honking horns of the metro. Located inside the stately Mimosa Leisure Estate within the Clark Freeport Zone, Holiday Inn Clark is comparatively more laidback and quieter, a welcome respite for the city dweller.
As soon as we checked in and left our bags in one of Holiday Inn Clark's well-appointed and comfortable rooms, we padded off to experience a variety of destinations within Clark. Our tour group found its way to Zoocobia Fun Zoo, the only zoo in Clark that allows visitors to interact with the animals. Fellow journalists had a grand time feeding the parakeets and enjoying close encounters with everything from bear cats to ostriches.
Highlights of the tour include the Zooc Ride, where some of our colleagues tried driving the first and only gravity cars in the country and the Garden Maze, a labyrinth of topiaries. The zoo also boasts of giant fun slides, a barn, and a zing ride that combines the thrills of a zip line and a swing.
Off we then went to Nayong Pilipino sa Clark Expo, a site that brought back memories of the old Nayong Pilipino by the Manila airport and thus reminded us how long we have already existed to even remember it. We were treated to an exclusive performance by the NPCE Cultural Dancers and the rondalla group, a truly delightful visual and auditory spectacle showcasing marvelous native songs and dances.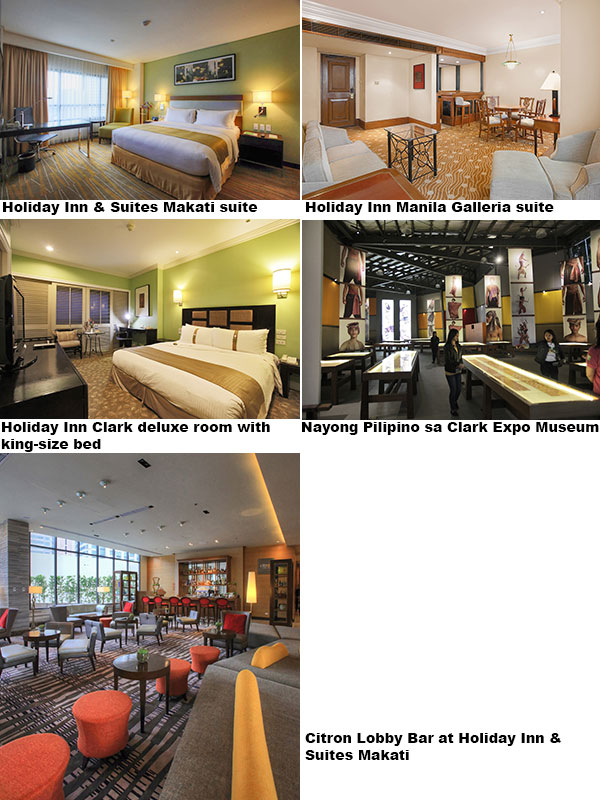 The group visited the Nayong Pilipino Museum which, as it turned out, houses the biggest and rarest textiles and weaves in the country, and the reproductions of local historical sites and natural wonders.
Then we were back at the hotel, where a fabulous and fulfillingly filling dinner awaited everyone at the Rodizio Roof Top Grill. Grills and steaks galore left all members of our group burping back to their rooms. Holiday Inn Clark also has its own all-day dining Mequeni Restaurant, a staple in these parts with its array of buffet meals and diverse menu options.
With these in mind and memory, we headed back to Manila the very next day and had lunch at Flavors, the main F&B outlet of Holiday Inn & Suites Makati. This 20-story hotel is easy to find: it is directly connected to Glorietta, in the heart of the Makati Business District.
Since its opening, it has become the top choice of business travelers as well as leisure guests. It has nine function rooms offering flexible configurations, perfect for conference and event needs. The hotel is also becoming popular for its variety of rooms, including generous spaces that allow connecting rooms and two-bedroom suite options.
As if those were not enough, Holiday Inn & Suites Makati's rooms have child-friendly options in the mini bar as well as activity kits for kids.
This was one of those times when one would wish for a longer weekend. If one were to look back at Wilson's vision and look at the Holiday Inns we stayed in, we would say that the founder would be very proud of what is being accomplished in the country.
***
For more information on the three Holiday Inn hotels in the Philippines, visit www.holidayinn.com/higalleria, www.holidayinn.com/clark and www.holidayinn.com/makati.