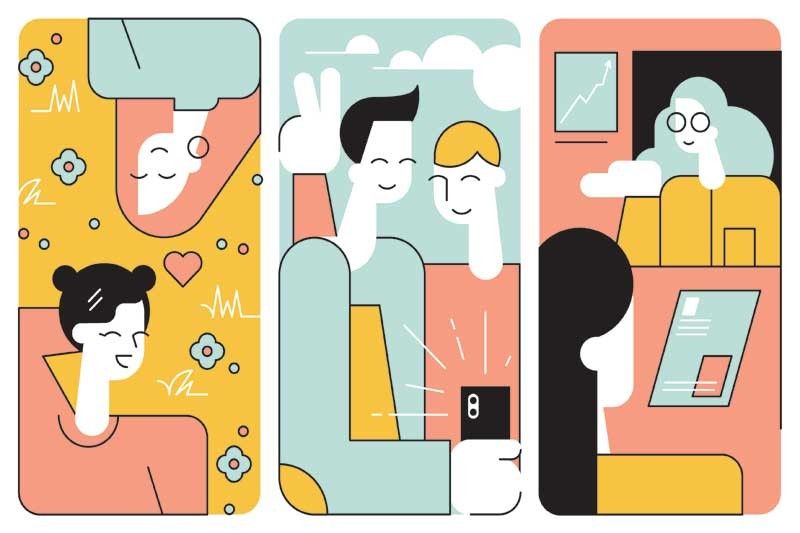 I kissed dating apps goodbye (and hello again)
In a time when dating apps struggle for attention, Bumble has developed an entirely new connection with its users. And Filipino viewers are ready to swipe right.
I've always found that having a dating app feels a lot like its own relationship. There's the thrill, the frisson, of the first few weeks. You're always eager to be on it, and the constant swipe-swipe-swipe makes you feel almost omnipotent. Haha! I can reject my college crush from the comfort of my own bed! (But still, you swipe right just in case.) People ask you why you're always smiling on your phone. Even if you never asked for one, you'll still get a dick pic once in a while. There are still bad days when you don't get as many right swipes as you'd like, where you wonder if your profile picture has gotten too shabby. Or maybe you're just ugly! Who knows.
And then one day, it just fades. Perhaps real life has gotten real enough. Or maybe, just maybe, true love has finally found you. So you say goodbye, and you announce to all your friends: "This dating app and I? We're over. Delete. Oh, yes. I swear I'm deleting. No, it's not hidden in a secret folder that no one else can see. DELETE."
Such is the shelf life of your run-of-the-mill dating platform. And there are countless, each one with a reputation of their own. Some apps, people use purely for hooking up. Others are more popular for the specific filters they offer: LGBT dating, Christian dating — even sugar babies in search of sugar daddies have their own slice of the pie. (Everyone's got a weird thing going for them. No time to judge.)
Filipinos, in particular, have always been one of the first to jump on the bandwagon of new tech, especially when it comes to dating apps. We are early adapters of tech, and even before many of these dating apps officially arrived in our shores, thousands of Filipinos have already begun to populate these virtual dating pools.
Bumble, in particular, gained a reputation for being the dating app that you go to if you really want to meet a potential partner. The interface was welcoming, and it had a particularly special feature: once a match has been made, it's up to the woman to initiate the conversation — giving her time and space to decide on how to approach the conversation, instead of the man setting up the agenda. (Either end of LGBT and non-binary matches can initiate the conversation.)
Since it unofficially became A Things in the Philippines, Bumble has become a revolutionary way to date. It's clear that the direction is not only refreshingly female, but also very young. It offers paid in-app features through Bumble Boost, where you can see who has already right-swiped you, reconnect with expired matches, and extend the conversation period with new matches. The app encourages conversation and deeper connections by suggesting conversation topics, and even letting users answer autograph book-like answers in their bios. (My personal favorite: "Which TV show would you want to guest star in?" A guy I matched with complimented my answer of Parks and Recreation and asked me to guess his. I said I had no idea, but had hoped that it isn't something gross like Friends. He ignored my message then unmatched me shortly after.)
Bumble's distinguishable qualities make sense because of its founder. Whitney Wolfe Herd was born in 1989, and founded Bumble back in 2014. (She's also a co-founder of Tinder, and reportedly the brains behind its catchy name.) According to Forbes magazine, the company is now valued at over $1 billion — and it's only continuing to grow. With offices all over the world, Bumble officially came to the Philippines in 2019 — bringing with it a strong message of empowerment. And they don't just mean dating.
Wolfe Herd and her team understood how women used the app. They knew it had a shelf life in the dating world, and they saw the rich potential it had with a rapt audience. Before Bumble Philippines came to be, Bumble had already introduced BumbleBFF — a vertical within the app that lets users search for potential friends.
During its official Philippine launch, Bumble Philippines introduced users to BumbleBizz, which allows users to maximize the app's potential by turning it into a networking hub. People can use it to meet potential mentors, pursue a change in careers, or even be mentors themselves. Bumble Philippines has even begun to facilitate IRL mixers and socials with Bizz and BFF users, like workout sessions and other hangout opportunities. I highly recommend getting into them, especially on days when you're feeling particularly extroverted.
Both Bizz and BFF are changing the ways we see dating apps, and stays true to Wolf Herd's statement that Bumble is a "feminist dating platform." It just goes to show that in the hands of women, a dating algorithm can become so much more than just for romantic relationships. Even for someone like me who has gotten tired of the minutiae of swipe-swipe-swipe for a potential jowa, Bumble has still found a way to stay relevant to my needs and lifestyle. And I'm certainly not alone – there are millions of people, whether single or otherwise, who are bereft of opportunities to meet new folks. Some of us can't even find the guts to pack our office pedestal and find a new job. In the same way that dating platforms have become judgment-free spaces for romance to spark, Bumble's new verticals allow us to do the same in an entirely new arena — in friendship and in work.
So what's so bad about using a dating app for something as mundane as work? The great philosopher Lady Gaga did say, "Remember that your career will never wake up and tell you that it doesn't love you anymore." If that's not worth swiping for, then what is?