Meet me in Makati
October 30, 2022 | 12:00am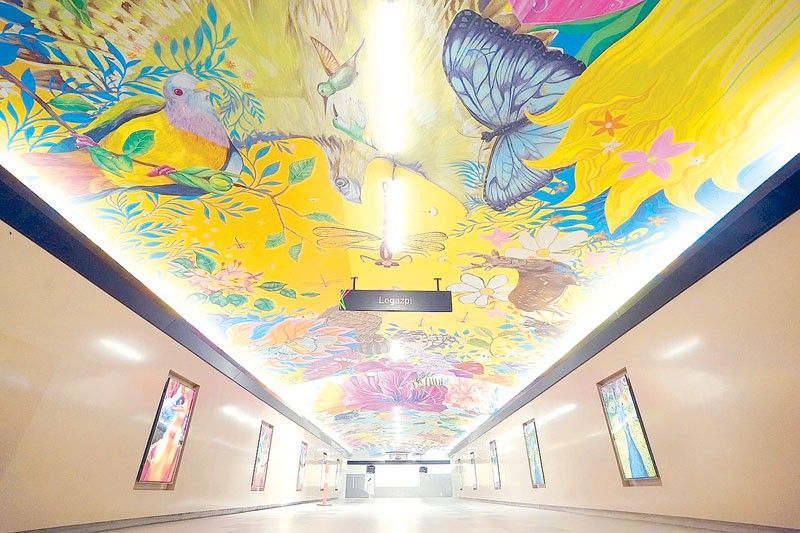 We travel around the world in search of precious finds only to return home and realize there was no reason to leave after all. Before searching elsewhere, why not explore what we have just within reach — fascinating places existing within our vicinity?
I have lived in Makati all my life and the changes I have witnessed are unfathomable, seemingly endless. From a mere marshland to everyone's dream land, the developments are simply phenomenal.
Life is not made by chance. It is made by choice and change.
"The rapid, well-ordered growth of Makati didn't happen by chance. One thing has to be made clear: the process that caused this change was long and complicated. It had to be planned… It was created," said the bold and pioneering gentleman extraordinaire Col. Joseph R. McMicking, who, alongside equally distinguished gentlemen Alfonso Zobel de Ayala, Enrique Zobel de Ayala and Jaime Zobel de Ayala, formed part of the four visionaries who led the master planning of Makati.
The creation of Makati can be likened to a diamond that needs to go through extreme pressure to be the most beautiful and scintillating version of itself. Such an unprecedented feat is attributed to the country's multi-awarded pioneer in real estate development, Ayala Land Inc., created in 1988.
Memories from yesteryear unfold in more impressive proportions as new ones are highlighted as well. It is not enough to describe Makati as an urban jungle. There's so much more than that which meets the eye. Discover landmarks of this ever-evolving city and lifestyle destination that now offers green spaces, parks, museums, bars, watering holes, weekend markets, pet-friendly malls and even luxury shops like the largest Louis Vuitton store in the country that is located in Greenbelt 3 Mall. As if that wasn't enough, one can also look forward to the Festival of Lights, Art Fair Philippines, Art in the Park and a diverse range of activities from yoga, dance, sports to martial arts.
Chrissy Roa, the dynamic head of marketing and communications for Ayala Land Estates, Inc., proudly shared that "the purpose of events like these is to welcome back everyone after the recent challenges. This is also our way of sharing open spaces. The skating event held at Ayala Avenue was highly successful and will have another run. The Festival of Lights is not just a show but a reunion of families. The highly anticipated Lighting of Ayala Avenue is slated on Nov. 3." Truly, many more secrets are waiting to be revealed.
It was a sentimental and festive experience to witness the "It All Happens in Makati" campaign upon the invitation of gracious lady Joy Buensalido. On the way to Paseo de Roxas and Makati Avenue, which was cordoned off for the event, festive capiz decorations adorned the resplendent Ayala Avenue, ushering in the beautiful spirit of the Christmas season. History came alive as one admires the architectural gem Nielson Tower, the country's first airport tower which is now the illustrious Blackbird restaurant.
As the sun was beginning to set, casting its glow on the impressive skyline of the city, my cousin, interior designer Danny Jota and I sampled the amazing fare offered by food merchants like Pickup Coffee, Rue, Malagos Farmhouse cheeses, Deli by Chele, Coffee Lab PH, Trufa Pasta Bar, The Flower Farm, Taters, Green Bar, Din Tai Fung, 2nd Street Oysters, The Soul Food Truck, Chino Latino, Seltsam, Sarsa Kitchen+Bar, Toby's Estate Philippines, 1120 House Heineken, Thisispop, and Quilla.
For this gustatory and gastronomic city, what better collaboration to have than with Makati's "resident fine dining guy" JC Cailles Lo, who will launch a Makati Fine Dining Guide soon. From fine dining to hole-in-the-wall restaurants, you are spoilt for choice.
Makati City has also partnered up with incognito "food critic" as it brings you "Masarap Ba Goes to Makati." Having garnered a cult following, it is known as perhaps the most honest food review account.
Dynamic hosts David Celdran and co-host Nicole Andersson enthralled the audience with this contest where they judged if the food posted onscreen was "Masarap ba? Or not?" Gleeful participants won special prizes from Fairmont Makati. Make It Makati also collaborated with Jungo TV to launch an exclusive channel to provide more interactive content to the public.
As distinguished leaders from Ayala Land, Inc. and Makati City and the exuberant crowd converged in front of the stage, all eyes focused on the unveiling of the "It All Happens in Makati" map. This precious guide outlines the strengths that Ayala is known for. Makati is known as the country's financial center boasting of high rise residences and offices, an expansive choice of hotels and resorts, shopping malls, entertainment and dining establishments, parks and walkways peppered with amazing artwork, churches and places of history and heritage and more. Worthy of note, the content in this map is still a work in progress and everyone is welcome to submit their entries.
Councilor Ichi Yabut of the Makati Tourism Board revealed the various free walking tours being offered. There are scheduled days for specific tours that feature historical, spiritual, dining and pub crawls, business district tours, walkways with art murals to admire, Sunday markets, Underpass tours and more. Artworks by Impy Pilapil, Jose Mendoza and Ramon Orlina, among others, can be appreciated during these tours. You can log in to their website (makaturismo.ph).
Shiella Aguilar, head of Makati Estate, said that the Makati skyline is constantly changing. Two new premium iconic buildings, Ayala Triangle Gardens Tower Two, seamlessly blend the glass of the buildings and grass beneath. Experience the Samsung Performing Arts Theater in Circuit Makati and the One Ayala multi-model transport terminal as well.
The music vibe of Juan Miguel Salvador, the Authority band and DJ Agnes kept everyone chilling as Heineken Silver beer flowed freely. It was a celebration of what Makati stands for — progress, development, dreams fulfilled and future plans waiting to come to fruition.
With all that is unfolding and more to come, Makati will always have a reason to celebrate and be celebrated. This model city is simply worth emulating.
Ayala Land, Inc. will always be proud of this ever-dynamic and ever-evolving "crown jewel" that they have created. We may have discovered the iconic city that we grew up in but now, it ought to be rediscovered.
It is true. After we have explored the world in search of the most precious find, we return home to experience it just within our reach.
Meet me in Makati where it all happens!
* * *
For details, log on @MakeItMakati on Facebook and Instagram.