Safety made stylish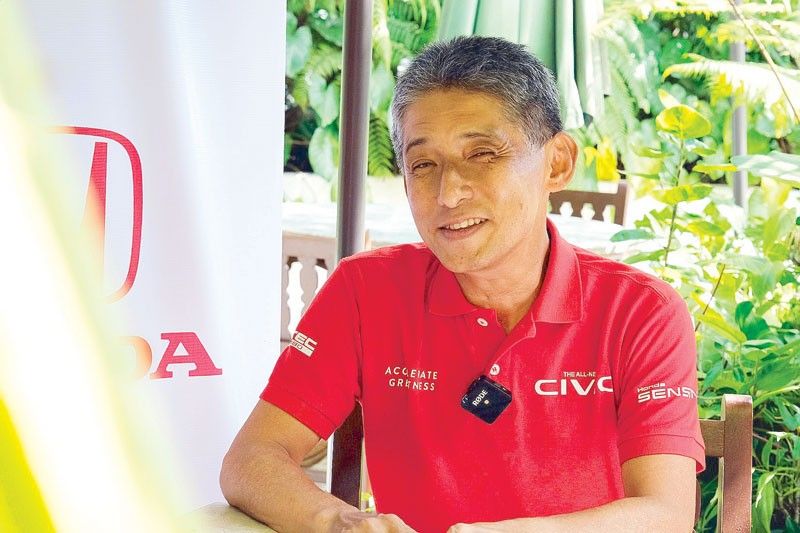 What is there not to like about the Honda Civic?
Nothing, really.
I recently took the 2022 all-new Honda Civic Turbo Honda Sensing for a test drive and I was not disappointed. It lives up to its reputation of being a sporty, everyday car. I like that the driver's seat is low; as soon as I take it, all the good things that the Civic has been known for begin to steal my heart. It took me a few minutes to see if I could get the seat a little higher, though I was able to do so with a little help from a small pillow on the driver's seat. A few minutes were all it took for me to quickly get used to it.
As I began to put my pedal to the metal I began to feel all the wonderful and lovely madness that driving a Civic brings. I had missed it so. The visibility of the road works out great with the hood in full view, the thinner A-pillars and re-positioned side mirrors also work to cut down the blind spots.
The all-new Civic has a 7-inch touchscreen system with Apple CarPlay and Android Auto. The layout is simple, making it easy to learn and master. Honda makes it easier to stay in control of programming by making the right knob double as a scroll wheel, too — perfect.
As I began my drive to the south, the engine never felt stressed, and it always felt like it's got power in reserve. The VTEC Turbo engine delivers the goods. It won't shove or dig you into your seat; it's not that sort of sports sedan. Instead, it's all about having power and torque whenever you need or demand it.
"We look forward to better days ahead," said Honda Cars Philippines Inc. (HCPI) president Masahiko Nakamura in an interview. "The challenges are there but the power of dreams will always be the stronger force. We stand by the global direction, that for us to continue to be the company that society wants to exist, we will strive to be the 'power' that supports people in their lives, in the dreams that they long to accomplish. We are relentless in efforts to realize a carbon-free and collision-free society through all our products and services. Specifically, we plan to integrate the Honda Sensing as a standard safety feature in our upcoming models."
We all know how the last two years affected the country. During the first year of the pandemic, retail sales went down by 39% and repairs of vehicles decreased by 35% compared to the pre-pandemic year. However, for the second year of the pandemic, there was a slight improvement for Honda's retail sales and repairs of vehicles by 17% and eight percent respectively compared to first year.
As a jumpstart to 2022 with lowered COVID numbers, the first event that Honda held was the all-new Honda Civic and Honda Sensing Group Media Test Drive. It was symbolic for how the automotive industry is growing out of the pandemic and still prioritizing everyone's safety in a face-to-face experiential drive.
"The latest version of the Honda Sensing in the all-new Honda Civic is able to make driving safer through the new monocular camera that has better recognition and can measure the distance target of the vehicle or obstacles ahead," added Nakamura. "This gives the new Civic access to the Honda Sensing features such as the Collision Mitigation Braking System, Adaptive Cruise Control with Low-Speed Follow, Lane Keeping Assist System, Road Departure Mitigation System with Lane Departure Warning, Auto High-Beam and the latest feature, which is the Lead Car Departure Notification System."
Safety for all
Honda wants to make the lives of drivers and pedestrians safe. It is because of this concern that it aims to equip all its vehicles with the Honda Sensing technology in the future. Making the streets safer for all is not only a dream, it is a goal that can be achieved through Honda vehicles' safety features, and advanced technologies such as the Honda Sensing matched with communication programs that improve the behavior and appreciation of drivers, passengers, and pedestrians alike.
"Safety for Everyone" is not just a slogan for Honda, it is a goal Honda strives for because it recognizes that their customers use Honda products to accomplish their dreams for their families and their community or country.
Honda has always demonstrated its commitment to its customers through its products and services.
"Safety is one of Honda's strongest sense of style," added Nakamura. "Safety is at the core of Honda's identity even from the beginning. This strong commitment towards safety is how we developed the Honda Sensing. Honda has been hailed as the Best Road Safety Partner in January 2022 during the 10th-anniversary celebration of ASEAN NCAP."
As I continue on my drive in the Civic I notice how it warns me if I am getting too close to a pedestrian or a car nearby — that helps me as a driver because it keeps me on my toes as I drive though the often chaotic streets of Manila.
Drive on.