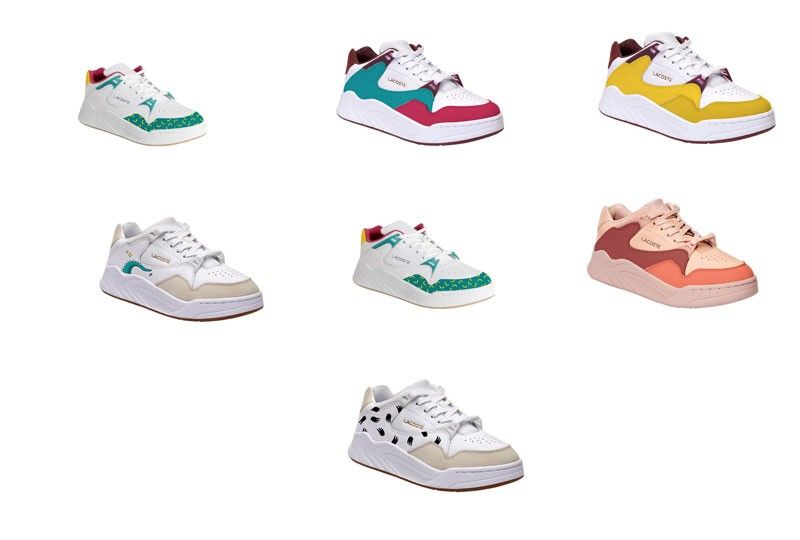 Personalize it: Customize your Lacoste Court Slam with color blocking or grafitti by Aral Cru until today at Alabang Town Center.
Shoe Good: Lacoste goes back to the '90s
There is no accessory that I love more than the perfect sneaker. Anyone who knows me knows that I don't own a pair of shoes unless it is in some sort of sneaker form.
So, when I attended SSI Group's Lacoste launch recently, a weekend affair to relive the iconic '90s with the launch of the French brand's highly anticipated new line of sneakers, the Court Slam, I couldn't resist.
The event, hosted by Tim Yap and Angelique Manto, had sneaker heads mostly millennials at the new Glorietta Activity Center. But, being the "fillennial" that I am and a lover of quality sneakers, I came early and that was a good thing.
Keeping in step with iconic '90s
The Lacoste Court Slam is truly a '90s-inspired sneaker, with its chunky heels and round-shaped toe cap. It's really cute and I found it hard to resist its charm.
Think of it as a tennis shoe X streetwear fashion. This new unisex sneaker catches the eye with its retro look. The sneaker, I was told, was inspired by the Tennis 91, one of the iconic models plucked from the brand's archives. The Court Slam was a thing on the tennis courts in the '90s, and today, it's been revived as a lifestyle sneaker with a daring and contemporary aesthetic and design.
It is available in three styles: white with navy details; white highlighted with blue, green, red and yellow details; and solid-colored beige.
Inspired by the grip of a tennis racket, the Court Slam has a perforated leather upper with suede insets that give it a casual, sporty look, while retaining its original technology for optimum stability and comfort.
Make it personal
The interesting thing about sneakers today is that they can be personalized. That afternoon, we had the unique opportunity of having our own pair stylized by Aral Cru, a trio of contemporary urban artists known for their vibrant and edgy graffiti art.
I sat as I watched the Aral Cru artists work on the shoe of my choice. As is my wont, I had one shoe with my initial and the other with graphic designs they'd prepared for the occasion.
Have your kicks customized on the spot to give your Court Slams a hint of that hip street vibe. Go for bold color-blocking combinations or cool croc and French icons illustrated by Aral Cru to add oomph and flair to your Court Slam pair. I also saw SSI president Anton Huang try on a pair of Lacoste Court Slams and have them customized according to his liking.
Tim Yap, in his own customized Lacoste Court Slams (it had "Tim" on one and "Yap" on the other) and Angelique Manto hosted the energetic and loud performances that included street hip-hop dance numbers by the Steps Dance Project and A-TEAM Philippines, and the freshest music from KINGwAw, AstroKidd, Curtismith, Massiah of Careless Music Manila and the beats of DJ Nix Damn P.
Other attendees included online stars such as Kaila Estrada, Kim Baranda, Leila Alcasid, Lissa Kahayon, Santino Rosales, and Winnie Wong. Guests and mall-goers alike who bought Court Slam kicks on the same day were treated to a free on-the-spot street design customization.
Before I left the Glorietta Activity center that day, there was one thing I noticed: although the music might have been too loud for my liking and the street dancing too wild for my taste, the customization of the Lacoste Court Slam is a universal thing all of us just want to be unique.
And that's a good thing!
* * *
Catch the unveiling of Lacoste's Court Slam today, Dec. 1, at the Alabang Town Center.
In the Philippines, Lacoste is exclusively distributed by Stores Specialists, Inc., and located at Glorietta, Central Square in Bonifacio High Street Central, Alabang Town Center, Eastwood Mall, Estancia in Capitol Commons, Fairview Terraces, Gateway Mall, Greenbelt 3, Kiss & Fly NAIA T3, Newport Mall, Okada, Podium, Power Plant Mall, Robinson's Galleria, Robinson's Magnolia, Robinson's Place Manila, Rustan's Makati, Rustan's Shangri-La, Shangri-La Plaza East Wing, SM Mall of Asia, SM Megamall, TriNoma, Ayala Center Cebu, Abreeza Davao, SM Davao, Veranza KCC Mall General Santos and Zamboanga.
For information, visit lacoste.com.ph and www.ssilife.com.ph, follow facebook.com/LacostePhilippines, or visit @ssilifeph on Instagram.