Hans sy follows his heart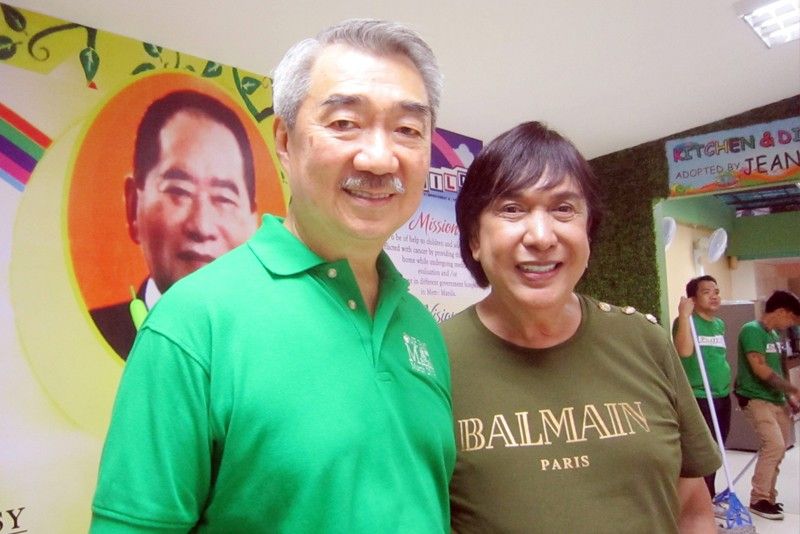 MANILA, Philippines — The gospel reading that Sunday was the parable of the Good Samaritan who helped an injured man along the road when no one else did. The reading could not have been more appropriate for the occasion. The Mass was being held at the blessing of Child Haus in Quezon City. The newly renovated house serves as a halfway home for indigent children from the provinces who have been diagnosed with cancer while they undergo medical treatment in the city.
Hans Sy, director of SM Prime Holdings, and son of the late Henry Sy, founder of SM Investments, one of the Philippines' largest conglomerates, is the Good Samaritan who donated the house, while Ricky Reyes — beauty guru, successful entrepreneur and philanthropist — is the Good Samaritan who founded Child Haus.
While visiting cancer patients at PGH, bringing them food and donations, Ricky saw people sitting on the floor or standing against the wall along the corridors. "They were outpatients from the provinces with no home in Metro Manila," he recalls. "They'd sleep in the park or inside the jeep. So I said, it cannot be like that."
After seeing Ricky Reyes on TV with his story, Hans Sy did not think twice about extending a helping hand. "That's the funny part," he relates. "When I decided to do it, I was not thinking of any return." He remembered what his father used to say: "Follow your heart. If you think it's good, just do it." And from his mother, he often heard: "Share your blessings."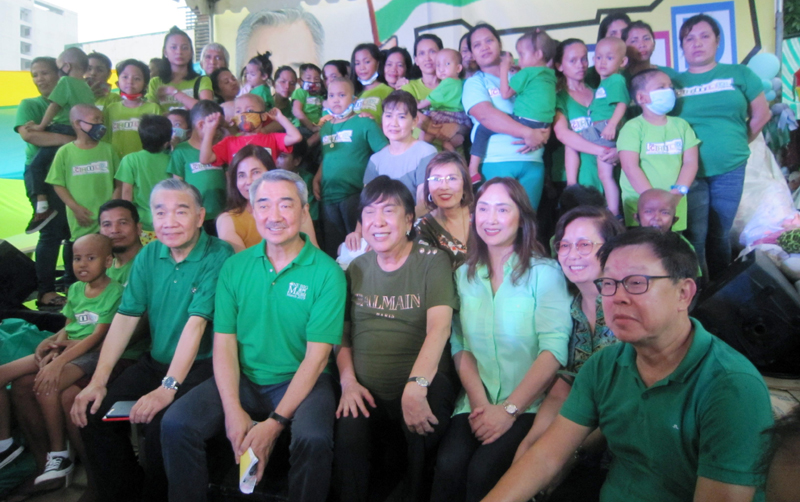 (Front) Jun Gaw, Hans Sy, Ricky Reyes, Tates Gana, Edna Calixto, Sergio Yu; (behind) Carol Sy, Jeannette Cu, Child Haus kids
When Hans turned 60 a couple of years ago, he donated a seven-story building in Manila where indigent patients can stay while they undergo treatment at the Philippine General Hospital nearby. This time, the house in Quezon City is conveniently located for outpatients of the Philippine Children's Medical Center as well as the East Avenue Medical Center and other government hospitals nearby.
"Child Haus will be 16 years old in September," Ricky shares. "Eighteen thousand children have lived with us, and out of that, only about 800 said goodbye. The children get three full meals every day. Their immune system becomes stronger and they get continuous medication. They get well and they are able to return home to the province. This is all because they have a roof over their head to protect them from the sun and the rain."
Alliah Sauler had been sick for three years. She had been with Child Haus for just as long. She had a brain tumor, was operated on and is undergoing chemotherapy. She is now 15 years old. An only child, both her parents stay with her at Child Haus. "We are so blessed. We have a nice place to stay. It's clean. We get proper food." She no longer suffers from headaches. "I have become stronger," she says. "May awa ang Diyos. I wish we will all get well so we can go back home."
"At first, they were given free lodging only, but now they also get free food," says Tates Gana, center director of Child Haus in Quezon City. They've received many other generous donations, such as free laboratory tests as well as free transportation for the outpatients to and from the hospital.
"Everybody has a good heart. They are just searching where they can help. We invite people to come over and take a look," says Carol Sy, the low-key and gracious wife of Hans Sy. "This is a big opportunity for us to help. Ricky was instrumental. We are happy to help."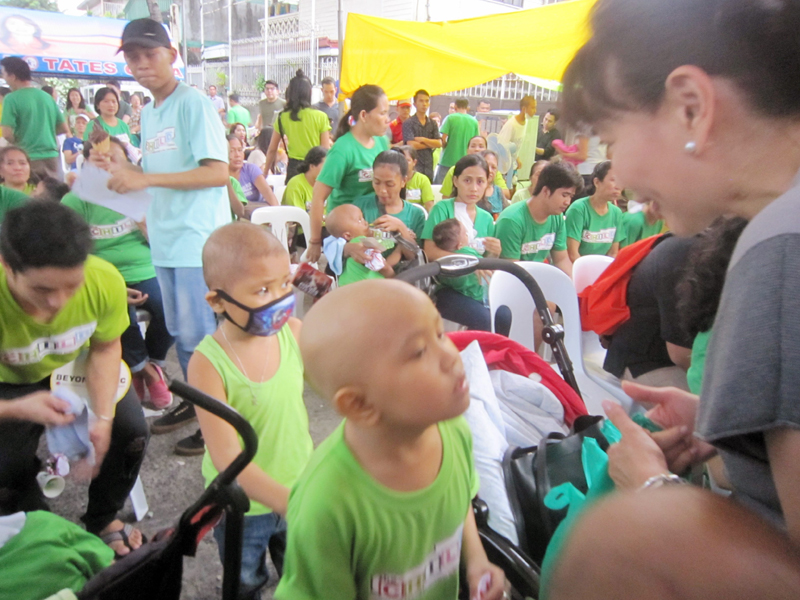 Carol Sy gives gift bags to Child Haus kids.
Maridyl de Vera is a breast cancer survivor. She learned about Child Haus from her sister-in-law who is also a cancer survivor. In the past year, instead of celebrating their birthday with a party, they brought food for the kids at Child Haus.
Jeannette Cu had been supporting Child Haus for the past eight years. She has provided the kids with a monthly supply of formula milk which they need to regain their strength after every chemotherapy session.
Annie and Ramon Santos, who supply kiddie rides at the malls, have been donating kiddie rides for the kids at Child Haus for more than 10 years now. "They are confined inside the house and are not able to go out," Annie observes. Once a year, they give the kids a treat and take them to the dream park that they own in Nueva Ecija. During those times, "I could see that they are so happy," Annie says.
Even the business associates and friends of Hans Sy such as Jun Gaw and Sergio Yu, who were at the house blessing, are happy to give their share. "I am so blessed with so many friends who are supportive. They come and see for themselves that these children need help," Sy says.
It's also a family affair. Sy gets his children and grandchildren involved, the way his own parents got him involved in their charities. "That we are all gathered here is a blessing. I cannot do this alone," Hans says. "I am happy when I am able to help. I wish I could do even more."