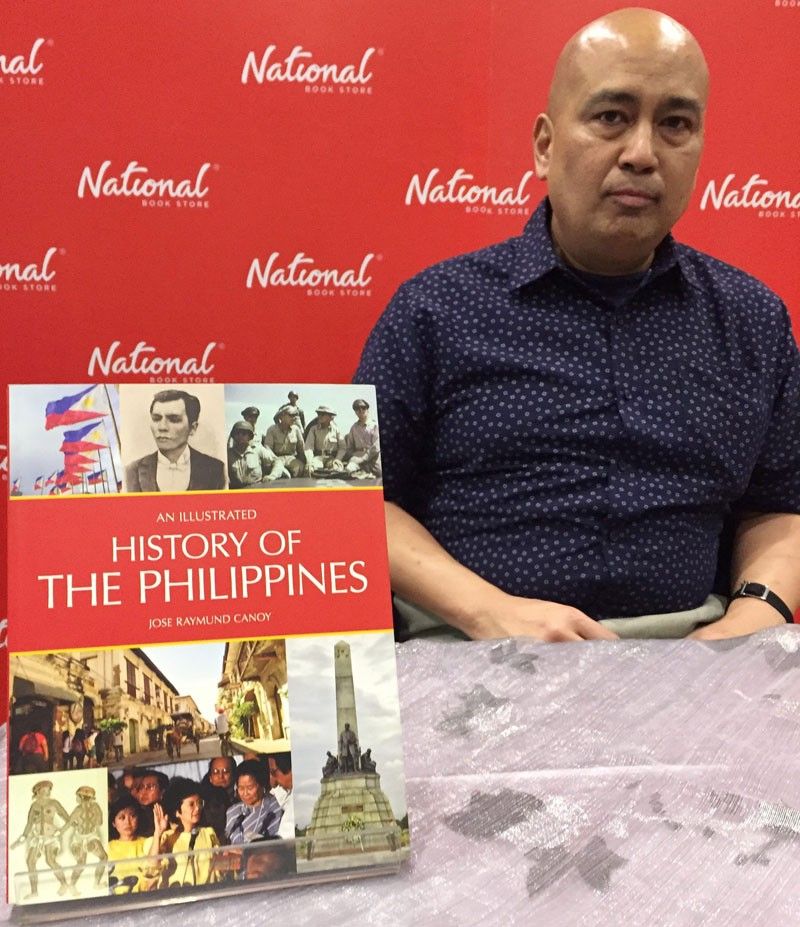 History in the making: Author Jose Canoy
A historian who says history is science fiction
History is "the closest thing we have to science fiction," says historian Jose Raymund Canoy, whose book, An Illustrated History of the Philippines, was launched at NBS Glorietta last week.
Really? History as science fiction?
"It's like world-building," the writer says. "You're facing basic problems, environment, landscape, geography, population size, and creating solutions for it."
Those solutions come in the telling of the story — in this case, how the Philippines came from the past into its present state.
Canoy speaks of "usable pasts" and the way mythmaking overtakes a solid factual record, especially in a place like the Philippines, which was disrupted from its own history by colonialism. The datu system, he writes, was replaced by a dependence on foreign entities. "Take Douglas MacArthur," he says. "Filipinos now use the name 'MaArthur' in an eerie way that's similar to the way the Brits use 'Arthur,' the mythical king who returned to save Britain. They don't know him as a real person anymore; they know him as folklore… Check back in 100 years, MacArthur will still be here as someone who came across the water to rescue us."
He's currently working on another book, about the parallels between Irish and Filipino history ("They're both Catholic, fairly rural, a huge diaspora abroad, oppressed by massive Protestant colonial powers, and both fought wars of independence within a 20-year time window of each other"), and even a sci-fi novel about an alternate-history Southeast Asia called Sundaland.
But don't ask Canoy to talk about the future or current events. "Historians are the worst prognosticators. People think they can come to us for magic-wand predictions or a crystal ball." But part of reading a history of the Philippines is seeing how it ties up with the present, or the future. It's natural to ask such questions.
Canoy, born in Cebu but currently living in Ireland, studied and taught history at the University of Oklahoma until 2013. He's actually part of the diaspora he writes about in the book. He himself admits he's the last person who should be writing a history of the Philippines. "First of all, I am not a trained specialist in Filipino history. I turned down this project (part of a series for John Beaufoy Publishing) when first asked because I felt I didn't have the qualifications for it, and I still don't."
Canoy then actually tries to tell me what the lede for my article should be: "You can put that upfront in the first paragraph, 'I'm not qualified to write this book,' that can be your first sentence, 'He says so himself.'" It seems like an odd way to establish your bona fides.
It's a contentious half-hour interview. I would ask questions, and Canoy would say that's not his job as a historian: "You're trying to turn me into a commentator on current events," he griped at one point. To which I replied: "I'm not trying to turn you into anything, I swear." He grew a little heated: "The previous chapters, if you could speak to those, then we'll talk. There's a reason I'm not a political scientist."
At another point he took me to task for calling other Filipino languages "dialects." "You wouldn't dare say that Dutch is a dialect of German, though they're related. But the way it flowed from your mouth so quickly is a dead giveaway. The problem begins there, if you dismiss those as dialects."
I was doing no such thing, I countered.
"So why did you do it then? You are conforming to a standard. It's normalized. If we can get beyond that, we can get somewhere."
I was just hoping to get through the interview. Despite this, the book itself is engaging enough, not just because of its ample supply of archived photos, but in its argument about the Philippines' disruption from its past, a condition it mostly does not share with its Southeast Asian neighbors.
"All over Southeast Asia, (other colonial powers) didn't destroy the native power structure the way much of what was here was erased. They have a deep past to fall back on. That's not something that we have with our aristocracy here." So people are forced to write their own version of the Philippines' story: "A lot of fabulation, and usable pasts."
Canoy allows himself to gaze into the crystal ball just once: "We're entering the post-western moment. What kind of moment it is is anybody's guess." Canoy's final chapter spends a few pages on the Duterte era, but with or without MacArthur, the Philippines is clearly poised between a past American century and an uncertain connection with its own future.
"I think what will happen is the Philippines will realize it's been so invested in a relationship with America, and it really doesn't have a mental landscape of a Plan B yet."
* * *
An Illustrated History of the Philippines by Jose Raymund Canoy is available at National Book Store.