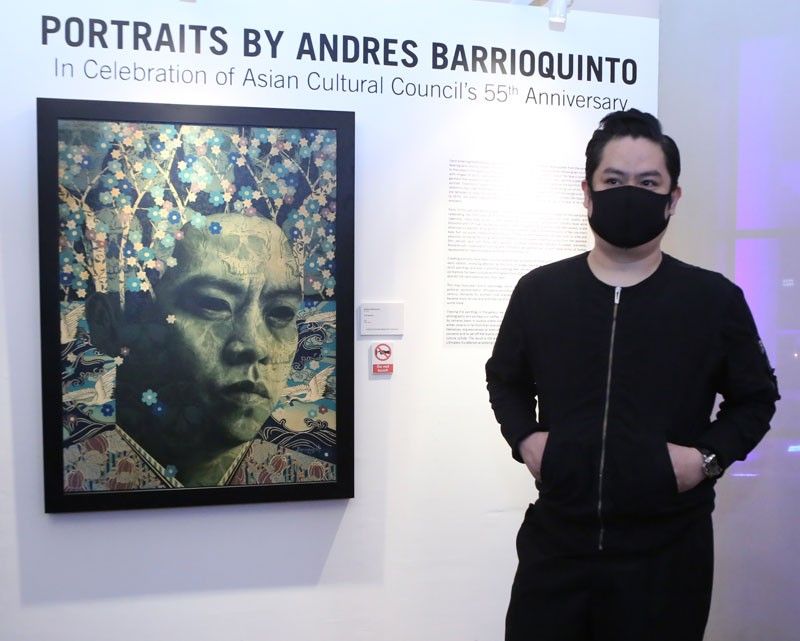 Andres Barrioquinto with his statement mask
Art Philanthropy, unmasked
Andres Barrioquinto embraces the value of giving back, together with the Asian Cultural Council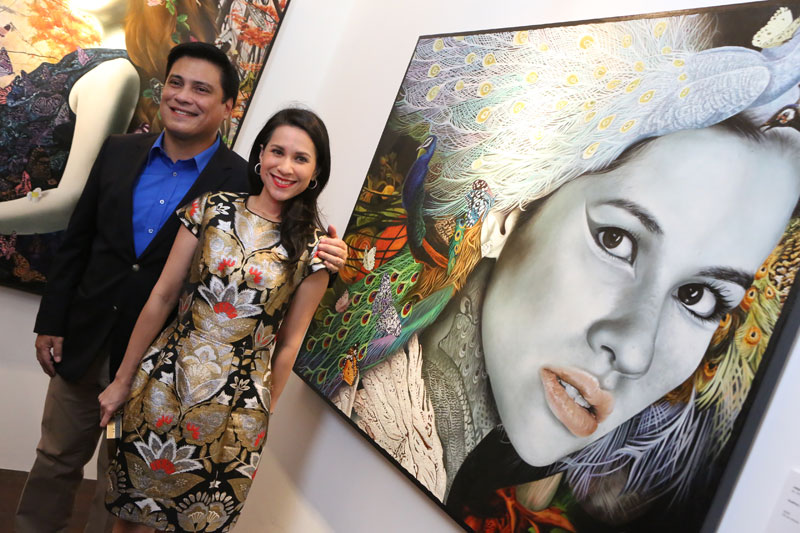 Audrey Tan-Zubiri with Sen. Migz Zubiri
Why is Andres Barrioquinto wearing a face mask?
I asked the artist's manager Derek Flores this question during the opening of his exhibit at the National Museum of Fine Arts last Nov. 8.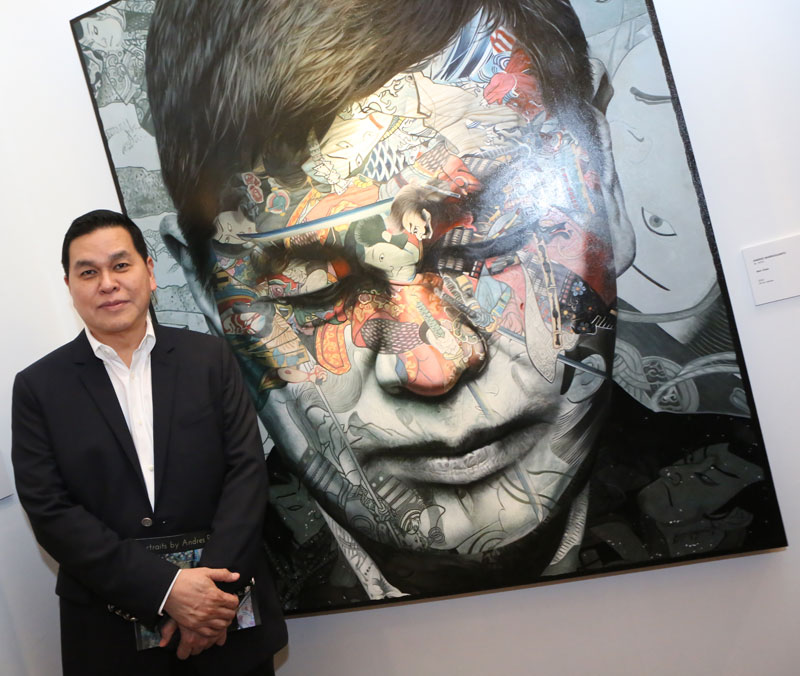 Ben Chan
"Barrioquinto is feeling under the weather. He's making sure not to catch the flu," Derek answered.
But someone close to the artist said: "Maybe the mask is a statement."

US Ambassador Sung Kim, (6th from left) with the movers of the Asian Cultural Council Philippines (from left) Malu Gamboa-Lindo, Cecily Cook, Rajo Laurel, Alice Eduardo, Dr. Joven Cuanang, Ernest Escaler, Josie Natori, Maribel Ongpin, Miho Walsh, ACC chairman Wendy O'Neill, Ching Cruz, Tess Rances
Whatever. But during this exhibit, there was one statement that came loud and clear: Barrioquinto wants to help Filipino artists.
This award-winning artist whose works have been sold in auction houses such as Sotheby's, Christie's, Larasati and Leon Gallery took the chance to give back and support young Filipino artists and future grantees of the Asian Cultural Council (ACC) as it celebrates its 55th anniversary this year through a special benefit exhibit of his contemporary portraiture.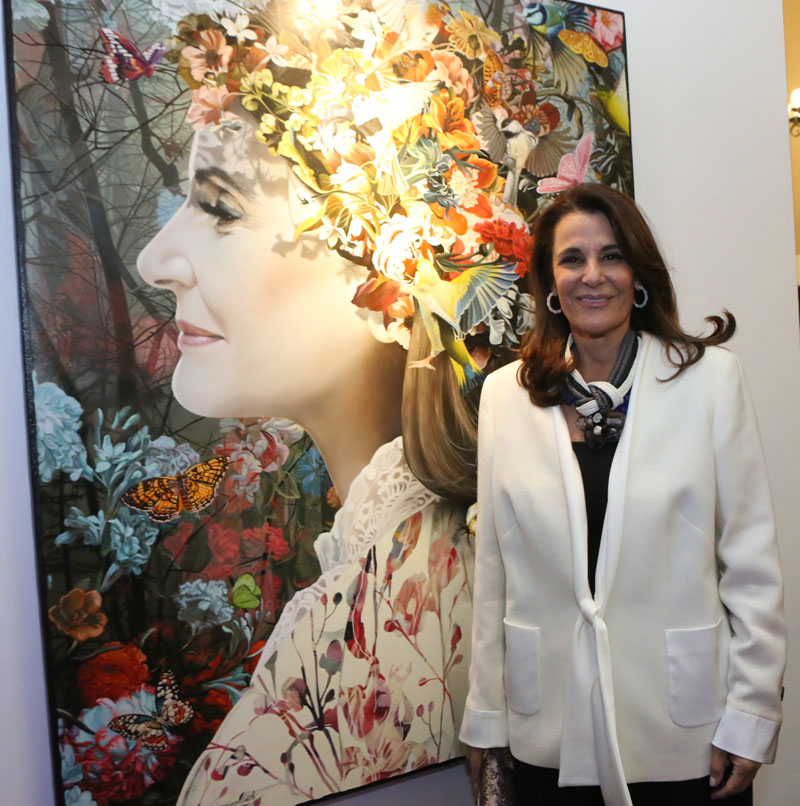 Bea Zobel
Barrioquinto did portraits of 18 industry leaders, art patrons, connoisseurs, namely Cecile Ang, Grace Ang, Grace Barbers-Baja, Abigail Binay-Campos, Ben Chan, Angelita Almeda Cruz, Baby Araneta-Fores, Juliana Gomez, Richard Gomez, Lucy Torres-Gomez, Small Laude, Jessica Kienle-Maxwell, Josie Cruz-Natori, Sheila Romero, Robbie Santos, Audrey Tan-Zubiri, Bea Zobel and Kevin Zonnenberg.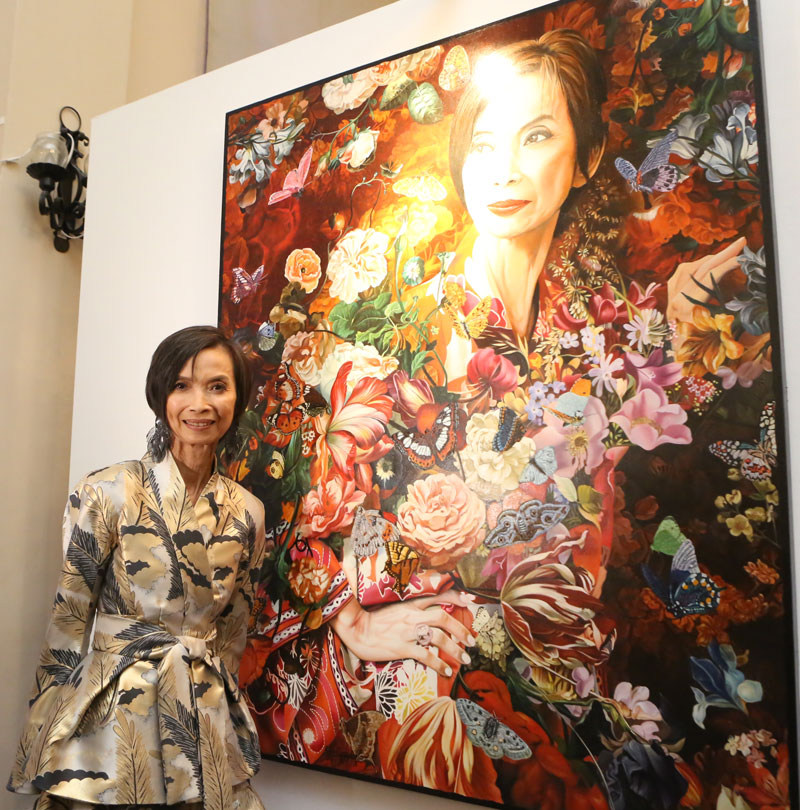 Josie Natori
The ACC was created in 1963 by John D. Rockefeller III "to give grants to individuals and institutions to support work that fosters exchange between Asia and the US." Since then, some 400 Filipinos have received ACC grants, and eight of them have been proclaimed National Artists: Jose Joya (visual arts), Lucrecia Kasilag (music), Jose Maceda (music), Lamberto Avellana (film), Francisco Feliciano (music), Alice Reyes (dance), Ramon Santos (music) and newly-conferred Kidlat Tahimik (film).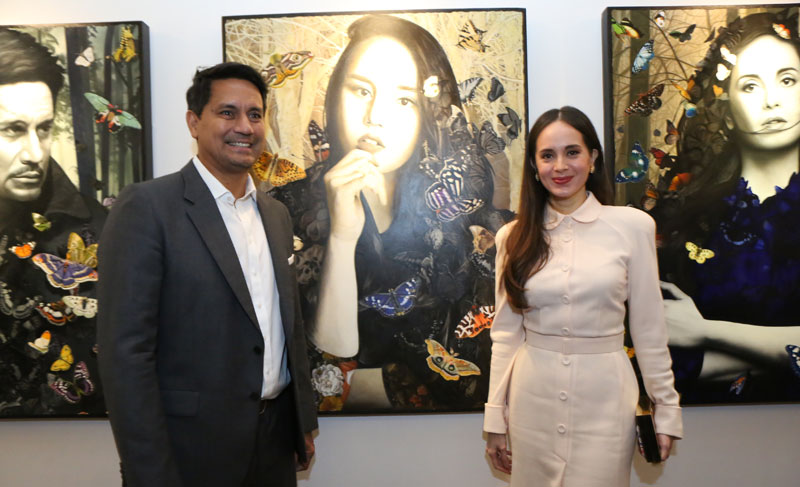 Richard Gomez and Lucy Torres-Gomez with their and Juliana Gomez's portraits
ACC grantees from the Philippines for 2018 are Joseph Keith Anicoche (theater), Anna Marika Lissa Constantino (curation/visual arts), Maria Joselina Anna Gonzalez Cruz (curation), Zeny May Recidoro (art criticism), Anna Margarita Reyes (dance/cinematography), Elena Comendador and Elizabeth Roxas (design & dance collaboration) and Grace Nono (music/graduate studies).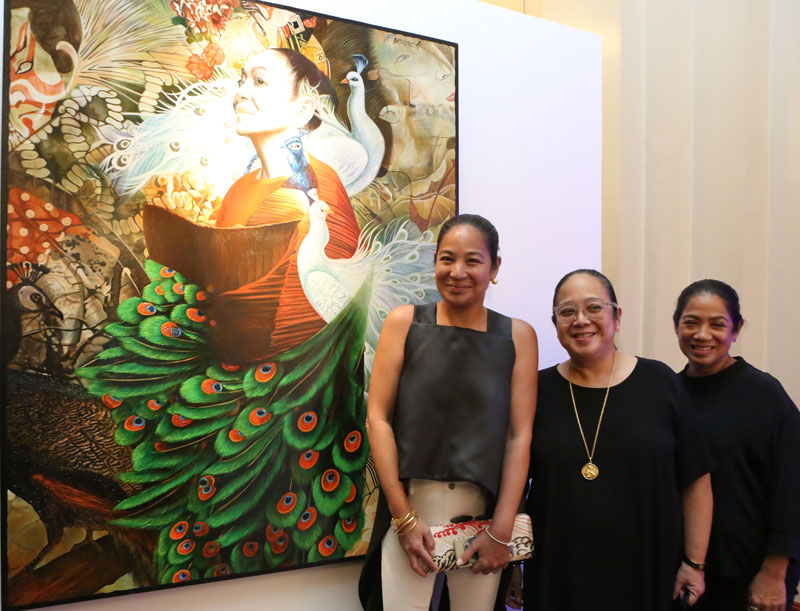 Bledes Fores-Legarda, Veana Fores and Margarita Fores with the portrait of their mom Baby Fores
During the exhibit opening, ACC chairman Wendy O'Neill and ACC Philippines chairman Ernest Escaler both thanked Barrioquinto for joining hands with ACC and embracing art philanthrophy.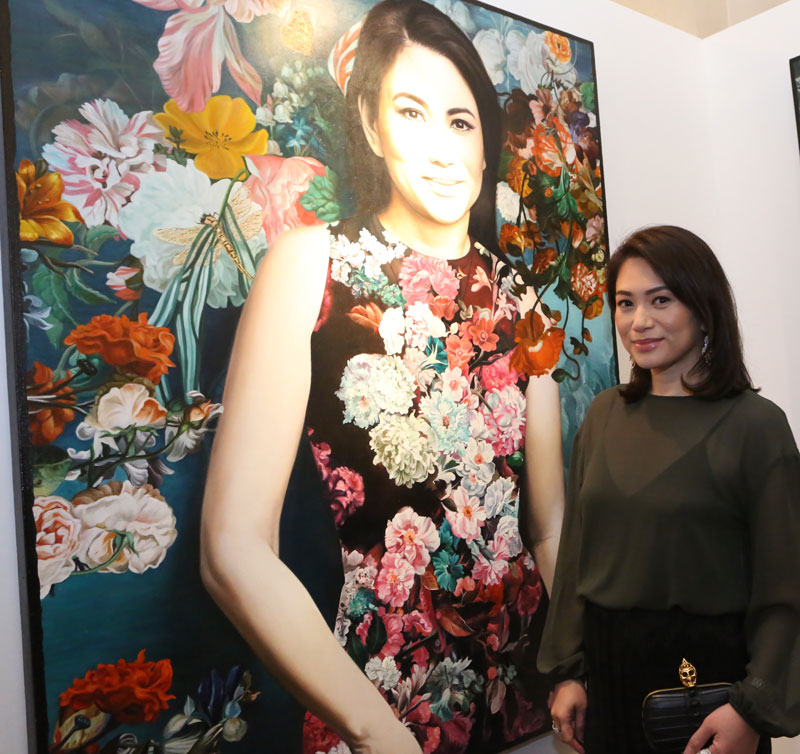 Sheila Romero
Art philanthropy was clearly his statement, perhaps tucked beneath that face mask. What about his art statement? "My work is perhaps more sharply individualized than the realist, therefore more dramatically my own, sometimes to the point of eccentricity. My works' individuality becomes more natural when I'm probing my own soul rather than reflecting the world of ideas, and in expressing my inner world rather than revealing a basic harmony around us. I paint images so exaggerated or distorted that they take us away from the familiar world into one of emotion and feeling. In their most extreme, these expressions may even become hysterical or nightmarish."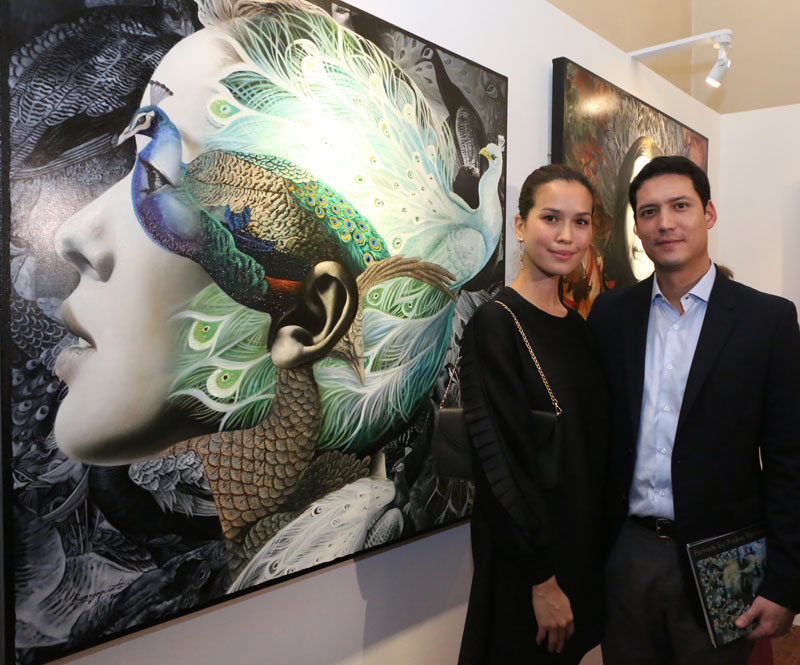 Jessica Kienle-Maxwell with Jesse Maxwell
We really didn't see hysterical or nightmarish portraits in the exhibit. What we saw were charming, enigmatic, profound portraits that made us stop and think, and see the subjects from a different perspective. Manila's art-loving crowd had some favorites though — like those of Bea Zobel, Ben Chan and Audrey Tan-Zubiri.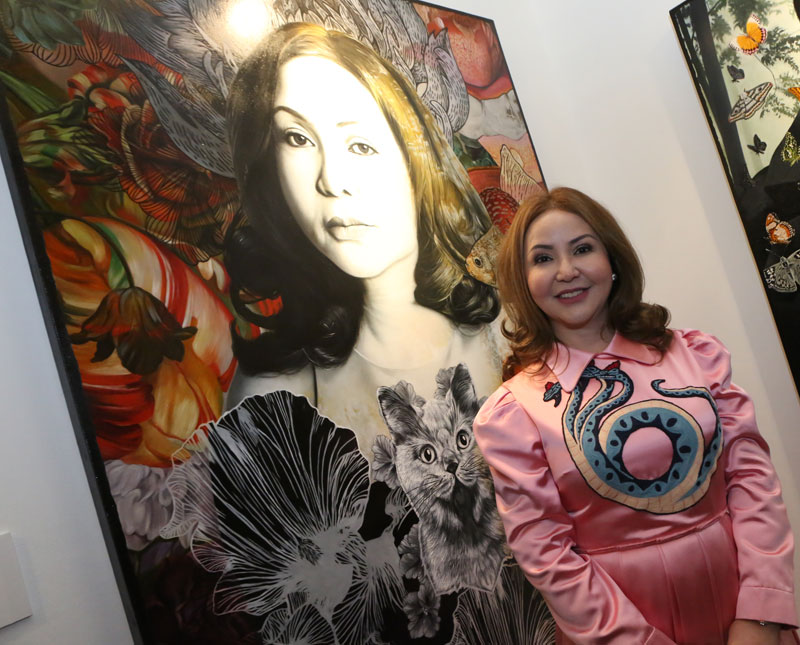 Small Laude
What's next for Barrioquinto in 2019? His first solo show in New York City in March , a comeback solo exhibition in London in September. What statement piece will he wear next? I am aching to unmask it.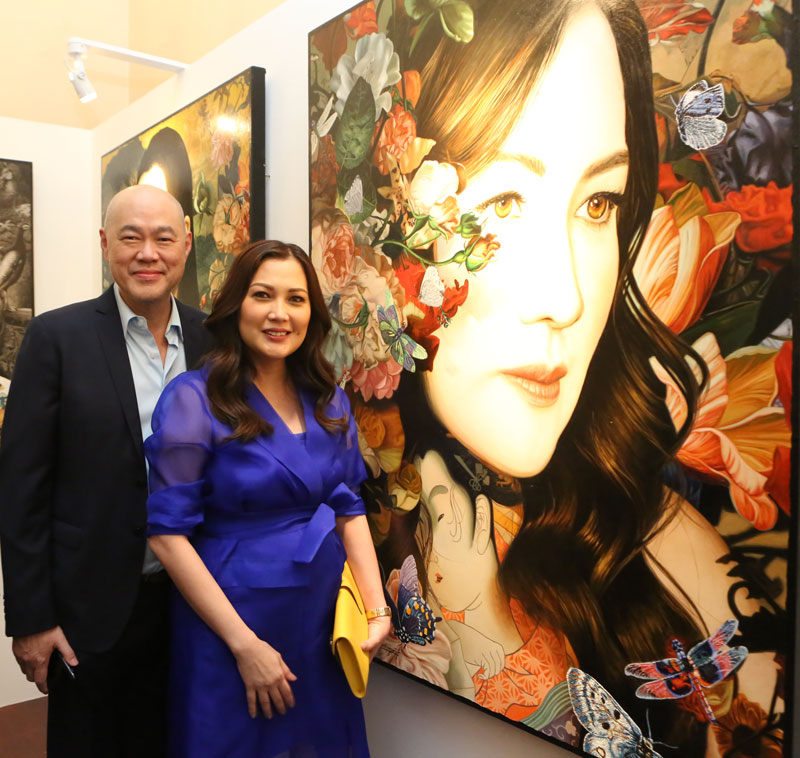 Grace Ang with Felix Ang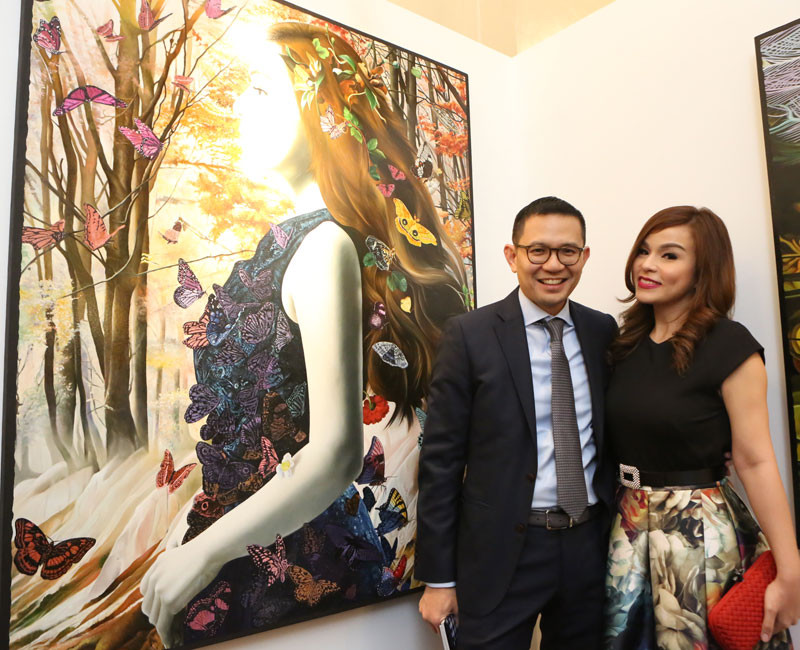 Grace Barbers-Baja with Lauro Baja III
* * *
In partnership with the National Museum, the ACC presents "Portraits by Andres Barrioquinto" goes on until Nov. 15, 2018 at the Osmena Hall of the National Museum of Fine Arts, Padre Burgos Avenue, Manila.
Follow the author on Instagram and Facebook@milletmartinezmananquil. Email her at mmmananquil@philstarmedia.com.