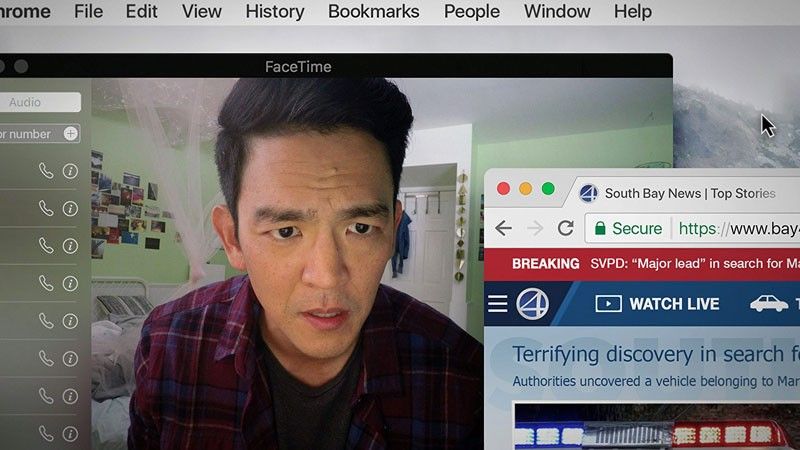 John Chu has a full-blown freakout in Searching.
Photos from Columbia Pictures
This thriller is every parent's worst nightmare
Some people never leave their laptops. Searching, a new thriller starring John Cho (Star Trek, Harold & Kumar Go to White Castle), never lets the audience escape the computer screen, through which it tells the story of a missing teenage daughter in California and her dad's efforts to find her.
Opening on one of those Windows screensavers that displays rolling green fields and blue skies, we get the back story on Korean-American David Kim (Cho), whose young wife succumbs to cancer, leaving him to raise his only daughter Margot (Michelle La) alone. Told through a POV shot of photo albums and AVI videos on David's desktop, it's an effective way to quickly bring us to the present, kinda like Up.
Now imagine this guy never leaving that screen for two hours. An audacious move by director/screenwriter Aneesh Chaganty (worthy of M. Night Shyamalan in terms of chutzpah), we are effectively drawn into the mystery through David's eyes, gazing at a series of digital portals. After shame-messaging his daughter on What's App about not taking out the trash, she texts back that she's out studying overnight at a friend's house.
Two missed late-night calls from his daughter lead David to text her the next morning, more and more frantically, in an effort to figure out where she's gone.
Thus begins a mystery in which David starts poring over Margot's laptop (and his deceased wife's) for clues as to whom his daughter might be hanging around with and what's going on in her life.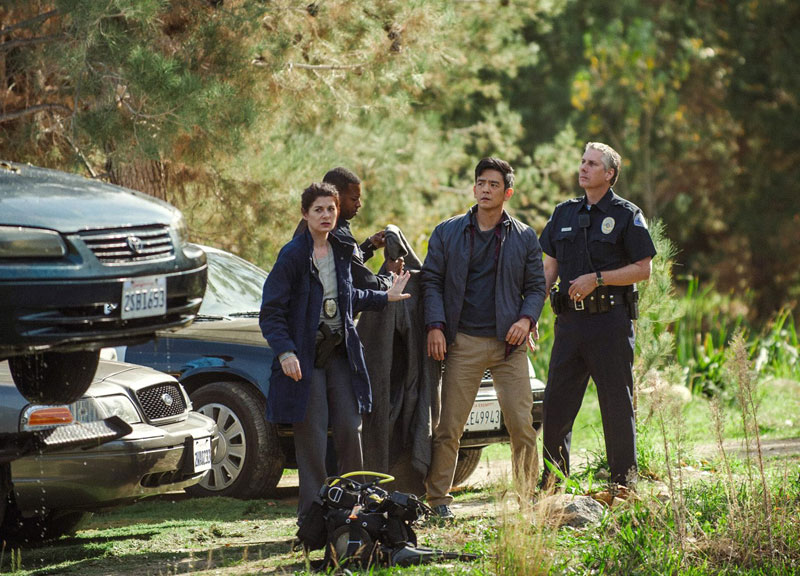 Debra Messing leads the investigation into Margot's disappearance.
The digital breadcrumb trail takes many paths, and the results grow darker and murkier by the minute as David looks for traces in Facebook friend lists, Instagram, Reddit and Tumblr posts. Cue profile photos of sketchy, loser-type friends that are on Margot's list — people into drugs, Venmo hidden-money accounts, and Justin Bieber concerts.
It's every parent's fears about raising a teenage daughter, combining all the unknowables — Is she safe? Who is she with? Are there parents around? What kind of websites does she visit? — with all the unthinkables. Multiply that by 1,000 and you've got Searching.
He digs deeper and finds Margot's secretly joined a webcast community (YouCast), posting videos of herself and soliciting random message threads from strangers.
By the time investigating detective Rosemary Vick (Debra Messing) turns up to look into the case, a horror-struck David has to admit: "I didn't know my daughter."
Since we are telling this story through a laptop the entire time, it requires constant creative edits involving FaceTime video screens on the side of scrolling pages of contact addresses, YouTube and online videos relating the unfolding mystery. David tells his story to local news broadcasters, coverage of which also appears on his laptop. The approach makes you wonder a few things:
• Would watching a copy of Searching on your laptop be like actually living through the movie yourself?
• How small a budget are we talking about here for a film that relies on handheld videos and a laptop as its main expenses?
• Why doesn't David just close that freakin' laptop and go out and actually look for his daughter in the real world?
As with other teen daughter/double life stories (think Twin Peaks), there's a lot of handwringing and emotional turmoil from Cho, who blames himself (for telling Margot to take out the trash?) as the nightmare unfolds.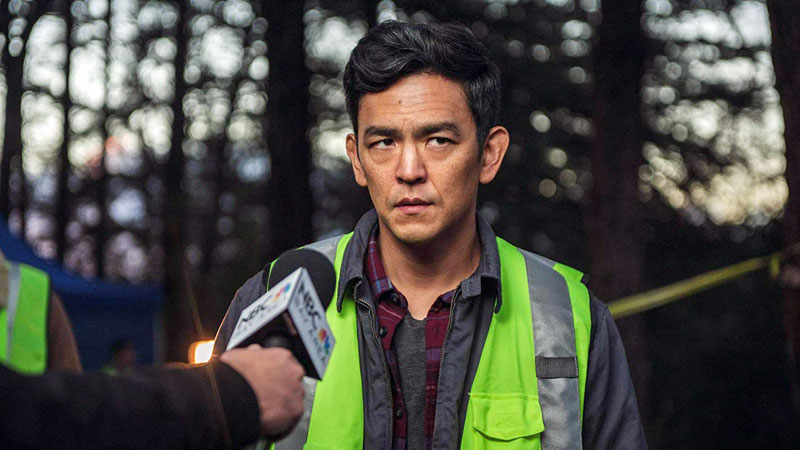 #DadDidIt: Cho acts very sketchy as the news cameras circle in.
Detective Vick is a hard-nut kind of cop, not drawn into David's emotional freakout (at one point he decides to surveil his own brother, played by Joseph Lee), but when clues start to point to Margot depositing her piano lesson money into a secret account, Vick suspects the daughter has run away from home. Meanwhile, people watching the drama unfold online begin to suspect David is hiding something. (#DadDidIt) Over the course of a 37-hour investigation, many red herrings and tricky leads pop up (literally, as in right there on the laptop screen), and Searching winds its way down a treacherous Hitchcockian path to a somewhat Ron Howard conclusion.
This laptop POV business has been used before in movies (think Easy A or Unfriended), but not as immersively. Silences, pauses and sound play a big part, as the camera lingers over an online clue, and it's Cho's keyboard clicking or roving mouse arrow that tells the story. Like John Krasinki's horror thriller A Quiet Place, it forces the audience to adjust its antennae to new surroundings. This can get gimmicky and tedious at times, as it does in "found media" movies like Cloverfield and Blair Witch Project. But the gimmick does manage to lure us in.
Cho takes center stage here, and it's worth noting that, following the success of Crazy Rich Asians, this marks the first mainstream Hollywood thriller to star an Asian-American actor. On what must have been a miniscule budget (seriously, it makes Blair Witch's seem like Gone with the Wind), the film, which bagged the NEXT Audience Award and Alfred Sloan Prize at this year's Sundance Film Festival, taps into the sketchy online lifestyles of Gen-Z, even as it relies on pressing the hot buttons of their parents, who are justifiably freaked out by what kind of rabbit holes actually exist out there on the interwebs.
* * *
Searching comes out in cinemas Sept. 19.