MANILA, Philippines – Agreat white shirt and suit are veritable foundations as much as they are investments to any woman's wardrobe. La Fayette 148 New York knows this by heart—the global, independently owned brand was built on its stretch cotton white shirts and tailored stretchable suits. Founded in 1996 by sisters and friends Shun Yen Siu, Deirdre Quinn and Ida Siu, it is one of fashion's quietest success stories, organically progressing into the New York City snowbird's essentials by focusing where it matters: impeccable fit and quality.
The brand has since expanded to evening dresses and tailored sportswear in the finest fabrics which fit women of all shapes and sizes (all core designs are adjusted to petite and plus size fit models). Lafayette 148 New York combines the cosmopolitan energy of its New York headquarters with its founders' Chinese heritage through embellishments and craftsmanship with the finest Italian fabrics—cashmere from Loro Piana, printed silks from Northern Italy, cotton blends Reggiani and classic wool and wool blends from Botto Giuseppe.
Apart from its discreet full-service concept store along Lafayette Street in Soho, New York City (there is no label, you'll find it across Opening Ceremony, eight floors up) they are also distributed in Saks Fifth Avenue, Neiman Marcus, and Holt Renfrew among other 180 high-end department stores around the world—and now at Rustan's Makati.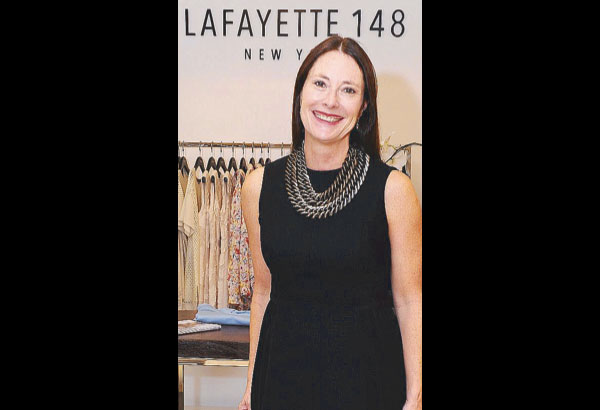 Lafayette 148 New York vice president for sales Annette Mathieu
Arriving just in time for the new year, Lafayette 148 New York's offerings for the season comes in a palette lifted out of a winter garden in floral jacquards and silk prints. YStyle sat down with vice president for sales Annette Mathieu—herself a New York transplant with a uniform of chic little black dresses—as she introduces to the Manila socialite a versatile kind of dressing.
The Philippine STAR: Who is the Lafayette 148 New York woman?
Annette Mathieu: She is a woman who lives a full life, and we dress her for all her lifestyle needs. Something for her business attire, or if she's not employed, she could be doing philantrophic work and she's the head of the board. We also dress her into the evening, into something modern and appropriate.
In the States, we dress a lot of professional women—doctors, attorneys, political people, television personalities. They don't want to look overtly fashionable. They just want to look of-the-moment, sleek, contemporary, and still elegant. It isn't about age, it's about an attitude.
We service women in 29 different sizes—from petite to plus size OP – 24—so each piece looks great on every woman.
How does the east-meets-west dynamic work at Lafayette 148 New York?
We are predominantly a global brand. Some of our designers and artisans are from and in China and our headquarters are in New York City, but Italy, [where we source our fabrics] is also a big part of our identity. Our customers in New York are in the pulse of what's happening while China wants luxury, they pay attention to detail. But overall, we're inspired by the women we see and cultures we experience.
What is the brand's key silhouette?
We work with the finest mills and always test how high we can go in terms of design with the quality of our fabrics. Working with fabrics like these, you have to be precise in your execution. Sometimes, clean lines speak more and the craftsmanship in making the garment is most important. That being said, we are known for the fit of our pants. We have a beautiful drape to our tops.
The brand is present in nine cities around the world. How different is the selection available in Manila?
How we curate the selection has a lot to do with the climate in the city. We have a lot of clients from the north, and there, we have a lot of shearling and leather. Our dresses do very well in China and I see that similar connection between China and Manila. Here, the consumer responds to color and print. The Filipina loves dressy tops and dresses. She's a very social woman in Manila. She goes to a lot of events and we cater to the assortment in that lifestyle.
* * *
In Manila, Lafayette 148 New York is exclusively available in Rustan's Department Store Makati.