Cuba seeks WHO approval of its COVID-19 vaccines
September 16, 2021 | 7:33am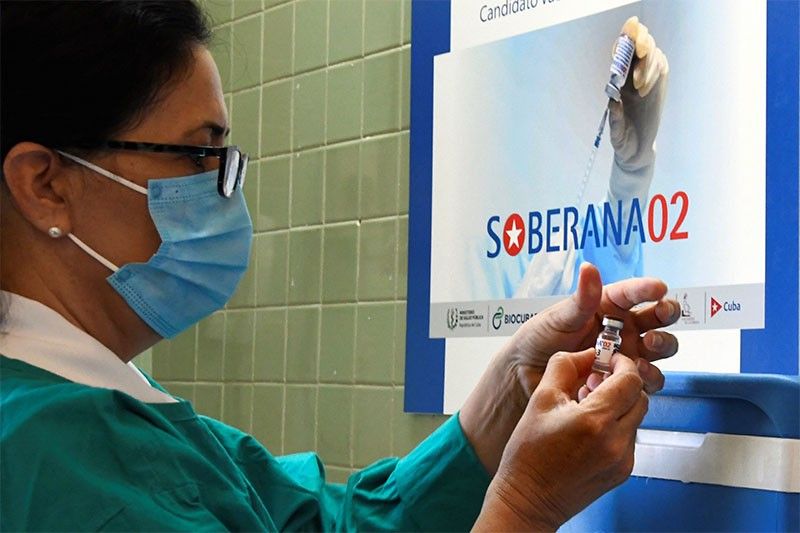 HAVANA, Cuba — Cuba said Wednesday it would seek World Health Organization approval for two home-grown coronavirus vaccines it hopes to commercialize widely.
A vetting process will start Thursday with WHO experts examining the nation's Abdala and Soberana 02 jabs, said Rolando Perez of state pharma group BioCubaFarma.
Perez said the experts would examine the vaccines' "safety, immunogenicity (the ability of a vaccine to provoke an immune response) and efficacy."
The WHO's representative in Cuba, Jose Moya, told AFP there would be "a first virtual meeting" Thursday between experts in Havana, Geneva and Washington.
Cuba has been using domestically-produced vaccines in its Covid-19 inoculation campaign, including for children.
The vaccines, the first developed in Latin America, have yet to undergo international, scientific peer review.
They are based on recombinant protein technology -- the same used by the United States' Novavax and France's Sanofi jabs.
Unlike many other shots in use, recombinant vaccines do not require extreme refrigeration.
Perez said Cuba's ability to sell its vaccines to other countries does not depend on WHO approval, as this is a decision for national health authorities.
But it would "facilitate (the vaccines') entry into the market in other nations, once the island's needs are covered."
Several countries including Argentina and Mexico have shown interest in acquiring the Cuban jabs, Venezuela has already signed a purchase contract, and Iran is producing Soberana 02 on home soil.
Under American sanctions since 1962, communist Cuba has a long tradition of making its own vaccines, dating back to the 1980s.
Nearly 80 percent of its inoculations are produced locally.
Cuban scientists say the Abdala and Soberana 02 jabs have been shown to be more than 90 percent effective at preventing symptomatic Covid-19 cases.
The island of 11.2 million people has fully vaccinated about 38.5 percent of its population, also using China's Sinopharm inoculation.
The country has registered 768,497 Covid cases and 6,523 deaths.
As It Happens
LATEST UPDATE: October 27, 2021 - 7:38am
Pharma giants Sanofi and GSK said on July 29, 2020, that they have agreed to supply Britain with up to 60 million doses of a potential COVID-19 vaccine. The agreement covers a vaccine candidate developed by France's Sanofi in partnership with the UK's GSK and is subject to a "final contract."
This thread collects some of the major developments in the search for a vaccine to ease the new coronavirus pandemic. (Main photo by AFP/Joel Saget)
October 27, 2021 - 7:38am
A medical panel of US government advisors vote to recommend authorizing the Pfizer Covid-19 vaccine for five-to-11-year-olds, paving the way for younger children to get their shots within weeks.
"It is pretty clear to me that the benefits do outweigh the risk when I hear about children who are being put in the ICU, who are having long term outcomes after their Covid, and children are dying," says Amanda Cohn of the Centers of Disease Control and Prevention, who voted yes. — AFP
October 22, 2021 - 9:05am
New Zealand sets a 90-percent vaccination target Friday for scrapping lockdowns as Prime Minister Jacinda Ardern unveiled a plan to open up despite the stubborn grip of the Delta variant.
Ardern says her goal had shifted from eliminating Covid-19 to minimising its spread in the community by ramping up vaccinations.
She says the change meant New Zealanders would not be subject to stay-at-home orders and business shutdowns, provided they were fully inoculated.
"We cannot ask vaccinated people to stay home forever," she tells reporters. — AFP
October 15, 2021 - 2:45pm
An expert committee recommends a booster dose of Moderna's anti-Covid vaccine in the United States for certain at-risk groups, a month after making a similar decision for the Pfizer shot.
The opinion submitted by the advisory committee of the Food and Drug Administration -- composed of researchers, epidemiologists and infectious disease experts -- is not binding, but it is rare for the FDA not to follow it.
After a day of debate, the experts decided to authorize a booster dose of Moderna for three categories of people: the over-65s, people aged between 18 and 64 who are at a higher risk of developing a severe version of the coronavirus, and those whose work may involve frequent exposure to the virus. — AFP
October 13, 2021 - 6:55am
G20 trade ministers on Tuesday promise to work towards a fair distribution of Covid-19 vaccines by lifting export restrictions and making the trade system more transparent.
Their final statement, adopted after a meeting in Sorrento, southern Italy, was a sign of the return of multilateralism, says Italian Foreign Minister Luigi Di Maio.
"We have to ensure that there is greater circulation of vaccines and that there are production factories in the developing countries," French trade minister Franck Riester says. — AFP
October 2, 2021 - 10:22am
COVID vaccinations will be compulsory for all students in California, the state's governor announced Friday — a first in the United States, where vaccine hesitancy has slowed efforts to end the pandemic.
The plan will be phased in as Food and Drug Administration regulators grant full approval for use in younger age groups.
California "will require our kids to get the Covid-19 vaccine to come to school," said Governor Gavin Newsom.
"Our schools already require vaccines for measles, mumps and more. Why? Because vaccines work. This is about keeping our kids safe and healthy."
The Pfizer-BioNTech vaccine has been granted full FDA approval for those age 16 and up. — AFP