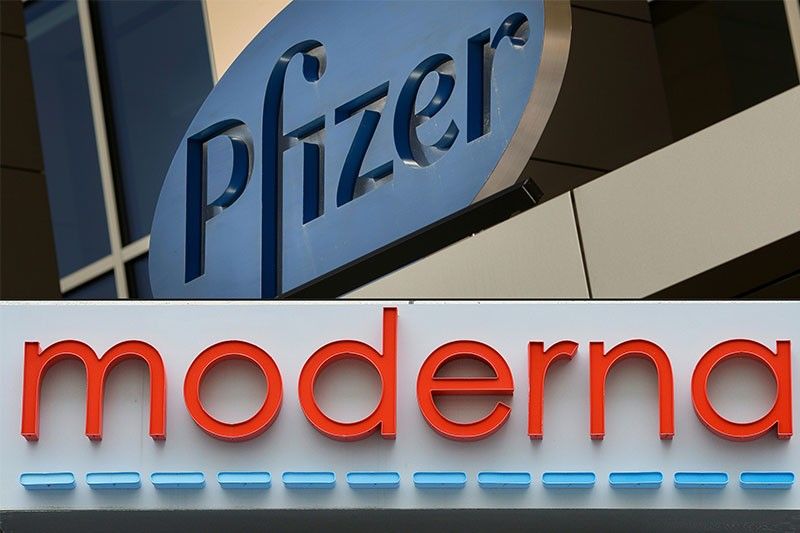 This combination of file pictures created on August 05, 2020 shows a sign for Pfizer pharmaceutical company on a building in Cambridge, Massachusetts, on March 18, 2017 and the Moderna headquarters in Cambridge, Massachusetts on May 18, 2020. The CEOs of nine companies developing vaccines against Covid-19 on September 8, 2020 pledged to "uphold the integrity of the scientific process" amid concern Donald Trump will pressure regulators to approve a vaccine ahead of the presidential election in November. "We, the undersigned biopharmaceutical companies, want to make clear our ongoing commitment to developing and testing potential vaccines for COVID-19 in accordance with high ethical standards and sound scientific principles," said the CEOs.The statement was signed by AstraZeneca, BioNTech, GlaxoSmithKline, Johnson & Johnson, Merck, Moderna, Novavax, Pfizer and Sanofi.
AFP/DOMINICK REUTER, Joseph Prezioso
Moderna shares COVID-19 vaccine trial blueprints, Pfizer follows
Ivan Couronne
(Agence France-Presse) - September 18, 2020 - 7:58am
WASHINGTON, United States — US biotech firm Moderna, one of nine companies in the late stages of clinical trials for a Covid-19 vaccine, became the first to publish the complete blueprints of its study following calls for greater transparency.
Pfizer, the other American company currently carrying out Phase 3 trials in the US, followed suit a short time later and there is now added pressure for the remainder to do the same.
Phase 3 is the final stage before approval, in which a vaccine and a placebo are tested on thousands of participants to verify the medicine is safe and effective.
The vaccine race has become deeply politicized in the US in the run-up to the presidential election in November, as President Donald Trump touts a quick vaccine in response to criticism of his handling of the pandemic.
Trump repeated on Wednesday that the first vaccine would be approved by October, increasing concerns that the White House will place pressure on the approval body, the Food and Drug Administration (FDA).
"I don't trust Donald Trump," his rival from the Democratic party Joe Biden said Wednesday.
Experts and officials in the Republican president's administration agree that it's not possible to predict the results of the trials that are underway, and it's highly unlikely to have strong data before the end of 2020.
Vaccine doses will be initially very limited, according to health authorities.
Moderna's CEO Stephane Bancel said on Thursday his company would know whether their vaccine works by November.
October is possible but unlikely, he told CNBC.
The trial protocol published Thursday, which runs to 135 pages and is marked "confidential," fixes the parameters of the experiment.
The most important of these is how it will judge whether results are conclusive.
Wait for it
The reality of an immunization trial is that it's necessary to wait until a certain number of volunteers become naturally infected, in order to compare outcomes in the placebo group against the group given the vaccine.
So the decline in the rate of infection in the US could theoretically delay the results -- possibly until December, said Bancel.
As of Thursday, Moderna had recruited 25,296 volunteers. Among them, 10,025 had received their second dose, 28 days after the first.
It'll take a few more weeks to recruit the full quotient of 30,000 participants and for them to receive their second doses.
Only Covid-19 infections recorded two weeks or more after the second dose are counted, to give the vaccine sufficient time to take effect.
Interim analyses by a committee of independent experts are planned over the course of the trial to verify whether a high statistical threshold of effectiveness has been reached, and to monitor for serious side effects.
The FDA has stated its bar for approval is a vaccine that reduces the risk of falling sick with Covid-19 by 50 percent.
The Moderna trial protocol "has the key information (for) stopping rules, interim analyses and efficacy assumptions. Applaud their transparency," Eric Topol, director of the Scripps Research Institute and one of the critics leading the charge against possible political interference, told AFP.
Pressure on
Moderna also said that 28 percent of its participants were from racial minority groups.
Having sufficient participants among black and Hispanic people in particular is crucial in obtaining statistically representative results for these communities that have been disproportionately hit by the pandemic.
The decision by Moderna, which has received $2.5 billion in US government money, left a spotlight on Pfizer, whose CEO has repeatedly said the company will have its results by the end of October, which is in line with Trump's wishes.
A spokeswoman told AFP Pfizer has traditionally not shared the full in-depth study protocol, but "the Covid-19 pandemic is a unique circumstance and the need for transparency is clear."
"As a result, the company is making the full protocol for its self-funded Covid-19 vaccine pivotal study available to reinforce Pfizer's longstanding commitment to scientific and regulatory rigor that benefits patients."
The other frontrunner is AstraZeneca, which has co-developed a vaccine with the University of Oxford.
The medicine's global trials were suspended last week after a participant had an unexplained illness, but were later restarted in the UK, Brazil, and South Africa. The US remains the exception for reasons that aren't yet known.
As It Happens
LATEST UPDATE: November 28, 2020 - 1:41pm
Pharma giants Sanofi and GSK said on July 29, 2020, that they have agreed to supply Britain with up to 60 million doses of a potential COVID-19 vaccine. The agreement covers a vaccine candidate developed by France's Sanofi in partnership with the UK's GSK and is subject to a "final contract."
This thread collects some of the major developments in the search for a vaccine to ease the new coronavirus pandemic. (Main photo by AFP/Joel Saget)
November 28, 2020 - 1:41pm
A think tank questions the rush to sign a vaccine supply deal with British-Swedish drugmaker AstraZeneca as experts doubt its reported success rate.
"With the new global trials involving the low-dose regimen, it is premature for government to make a supply commitment to AstraZeneca, unless and until there is a showing that the new trials will yield the same ninety-percent efficacy rating in its limited trial run," says Terry Ridon, Infrawatch PH convenor.
November 28, 2020 - 11:01am
As a string of Covid-19 vaccines near approval, Frankfurt Airport staff are gearing up to handle the unprecedented logistical challenge of transporting millions of life-saving doses worldwide.
Frankfurt is Europe's largest hub for transporting pharmaceutical goods, and will be key to the success of inoculating millions of people against the deadly coronavirus. — AFP
November 27, 2020 - 3:45pm
One of the developers of Russia's Sputnik V coronavirus vaccine announces that India-based drugmaker Hetero will produce over 100 million doses of the jab.
"Hetero, one of India's leading generic pharmaceutical companies, have agreed to produce in India over 100 million doses per year of the world's first registered vaccine against the novel coronavirus infection -– Sputnik V," the Russian Direct Investment Fund says in a statement, adding that production was expected to start in early 2021.
Earlier this week, Russia said interim results from the Sputnik V clinical trails showed the vaccine was 95% effective, similar to other international vaccine makers that have also published test results showing efficacy rates of 90% and higher. — AFP
November 27, 2020 - 11:14am
The World Health Organization urges African countries to improve their capacity to vaccinate populations against COVID-19, warning the continent was still "far from ready" for mass immunisation.
With three coronavirus vaccines now showing efficacy rates of 70% or more, the UN body called on Africa to "ramp up" preparations for "the continent's largest ever immunisation drive".
The African region is so far only 33 percent ready to roll out Covid-19 vaccines, the World Health Organization says in a statement. — AFP
November 27, 2020 - 9:34am
The British government says it has asked its independent medicines regulator to assess AstraZeneca's coronavirus vaccine as part of the formal approval process for the drug to be rolled out by the end of the year.
More than 1.4 million people have died since the novel coronavirus emerged in China late last year, and three drug developers -- Pfizer/BioNTech, Moderna and AstraZeneca/Oxford University -- are currently applying for approval for their vaccines to be used as early as December.
AstraZeneca has completed Phase III clinical trials of its vaccine, the last stage before regulatory approval. — AFP