Lymphoma: The cancer that can be confused with flu
September 24, 2019 | 12:00am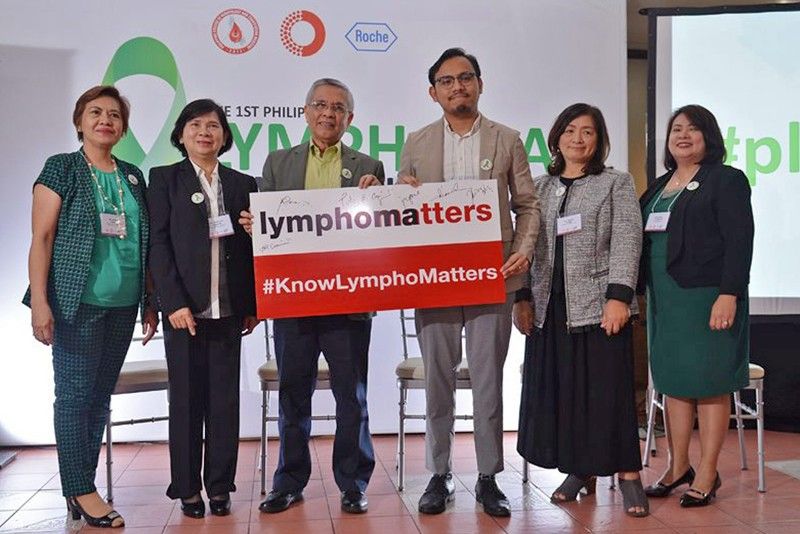 You can acquire lymphoma cancer even if cancer isn't in your genes. You could have been exposed to toxic agents, had infections, took wrong medications.
Do you get tired easily? Have you been sweating at night? It could just be the flu. But if it has been bothering you for a month already, it's time to consult a specialist — make that a hematologist — because it could be the potentially deadly cancer lymphoma.
Jheric Delos Angeles was diagnosed with lymphoma four years ago. He was 24 at that time, at the prime of his career. He had flu-like symptoms — night sweats, fatigue and persistent back pain.
"I thought I was just stressed out because I had a new job," shared Jheric. "The first doctor misdiagnosed my condition as flu. But the symptoms didn't go away even if I'd already taken antibiotics."
Jheric, who was getting weaker by the day, was advised by family and friends to seek a second opinion. And his worst nightmare came true.
"I already felt the symptoms since February. I got misdiagnosed in March," related Jheric. "In April 2015, I was diagnosed with Stage 4 ALCL, a very rare form of non-Hodgkin's lymphoma."
To say that Jheric was devastated after the diagnosis was an understatement.
"It was like the end of the world," he said. "I just got a new job in an advertising firm. I just couldn't afford to be sick because I'm the breadwinner of the family. The disease left me immobile for months. I was worried for my mom more than myself. My dad died a year before I got diagnosed. How could I better take care of her?"
Barely a month after he got diagnosed, Jheric started a grueling course of treatment. He had to take a leave from work for his chemotherapy. But the biggest challenge was looking for funds to fight the disease.
"My friends, family and colleagues organized fund drives for my treatment. I lost my hair due to chemotherapy and got bloated because of the steroids," shared Jheric. "My mom and girlfriend (now my wife) didn't give up on me. So why should I?"
Luckily, Jheric is now in remission and is currently working in an advertising agency.
He also put up the Lymphoma Philippines Foundation, a patient support group for lymphoma patients.
Understanding Lymphoma
Lymphoma is the most common type of blood cancer, affecting the lymphocyte cells, which are a type of white blood cell, that make up part of our immune system.
"They are found in the bone marrow and the lymph nodes, which protects us against viruses and infections. When the cells become cancerous, they can lead to lumps in the lymph nodes that are found in the neck, armpits, groin and stomach," explained Dr. Rosalio Torres, founding president of the Philippine College of Hematology and Transfusion Medicine.
More than 580,000 people are diagnosed with lymphoma each year worldwide. In the Philippines, over 4,000 people are diagnosed with the disease.
The tests and procedures used to diagnose lymphoma include:
• Physical exam. Your doctor checks for swollen lymph nodes (also known as kulani) on your neck, underarms and groin, as well as a swollen spleen or liver.
• Taking a sample of lymph node for testing. Your doctor may recommend a lymph node biopsy procedure to remove all or part of a lymph node for laboratory testing. Advanced tests can determine if lymphoma cells are present and what types of cells are involved.
• Blood tests and other imaging. These may be requested by your doctor to further confirm diagnosis.
"Once a patient is diagnosed with lymphoma, we classify the disease or subdivide it into two main types: Hodgkin's Lymphoma and Non-Hodgkin's Lymphoma. Hodgkin's Lymphoma can often be cured. Non-Hodgkin's Lymphoma is the most common type of lymphoma — four out of five patients," explained Dr. Torres, who admitted that making a diagnosis could be challenging at times. "There are just so many algorithms involved before making a precise diagnosis and planning the treatment."
And since the symptoms could be mistaken for flu, most physicians don't catch the disease in its early stages.
"One manifestation of lymphoma is small lumps or kulane. If you have tuberculosis (TB), you'll have flu-like symptoms and you develop kulane," said Dr. Torres. "So what most attending physicians would do is to treat your 'TB' first. And when the symptoms persist, that's the only time they would recommend further tests. And if this is the case, you'll lose precious time and maybe lose the possibility of a good response to treatment."
And, just like most cancers, the causes of lymphoma are multi-factorial.
"You can acquire lymphoma even if cancer isn't in your genes," explained Dr. Torres. "You might have been exposed to something to which the cells of the body have been compromised. Or you could have been exposed to toxic agents, had infections, took wrong medications and other external factors."
The confluence of these factors, Dr. Torres added, leads to the development of a clone or population of abnormal cells that leads to lymphoma.
"But once the cancer develops, we still do genetic testing (gene sequencing). By doing that, we would know if the cancer cells are sensitive or resistant to medications. The treatment for lymphoma is individualized. It's not a one-size-fits-all treatment anymore," said Dr. Torres.
Another reason why the incidence of lymphoma in the country continues to rise is the lack of hematologists who can provide a precise diagnosis of the disease and recommend a better treatment plan for the patients.
"There are about 150 hematologists in the country, which is split into pediatric and adult groups," lamented Dr. Torres. "There are about 80 hematologists who are in charge of the adult group, which I'm heading. So that's 80 hematologists serving 120 million Filipinos."
What the Philippine College of Hematology and Transfusion Medicine, which Dr. Torres heads, is doing right now is training more doctors to become hematologists who are committed to working in the underserved areas of the country.
"Right now we have about four training hospitals doing this: the Philippine General Hospital, St. Luke's Medical Center, University of Sto. Tomas Hospital and Makati Medical Center," he noted.
Lymphoma awareness campaign
"Lymphoma is a form of blood cancer, yet awareness and understanding of the disease is greatly lacking," lamented Dr. Torres.
In observance of World Lymphoma Awareness Day, which was held last Sept. 15, Roche Philippines Inc. partnered with the Philippine College of Hematology and Transfusion Medicine and Lymphoma Philippines Foundation to launch the "LymphoMatters Advocacy Campaign."
"The campaign aims to raise awareness on lymphoma and promote healthy diagnosis and optimal management," said Dr. Torres.
"Every second, a patient is diagnosed with lymphoma worldwide. What people don't know is that lymphoma is actually curable and I am a living testament to this," enthused Jheric Delos Angeles, president of the Lymphoma Philippines Foundation. "We are excited about this partnership with PCHTM and Roche as we aim to strengthen support for Filipino lymphoma patients and make them realize that together, we can overcome the challenges they face."
According to Dr. Priscilla Caguioa, hematologist-oncologist and past president of the Philippine Society of Medical Oncology and Philippine Society of Hematology and Blood Transfusion, lymphoma is among the 15 top cancers in the Philippines.
"As with any type of cancer, early detection is critical for patients to receive the right treatment and achieve a high chance of a cure," she added.
Lymphoma survivor and hematologist Dr. Ellen Gatchalian is optimistic that through the awareness campaign, "we will be able to provide more support for lymphoma patients."
Dr. Diana Edralin, country medical director of Roche (Philippines) Inc., believes that multi-stakeholder partnerships are critical, not just in raising awareness on lymphoma, but also in helping patients receive optimal care through their treatment journey.
"Giving the multitude of subtypes within lymphoma, Roche is committed to continuing research on lymphoma in order to increase understanding of this complex disease and ensure patients receive the best possible treatment," added Dr. Edralin.
The World Lymphoma Awareness Day is a global initiative hosted by the Lymphoma Coalition, a non-profit network organization of 63 lymphoma patient groups from 44 countries around the world.