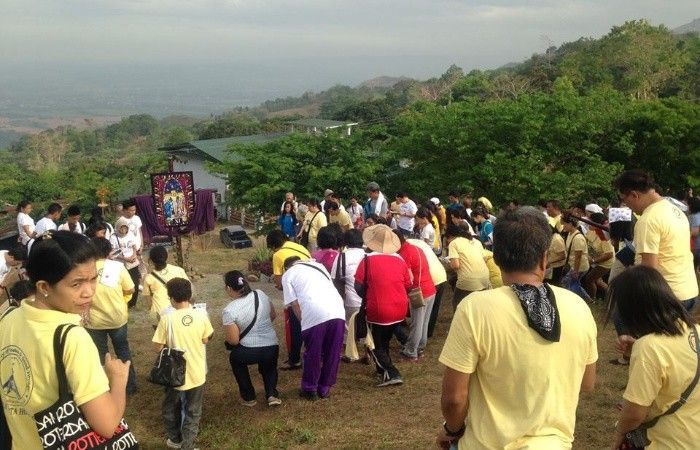 Timberland Heights once again opens its doors to the faithful to visit the 14 Stations of the Cross dubbed "The Walk of Faith at Timberland Heights."
Filinvest/Released
Filinvest's Timberland Heights welcomes the faithful this Lenten season
(Philstar.com) - April 17, 2019 - 6:44pm
MANILA, Philippines — Timberland Heights, the massive 677-hectare master-planned township project of the Filinvest group's property arm, Filinvest Land Inc. (FLI), in San Mateo, Rizal now thrives as a holistic development with upscale residential subdivisions, leisure attractions and a myriad of activities for the whole family.
This Lenten season, Timberland Heights once again opens its doors to the faithful to visit the 14 Stations of the Cross dubbed "The Walk of Faith at Timberland Heights." Since its inception in 2014, more than 20,000 individuals have visited these stations of the cross and helped in the prayerful reflection on the passion of Jesus in a whole new setting.
Perched some 350 meters above sea level, The Walk of Faith at Timberland Heights' quiet and reflective calm provides the idyllic setting for prayer and meditation overlooking the 360° breathtaking views of the Metro Manila Skyline, Laguna de Bay, Bataan Peninsula and the Sierra Madre Mountain Ranges.
The Walk of Faith at Timberland Heights allows you to meditate and pray while enjoying the crisp mountain breeze. It has since become an annual religious tradition for those who have experienced the serene observance of Holy Week at Timberland Heights.
To further develop Timberland Heights, FLI is also planning to build an eco-inspired church as a homage to the well-loved pope, Saint John Paul II, which will be the townscape's center of faith and pilgrimage site, and a beacon for pilgrims both inside and outside of the townscape.
My eco-playground
Timberland Heights has also cemented its position of being the metro's prime eco-playground destination through its hosting of prestigious sporting events such as the annual 7Eleven trail series, the first-ever Spartan H3X, a grueling 24-hour endurance race simultaneously held in several countries, Fox Biking 101, Lagalag Sundown Run, Hoka Trail Run and the Salomon Xtrail, which will be held on April 28.
Timberland Heights has been chosen to be the venue of the first ever Salomon Ultra 50-race.
"We envisioned Timberland Heights as a recreational township destination, not just a place to live in but a destination that allows you to discover and experience life in an extraordinary and adventurous way while being cradled by nature's own perfection," Francis Ceballos, Filinvest Land Inc. senior vice president and North East Cluster head.
Timberland Heights is home to a world-class bike trails that is fast gaining popularity among mountain biking enthusiasts' and participants of other athletic events of international caliber. The trails are also compliant with the International Mountain Bike Association trail specifications for both safety and technical standards. It is aptly dubbed the "mountain biking capital of the Philippines."
"We chose Timberland Heights from the very start because frankly, there was nothing comparable even then, in terms of terrain and accessibility to Metro Manila. Today, with the investment Timberland Heights has put into new trails, there is no other better place anywhere in the country. Perhaps even in South East Asia - I haven't been around enough to say - and we hope to capitalize on this to make the 7-Eleven Trail Series not just the premier mountain biking event in the Philippines, but in South East Asia as well," said Victor Paterno, president and CEO of Philippine Seven Corp.
Likewise, the internationally-famous Spartan Race has made Timberland Heights its venue for the race's maiden Spartan Sprint in the country. Other events such as the Sandugo trail, and the 2018 Spartan Endurance H3X also hailed Timberland Heights as the perfect venue for their respective events.
Mike Reyes, Spartan race director, the challenging terrain at Timberland Heights is what made the race more exciting terrain, "We are really glad that Filinvest has agreed to be the venue host for the first ever H3X in the Philippines. It's nice knowing that there's a peaceful place like this near Metro Manila."
My piece of bliss
Timberland Heights offers its residents their own piece of bliss through the exclusive villages and upscale residential enclaves, such as Mandala Residential Farm Estates 1&2, The Ranch, Banyan Crest, Banyan Ridge and the newest development, The Glades. All these are surrounded by nature, with vast open spaces, breathtaking panoramic views, lush greens, as well as cool, mountain breeze.
Timberland Heights expands Filinvest's property portfolio in developing similarly massive master-planned township projects, such as the 244-hectare Filinvest City in Alabang and the 201-hectare Filinvest Mimosa+ Leisure City in Clark, Pampanga.
Timberland Heights is a township development of Filinvest Land Inc. (FLI), a subsidiary of Filinvest Development Corporation (FDC). FLI is one of the country's leading full-range property developers. For almost 50 years, the company has built a diverse project portfolio spanning the archipelago from its core best-value homes, to townships, mid-rise and high-rise condominiums, BPO office buildings, shopping centers and leisure developments. Staying true to its mission, Filinvest continues to build the Filipino dream, one home at a time, across the Philippines. For more information on Timberland Heights, call (02) 850-0888 or (0917) 877-0888 or log on to timberlandheights.com.