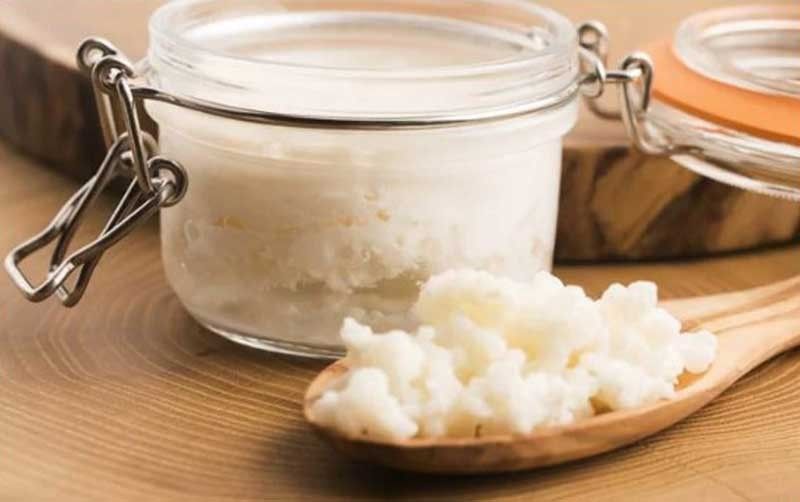 Kefir has gained a loyal following among natural food buffs who swear by its health benefits.
Photo from www.livescience.com
I first heard about kefir from a friend in California who takes only healthy organic vegetarian, non-dairy foods. Eating in her house is an adventure into vegetables, herbs and ingredients you may never have heard of before, but put together by her, make up wonderful meals. She introduced me to milk kefir and its by-products like kefir cheese and whey.
Kefir is a fermented milk drink using kefir grains. It is not clear where kefir grains come from. Wikipedia says they originated from somewhere in the Caucasus Mountains in Russia, but it is silent on whether it is a plant, a tree or an organism. Still, it has gained a loyal following among natural food buffs who swear by its health benefits.
According to Healthline (https://www.healthline.com/health/kefir), it is brimming with protein, B vitamins, potassium and calcium. But its strongest suit is it is probiotic that is filled with good bacteria that helps create a healthy gut. As such, it is said to treat or prevent diarrhea, especially after an antibiotic treatment; treat or relieve irritable bowel syndrome; reduce or prevent gastrointestinal infections; and even prevent and treat vaginal and urinary tract infections.
I am a believer in probiotics. During the holidays, the vet prescribed it for our dog Costco who had the runs and was throwing up after feeding on rich food from the Noche Buena table. He got well quickly. Looking back, my younger daughter developed a stomach of steel from consuming daily an entire pack of Yakult, the popular probiotic drink, when she was a toddler.
I have taken kefir on and off these past four years even if I am still wondering where it comes from. The visuals on the Internet show only finished kefir products. The starter culture can keep reproducing forever, if one follows instructions. But where did the first starter grains originate from?
My sister gave me a jar of milk kefir that reproduced copiously, as long as I kept feeding it with full cream milk. I took it every morning, straining the fermented liquid into a glass and adding milk to the kefir solids to be processed over the next 24 to 48 hours for my next drink. The kefir supposedly breaks down the milk to remove most of the lactose which makes it ideal for those who are lactose intolerant. The drink was thick and slightly sour, an acquired taste, but it worked wonders for my metabolism.
In Australia, I found powdered kefir at a health food store and made my daily health drink by the liter. It was summer and the kefir reproduced happily. I could reproduce it by pouring new milk into the concoction up to three times to make another liter, before opening a new pack of the powder. But one very hot day, we came home from shopping and I was horrified to find that my kefir had grown out of the pitcher and spread all over the kitchen counter. It had a life of its own! After I cleaned up the mess, I didn't touch kefir again for a while. I didn't like the idea of nurturing something that I could not control.
Recently, a friend sent me some kefir grains, this time, water kefir, that uses only water and sugar to grow. If desired, add a slice of lemon and/or dried fruits like raising or figs. The drink should be somewhat tart. The grains supposedly multiply during fermentation and can be used forever, if one handles it right. It sounds safe enough. Water kefir cannot possibly crawl out of the pitcher like my milk kefir did. It is quietly fermenting in a pitcher sitting peacefully on the dinner table, covered by a soft tulle screen. While kefir is described by Wikipedia as "a fermented milk drink made with a yeast/bacterial fermentation starter of kefir grains," water kefir or tibicos is "a symbiotic culture of bacteria and yeasts held in a polysaccharide biofilm matrix created by the bacteria. As with kefir grains, the microbes present in tibicos act in symbiosis to maintain a stable culture. Tibicos can do this in many different sugary liquids, feeding off the sugar to produce lactic acid, alcohol (ethanol) and carbon dioxide gas, which carbonates the drink."
Whatever that means, the description of water kefir reads like it is something developed in a petri dish. Hopefully, it is more benign than milk kefir. Meanwhile, the mystery deepens, is kefir a plant, an organism, or a lab-produced substance? It doesn't matter for now, as long as it fulfills its promise to strengthen my gut against a host of inconveniences.