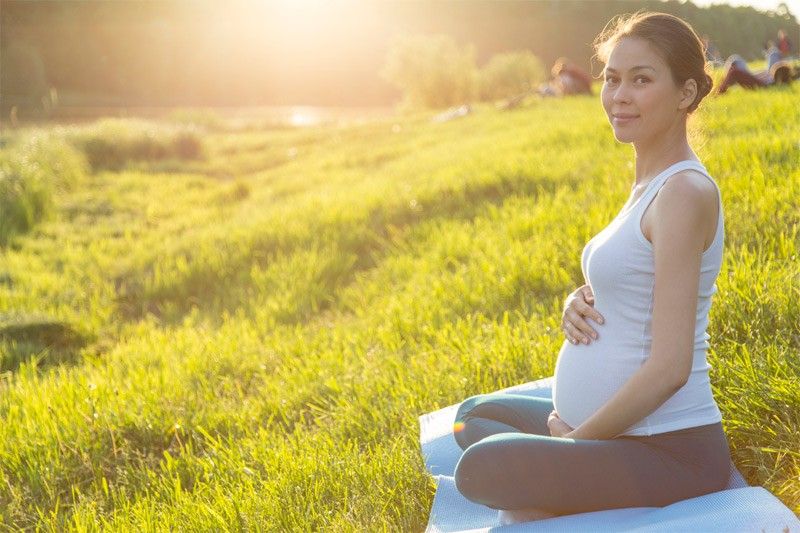 Managing stress levels through mild exercise and relaxation may just be what's making your baby smarter while still in the womb.
6 ways a pregnant mom can make her baby smart while still in the womb
MANILA, Philippines — All pregnant women wish for only one thing: to bear a healthy and perfect baby. And then raise a child who can take on what the future holds—whether excelling in school, becoming an athlete or an artist, or overcoming challenges of growing up in general.
It's a very happy and hopeful prospect.
The long road for your baby to get there starts today. You begin by seeking advice from peers and family about how you can support your baby while still in the womb. You also read mommy blogs and other medical articles online.
For the latter, you don't need to look further. This list might just provide more specific points that can give you and your growing baby a head start.
1. Steer clear of pollutants
We all know that the world we're living in is becoming more polluted, especially the air that we breathe. The World Health Organization (WHO) reveals that nine out of 10 children are affected by air pollution. The ones in the womb are not exempt as pollutants in the air can penetrate even the placenta.
Effects of this can be asthma, pneumonia, and even leukemia, so moms must be mindful of their surroundings. They are advised not to overexpose themselves in high-traffic areas, particularly in major thoroughfares.
If exercising, opt for abundantly green parks where clean air is sure to fill the lungs. To avoid smelling fumes and cleaning products, have someone else do chores related to these for a while, and afterwards have them compartmentalize these in a separate cupboard—OR use alternative cleaning products altogether, such as vinegar and baking soda, which achieve the same cleaning effect anyway.
2. Make the right food choices
Prenatal nutrition is important as this plays a role in advancing neural connections and developing brain matter, since this process is fastest while the baby is still in the womb. In the last trimester, for example, the fetal brain goes through a significant growth spurt as the baby in utero approaches full term.
The American Academy of Pediatrics suggests certain nutrients are most apt for brain-building. These nutrients include choline, which you can get from eggs; Omega 3 fatty acids, which is contained in fish—sardines and salmon are major sources; iron, iodine and protein, which can be acquired from red meats, beans, lentils and yoghurt; folate—spinach is most recommended for this; and zinc from pumpkin seeds.
RELATED: The truth about 'paglilihi'—an expert explains
They need all the help they can get, especially since physical and mental stunting is a real and serious issue worldwide—do not wait until the baby is born, since it would be harder to catch up.
3. Pick the best maternal supplement
Getting the right nutrients during pregnancy is of utmost importance, and a good and reliable maternal milk supplement like Anmum Materna can provide you exactly this. Released
This is essential in giving you a much-needed boost. Give your baby that superior brain power in the form of Anmum Materna.
Anmum Materna is the only maternal milk brand that has Mind Q plus, a combination of DHA, Neulipid-GA and SA that helps in baby's brain development. It also contains 100 percent Folate and Calcium to help assure proper development and tip-top shape, and is also clinically-proven to increase GA Levels.
Safe for consumption throughout the whole pregnancy, the maternal supplement comes in a variety of different flavors: Plain, Chocolate and Mocha Latte (without the caffeine).
4. Keep stress levels in check
A pregnant mom's mental health is crucial for the growing baby.
According to a study published under the American Psychological Association, pregnancy-specific stress and onset of depression are apparent factors in poor neurocognitive outcomes in an offspring.
It is therefore recommended that pregnant moms be equipped with proper stress management. Simple ways to do so include getting enough rest and sleep; seeking support from loved ones—especially one's partner; doing gentle exercises appropriate for pregnancy; and, as previously listed—eating right, to get not just vital but also mood-lifting nutrients.
Another thing to consider—which is surely of utmost import—is preparing early for the birth itself.
Knowing that everything has been arranged prior to delivery, and making sure you have talked to your doctors and know what to expect, will make you feel infinitely at ease about the entire process.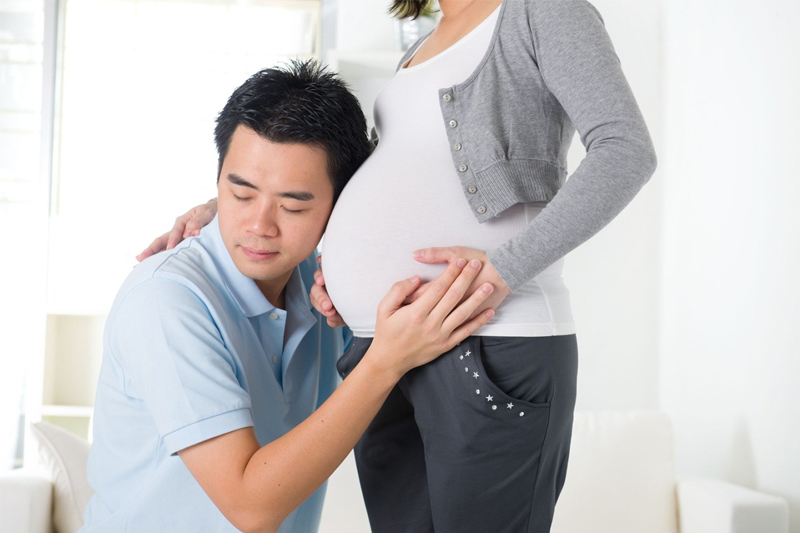 Support from loved ones, especially one's partner, is important in managing stress during pregnancy. Released
5. Play them classical music
Moms have heard about this one way or another.
Here's why—Music promotes neurological stimulation—specifically the areas in the brain related to language and communication.
Research in Institute Marques in Barcelona carried out by fertility doctors studying mouth and tongue movements of fetuses between 18 and 38 weeks in gestation concluded that classical music yielded the highest amount of reaction at 84 percent—as opposed to other types of music.
So in your next downtime, make sure to put on some Mozart, Beethoven or Chopin. Medleys and playlists are readily available on YouTube for your convenience. Just make sure not to turn the volume too high as loud, sudden noises can be stressful for the baby.
6. Limit 'baby talk'
Studies from US and Sweden have yielded evidence that humans are already starting to learn language even before birth: noting prosody, rhythmic sing-song patterns, and even feeling the rhythm of mouth movements and hand gestures by which language is delivered.
Babies are born having the ability to distinguish different languages, readying them to explore more.
While experts in language acquisition are on either side of the fence with motherese or "baby talk," it is better to err on the side of caution and be proper models of speech for better development.
As for distinguishing different languages, maybe your casual Korean drama binge on Viu or Netflix is doing wonders for your baby's language learning after all.
If you want to take it up a notch, you can listen to audiobooks of foreign language materials from the likes of Rosetta Stone and Pimsleur. Who knows, maybe you and your baby may soon become accomplished polyglots.
All of these tips help you take control during your pregnancy so you know you're giving you and your baby the best. And with Anmum Materna, be confident that you have secured all the important elements of an excellent prenatal nutrition.
To know more about Anmum Materna and how it can help you realize your dreams of having a brilliant baby, visit the website here.