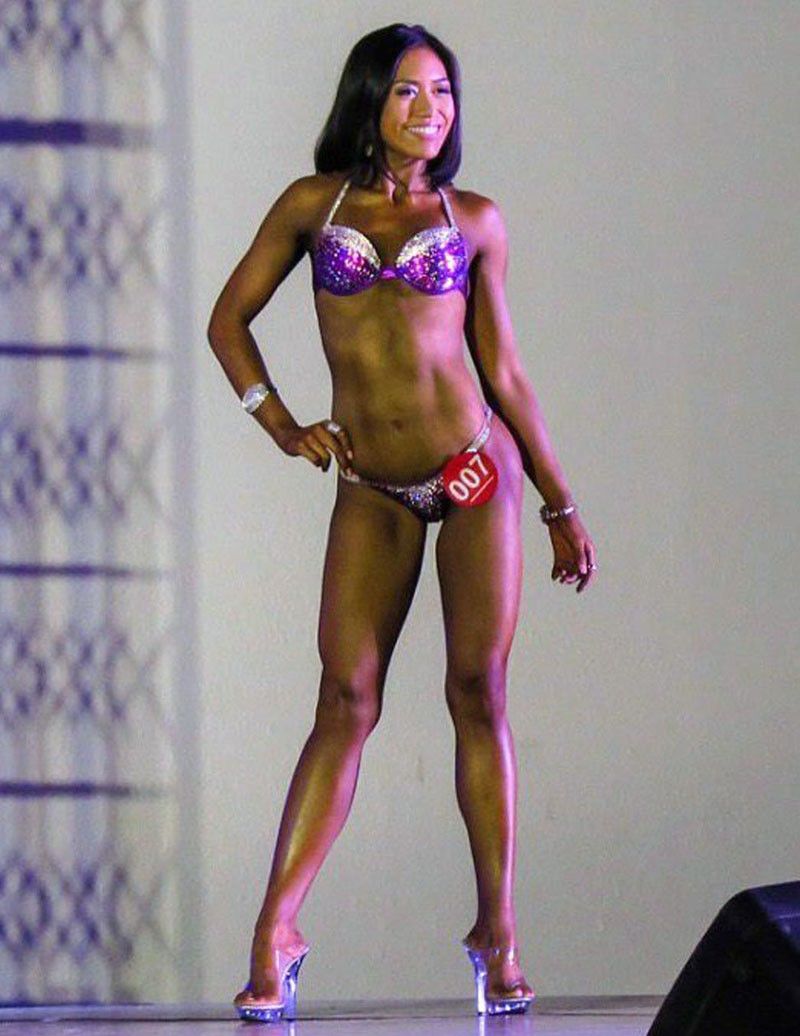 Alexandra Dayrit bags third place in the recent Musclecontest Philippines held in Subic.
My daughter lost 52 pounds and became a bikini athlete
It seems like yesterday when I opened the gym in Makati and my first born Alexandra, then just eight years old, would trail behind me licking her ice cream. I could still hear her cheerfully chirping behind our van "it's time for a snack" every hour while we are on road trips abroad.
Never in my dreams did I foresee the day when I would watch her on stage as a bikini athlete. But that's exactly what happened last weekend. She joined her first bikini contest in the recently concluded Musclecontest Philippines in Subic where she bagged third place in the novice category.
Philippine STAR: What got you into fitness?
Alexandra Dayrit: Growing up I was always overweight. I started working out and dieting at an early age because I felt pressured to lose weight. My weight yo-yo'd throughout my teens and early 20s due to extreme eating habits. I would binge some days and starve on others. I worked out three to four times a week but never enjoyed it. It was like a chore — I just had to do it because I felt fat. At the first Bodycon, I met my very first mentors Arnold Aninion and Cherry Ann Kubota who won Mr. Muscle and Fitness and Ms. Shape Philippines. I was in awe of their strength, athletic ability and physiques. They introduced me to bodybuilding and I fell in love. It became my dream to achieve the best physique I possibly could.
Why did you decide to compete?
After I started training with Arnie, my whole outlook on diet and exercise flipped. I was in the gym every morning and every night. I learned to calculate my metabolic rate and to eat the right amount of calories and macros. I ate more than ever but was very strict with the quality of my food. That gave me all the energy that my training lacked all those years. I got really strong so fast. I guess my body was just lacking fuel. I kept up those good habits of consistent training and clean eating for three years. My body kept getting better and better every day. I whittled down from 160 lbs. to 125 lbs. and never gained the weight back.
Late last year, I met a new coach, Marc Marquez, in Alabang. The first day we trained he gave me a 2 1/2-hour workout, which finished with three supersets of 75 reps of leg press with weighted walking lunges around the perimeter of the gym. By my second set I was grunting so hard and Marc was cheering me on so loud that everyone in the gym stopped working out to just watch us.
I finished the set. Marc walked up to me and said "Ma'am I have to shake your hand. You're my first client who ever finished that workout." From that day I knew he would be my go-to guy. We shared a passion for bodybuilding and he eventually convinced me to compete.
What was your diet like back then?
I followed what most people would consider a strict diet for three whole years. I only ate chicken breast, fish, sweet potato, brown rice, oats, nuts, fruits and vegetables and the occasional donut before leg day. I was 126 lbs., which is normal weight for my height, 165 cm., but I lacked muscle definition.
What changes did you have to make to your fitness and nutrition regimen when you began your competition prep?
My target shredded weight was 118 lbs. but from my starting point I couldn't just cut right away. I did a short bulk where I increased my calories and the intensity of my training to put on a bit more muscle. After that, we cut the calories again while keeping the intensity of my training sessions to get lean.
Who was your coach (training, nutrition, and posing)?
I am very lucky to have access to some of the best coaches and fitness professionals in the Philippines. I had the best team behind me — Culver Padilla for training, Marc Marquez for nutrition, Jonathan Motz Aviles for posing. I also had Gerald "Jigs" Tenorio for my physical therapy and recovery.
What was your training program like?
Culver did an incredible job setting up my program. For my four-month prep, I trained 13 times a week — twice a day except on Sunday when I got a half-day rest. I did fasted cardio every day for 45 minutes once I woke up followed by a meal and my first weight training session, then a nap. After six hours of rest, I would have my second weight training session. Each session was an hour and a half. Splitting up my training and working out one body part at a time made sure that I could keep up the intensity of my training without burning out. My training sessions were the most fun part of the prep.
What does it feel like to step on stage?
It was the most fun I ever had in 60 seconds. I recommend it to everyone who is up for the challenge. The pictures themeselve are already worth it.
* * *
Post me a note at mylene@goldsgym.com.ph. or mylenedayrit@gmail.com.