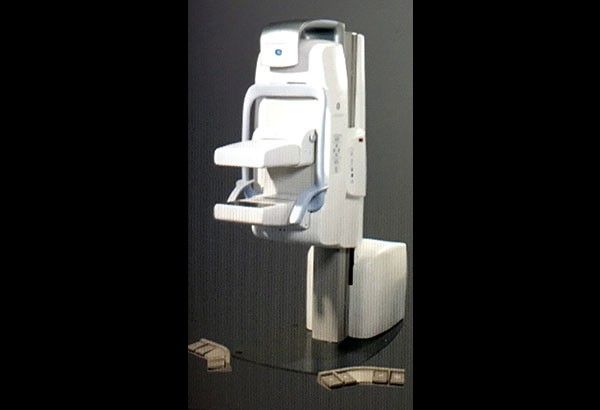 The Philippines is very fortunate to have the first MBI (Molecular Breast Imaging) equipment available at the Asian Breast Center of Centuria Medical Makati.
And now, the latest breast cancer diagnostic equipment
A major problem in breast cancer management in the Philippines is that a majority of Filipino breasts are very dense. This means that the standard routine breast screening that includes digital mammography and ultrasound miss a high percentage of early breast cancer. This means that a significant number of breast cancers in very dense breasts are not diagnosed for over one year. When followed up using our usual tests, the cancer very often is far more advanced. Higher stage leads to more total mastectomies and need for more adjuvant chemotherapy and worse prognosis. Even the latest 3D Tomosynthesis mammogram picks up only 1.7 times more than the regular 2D mammogram.
Women with dense breasts as rated by mammography and ultrasound have to understand that they could not be complacent with just annual screening mammography and ultrasound. Mammograms may not detect as much as 20 percent of all breast cancers and as much as 40 percent of Filipino women under the age of 50 years old with very dense breasts. To improve their chances of more accurate early detection, these women should also do monthly breast self-examination and annual examination by a breast surgeon. With or without any abnormal findings on breast exam, if the patient is at high risk of breast cancer or has very dense breasts, she should have either an MRI or MBI.0.18
As a background, Breast Magnetic Resonance Imaging (MRI) is an expensive high-tech diagnostic test used specifically as a problem-solving test when you have equivocal findings in your digital mammography and breast ultrasound. To get the best result, you need to use intravenously a contrast called Gadolinium. Breast MRI is not routinely used because it is very expensive and although it has a very high sensitivity, it has a low specificity. Consequently, getting this test leads to more false positives, resulting in unnecessary recall, more tests, and biopsies. Furthermore, in a stunning development, a European body, on March 10, 2017, recommended that Gadolinium-based contrast (or dye) agents for MRI scans be pulled off the market due to concerns that the dye remains in the body, particularly the brain, for many years after the scan occurs.
Now comes the latest diagnostic equipment: Molecular Breast Imaging (MBI) is a new nuclear medicine technique that utilizes small semiconductor-based-cameras in a mammographic configuration to provide high-resolution functional images of the breast. Current studies with MBI have used Tc-99m sestamibi, which is an approved agent for breast imaging.
Benefits: MBI, performed with a low-radiation-dose protocol, detects an additional seven to eight cancers per thousand women screened, compared to mammography alone, and is being used at the Mayo Clinic in screening research trials and, now, in usual clinical practice. One recent study from a community practice showed similar added cancer detection rate from MBI.
MBI can be helpful for some women who need but cannot tolerate MRI for reasons such as kidney failure, claustrophobia or who have pacemakers or some other metallic implants. MBI can be used in women with dense breast tissue who have a suspicious area on a mammogram which cannot be identified on ultrasound.
The Philippines is very fortunate to have the first MBI available at the Asian Breast Center (ABC). The ABC is the first free-standing comprehensive cancer center dedicated to one disease, breast diseases, affiliated with a major medical institution in the United States, Morristown Medical Center in NJ, rated as one of top 50 hospitals by US News and World Report and among the top 5 in the NY Metropolitan Area, whose mission is to donate most of its profits to charity breast clinics in the Philippines to provide the same quality care to indigent patients with breast cancer. The center is located on the 8th floor of the Centuria Medical Makati in Century City. Most of the physicians, led by Dr. Norman San Agustin, a dedicated oncoplastic breast surgeon, are US- and European-trained. They plan to have their soft opening soon. They will be strictly following evidence-based international guidelines in breast cancer management so that patients no longer need to go abroad to get the best care.