An interactive lunch at Mirèio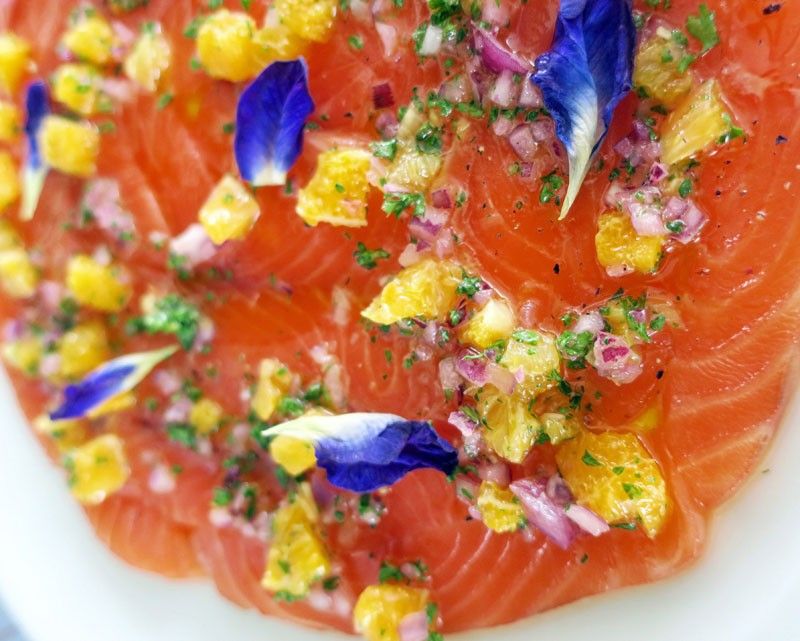 Millie: When my parents were alive, we would have our regular Sunday family lunches. Our favorite Sunday fare would always consist of Beef Nilaga with cabbage, carrots and potatoes or beef or pork sparerib sinigang, sour just enough to please. Both dishes would ultimately be paired with either Relyenong Bangus or boneless bangus sprinkled with crunchy garlic prepared by our ever-faithful kusinera Aling Moding. But gone are those days. We have been "help-less" for a year now, meaning no help, no yaya, no cook to fix us Sunday meals. So Karla and I have resorted to eating in with DIY (do it yourself) meals or going out to treat ourselves to Sunday brunch or lunch whenever we feel we deserve it or when celebrating a special occasion. This fine Sunday morning, we invited my cousin Cynthia Gomez, a dental specialist who happened to be visiting from New York. We took her to Mirèio at Raffles Hotel and I was quite pleased with the spread.
Karla: The Mirèio Luxe Sunday brunch is interactive for both the kitchen and the guests, offering a number of live stations. There are some stations that are considered buffet, where you may get your own serving. As for the live stations, you need to order in advance and it will be delivered to your table. Good thing we came early and I was able to take photos before anyone had gotten to the food!
The first thing that caught my eye was the spread of cheeses. Mirèio always has a good cheese selection. I was happy to discover something new this time around, which was the Pont-l'Évêque. It was soft, washed rind cheese originating from Normandy, France using cow's milk. Other cheeses on display were goat cheese, Tomme de Savoie, Le Rustique Camembert, Comté, Manchego semi-curado, Brie Bridel, and gorgonzola. In between the cheeses, assorted charcuterie were also displayed such as chorizo, Bayonne ham, mortadella, homemade country-style paté, Saucisson sec le rond d'Auvergne and Bresaola air-dried beef.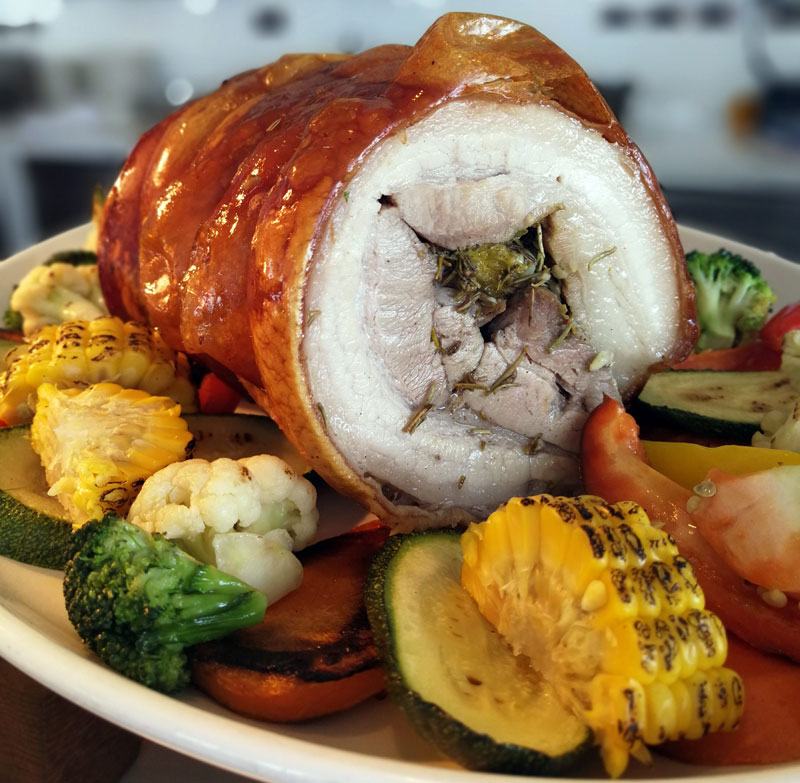 Roasted porchetta with roasted vegetables
Millie: Unlike Karla, I did not have a chance to preview the beautifully laid-out buffet spread up-close as I was busy chatting with Cynthia. From where I was seated, I had a general idea as I watched the Mirèio dining staff quietly preparing. I was first attracted to the cold selections and went straightaway to the salmon gravlax, so colorful and prettily arranged, looking so light and refreshing to eat on a sunny day. There was also a tartare station with tuna, salmon and tanigue mixed with green apples and I just had to succumb to a bit to satisfy my craving. I also picked up an eggshell filled with a lobster egg custard out of curiosity and ended up eating the whole thing. Not to be passed up was the mozzarella and burrata spread served with fresh red tomatoes and arugula and I took a bit of both when I could not make up my mind.
I think it was my sister Dorcie who asked the wait staff to bring the hot entrees to our table because it kept on coming on small plates and I did not need to stand up to make such big decisions. But I decided to take a peek at the counter just the same.
Moving on, my trip to the hot entree station was blocked by an array of lovely French cheese selections and cold charcuterie — a display that, for a moment, made me think of totally ignoring the hot entrees. And yet, I overheard my cousin Cynthia and sister Dorcie discussing how to share the seafood bouillabaisse. So I took a peek at the market-style seafood selection and decided on the grilled slipper lobsters with garlic butter and the scallop with green pea puree. Next to our table was a risotto station with a choice of porcini or truffle, cooked à la minute and mixed in a huge parmesan wheel. I had two servings, haha!
Karla: What's a Sunday brunch without the cocktails? Just a normal brunch, I guess. One regret at this brunch was that I failed to arrange for a substitute driver for us and therefore could not partake of any of the brunch cocktails. The brunch with unlimited drinks is P4,200++ inclusive of champagne, white wine, red wine, rosé, Mirèio Punch and brunch cocktails. However, there's an additional charge for Moet & Chandon.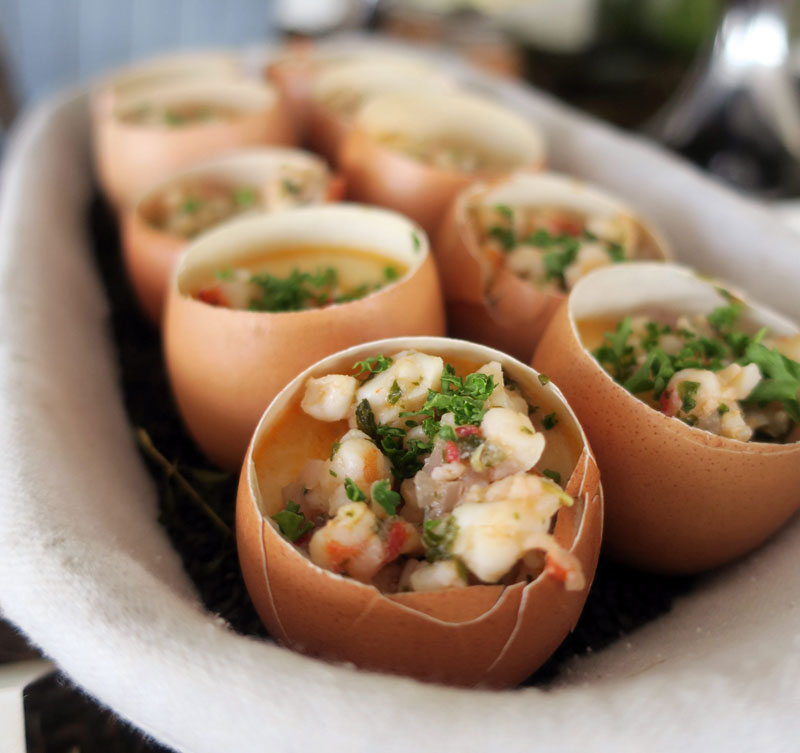 Lobster egg custard topped with sautéed lobster bits
The Sunday roast selection was Australian wagyu beef rump, roasted porchetta and New Zealand lamb leg. These were served with your choice of sauce and a selection of grilled or roasted vegetables available such as roasted marble potatoes, asparagus, carrots, zucchini, broccoli, cauliflower, etc. Although there was sufficient variety of meats, I was more attracted to the seafood. I stuffed myself with slipper lobsters sautéed in garlic butter (extra butter on the side, please!) and king prawns in lemon butter. Once I'd had my fill with the lobsters and prawns, I went back for the cheeses, particularly the Pont-L'Eveque and Le Rustique. I requested that the mini baguettes be popped in the oven and enjoyed it with butter and cheese. I guess you could say that was my allocation for dessert.
Millie: Finally, I thought, it was time for dessert. But as I stood up, I saw the cheese selections and I could not resist. So I took a detour and filled my tea plate with a bit of some of my favorite cheese selections: the Pont-L'Eveque, the very sharp Le Rustique, Brie, Comte with a piece of crusty mini baguette and French butter! From the corner of my eye, I caught sight of thin slices of Bayonne ham and just had to pinch a few slices.
At last, to satisfy my sweet tooth, a walk to the dessert station where an array of French desserts starting with colorful macarons was displayed. Red chapeau boxes adorned with almond berries fruit tart, Black Emperor cake, chocolate truffle cake, calamansi meringue éclair, pistachio éclair, Paris-Brest and one dessert that reminded me so much of my mom because it was her favorite: the Mont Blanc with marron or chestnut chantilly! I picked a few pieces just to have a bite to try and to share. As I was enjoying my cup of coffee to end my meal, I remember Mirèio was famous for the pâte de fruits confit and our devoted wait staff simply had to oblige!
* * *
Send email to milliereyes.foodforthought@gmail.com and quichethecook.ph@gmail.com
Find us on Facebook: Food for Thought by Millie and Karla Reyes
Instagram: @quichethecookph.