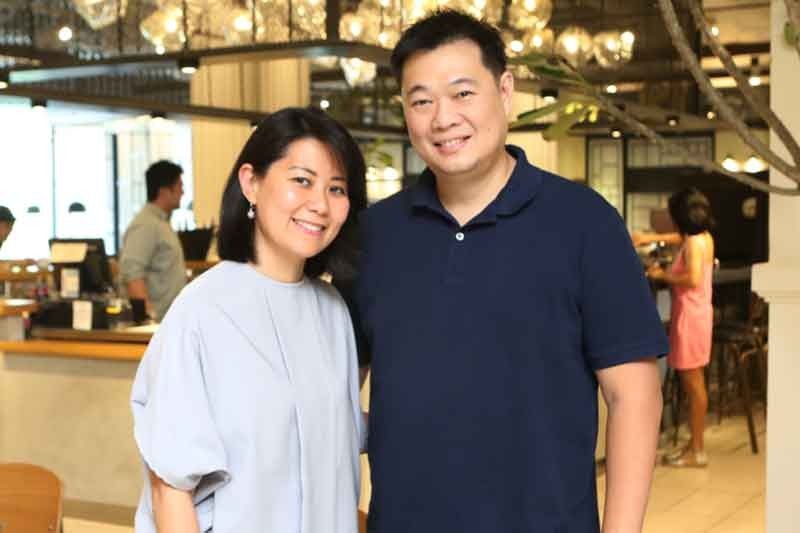 Charles Paw and his wife Anna
Photos by WALTER BOLLOZOS
The Grid: What People Are Lining Up For
Entrepreneur Charles Paw and his restaurant group Tasteless opened The Grid to snaking, long lines in Power Plant Mall, Rockwell. This is nothing new to him. "Our first food court [Hole in The Wall] was the first of its kind when it opened. We focused on strong branding and strong individuality," he recalls. It not only changed the way we perceive food courts but also pioneered the trend of the "Instagram-friendly" concept in the Manila food scene, with restaurateurs from bistros to food courts and food truck operators adding branding, interiors, and customer experience to their priorities at par with their food and drink offerings. He even incorporated this approach to his stores Digital Walker and Beyond The Box.
In The Grid, there's still design-thinking at play, but here — unlike its predecessor Hole In The Wall — he goes back to basics. Bringing together established chefs and restaurateurs with independent neighborhood and weekend market favorites all in one space, it was the only way to go. Each concept kept their small menu to their best hits. "Tinanggal na namin 'yung branding. Each stall has a uniform look. It's all about quality food and the people behind the food."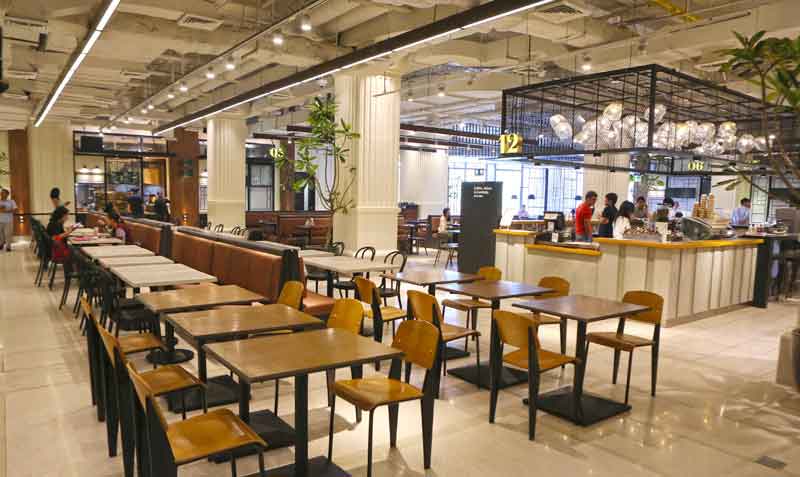 The Grid: A rare sight at 11 a.m. after which people come in droves and for queues
Perusing The Grid's offerings is like getting to know Charles as a foodie; the variety of the stalls represents his personal favorites from his favorite chefs. "Some are personal friends, 'yung others tinawagan ko," he shares.
Soon to open are: another stall by Lowbrow in stall 5 called The Beef which will offer steaks, burger steaks, and teppanyaki; stall 7 by Patrick Go, Him Uy de Baron, and Noel Mauricio will serve an elevated take on baked rice, fried rice, and noodles; and stall 10 by Robby Goco will feature his popular souvlaki, salads, and mezze. Pamela Lim Cinco will complete the retail offerings of The Grid with Risa Chocolate.
* * *
The Grid Food Market is open from 11 a.m. to 10 p.m. on Mondays to Thursdays, until 11 p.m. on Fridays, 10 a.m. to 11 p.m. on Saturdays and until 10 p.m. on Sundays. For updates, follow @thegridfoodmarketph on Instagram and thegridfoodmarket on Facebook.
* * *
Stall 1: Bucky's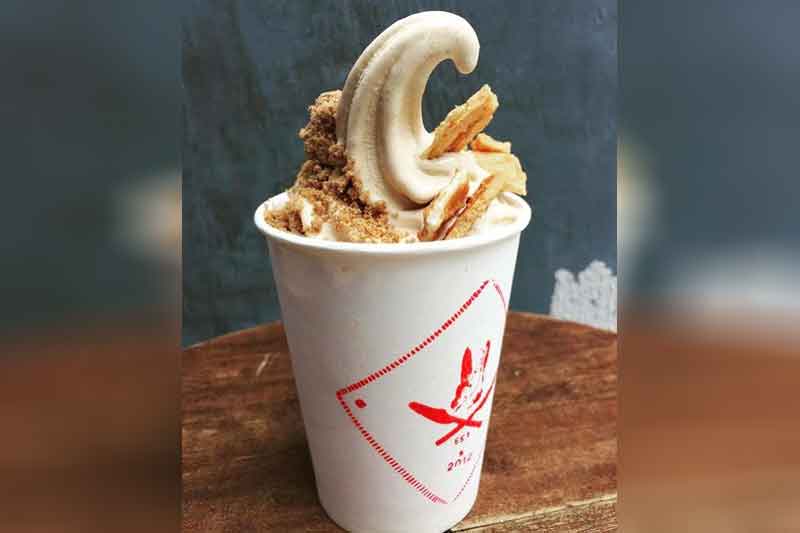 Soft-serve with cinnamon toast crunch
No need to wait for a table in its Poblacion space. Opening on Sept. 15 is Bucky's in stall one. "Bucky's is food we grew up with," Justin Golangco, one-half of the Bucky's duo, sums up their offerings. Partner Miguel Vargas started Bucky's with soft-serve ice cream. With Justin, they expanded into fried chicken, baked ziti, and chia bowls.
Must-try: Unique to The Grid are Bucky's meal boxes featuring combos of fried chicken and baked ziti with soft serve or chia bowls
Stall 2: Flower boy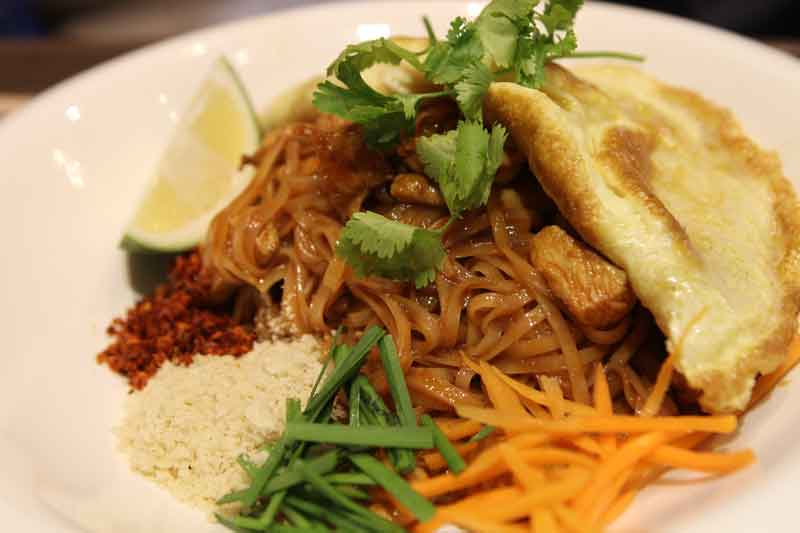 Pad Thai
The Thai food stall specializing in Bangkok street-food-style rice and noodles by Lowbrow — a partnership with Charles and designer Dwight Co — has got to be its most pared back concept; see Bad Bird and Foul Bread. At stall two, that kick is best served on your plate.
Best-seller: Pad Thai (P290)
Must-try: Jumbo blue crab omelet (P990)
Stall 3: Tsukemen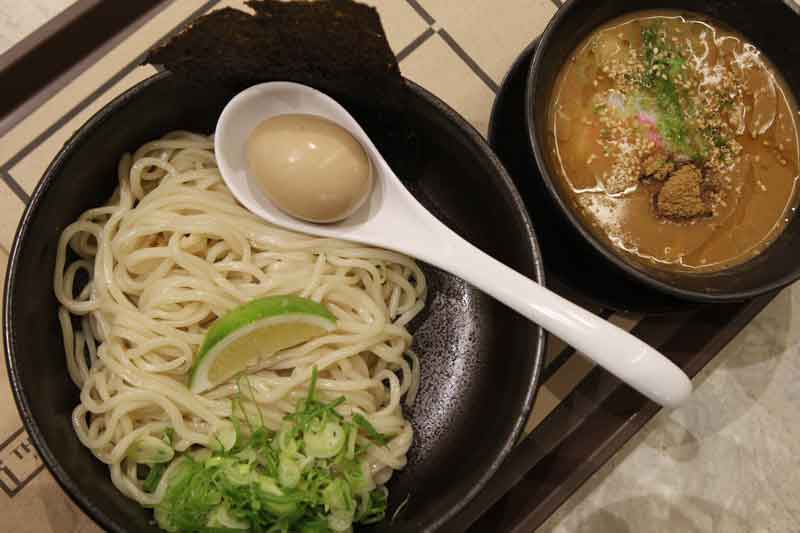 Tsukemen gyokai
Charles' Tasteless Food Group goes back to its first love – ramen – and taps the Japanese staple's cooler (literally) counterpart, tsukemen, to diversify The Grid. Ramen is still part of the menu, of course.
Best-seller: Tsukemen gyokai (P420)
Must-try: Aburasoba (P290)
Stall 4 Le Chon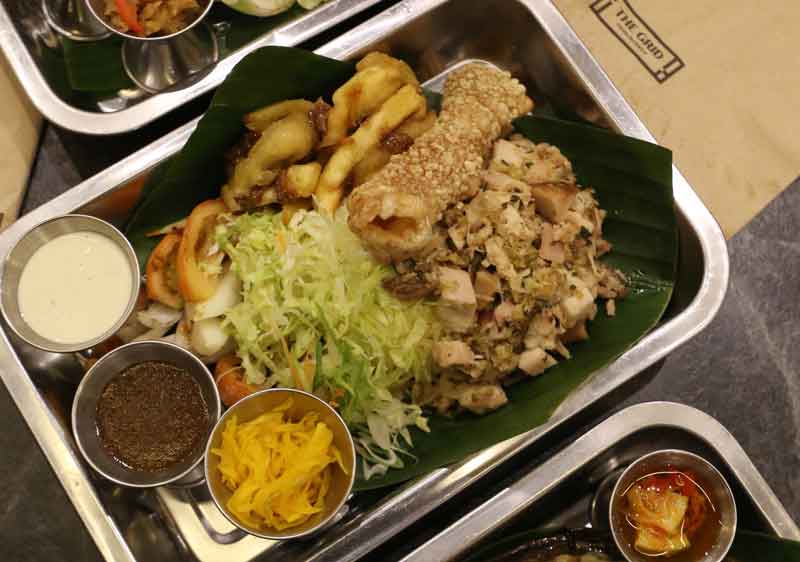 Lechon porchetta
"You can never go wring with the combination of rich Filipino flavors with French cooking techniques. Nothing beats the art of slow cooking that the French love to do — this makes the dishes very flavorful yet amazingly tender!" Happy Ongpauco-Tiu explains the French twist on the all-time Filipino favorite.
Best-seller: Lechon porchetta (P371). Choose your rub flavor (truffle bawang, sugarcane gata, and tanglad butter), sidings (kamote fries, banana cue chips and inihaw na talong, and babaganoush), rice (butter rice and "sexy brown rice"), and sauces (labuyo lime, muscavado liver, and white adobo sauce).
Must-try: Lechon spicy tuna belly (P393).
Stall 6: Burgers & Bits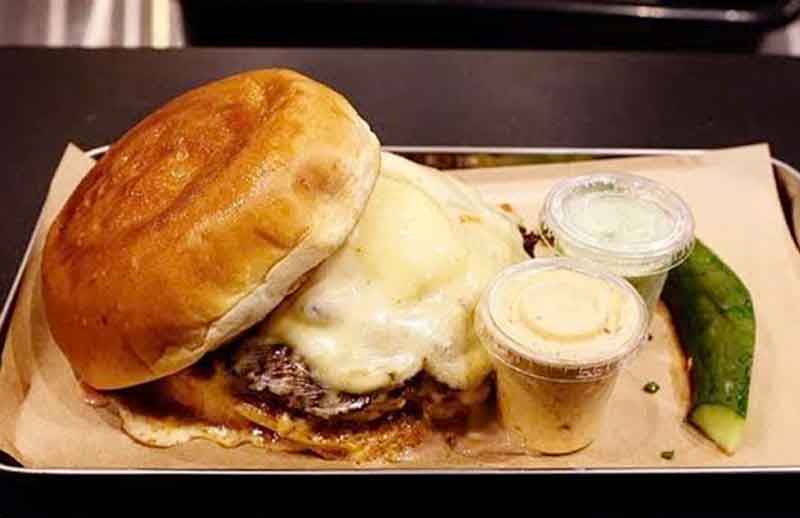 No One Said That's Enough Cheese
"I don't have burgers and chicken in any of my other restaurants. This is our fun concept where I get to cook food that I want to eat when I'm not working, quite like how Savage is compared to The Test Kitchen and Helm," describes Joshua Boutwood, on a roll with new openings. Burgers & Bits just opened over the weekend, featuring burgers, loader tater tots, and fried chicken.
Must-try: No One Said That's Enough Cheese (starts at P395), a burger with five types of cheeses.
Stall 8: Rambla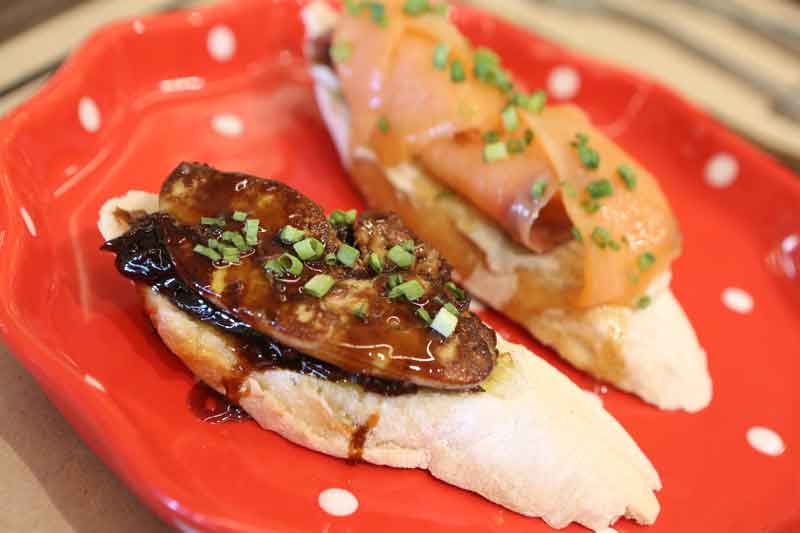 Pintxo de foie poile and salmon truffle pintxo
"These are our best-selling flavors but in new pintxo form. It's new, friendly, and easy to eat," says Dani Aliaga, one-third of Bistronomia with Uri Singla and Sergi Rostoll, also known for Las Flores, Tomatito, and Rambla, the restaurant itself outside the mall. "Pair it with a glass of white wine — something not sweet, dry, and very refreshing."
Best-seller: Salmon truffle pintxo (P195), which is smoked salmon with honey pintxo.
Must-try: Pintxo de foie poile (P475) and chipirones pintxo (P175)
Stall 9: La Chinesca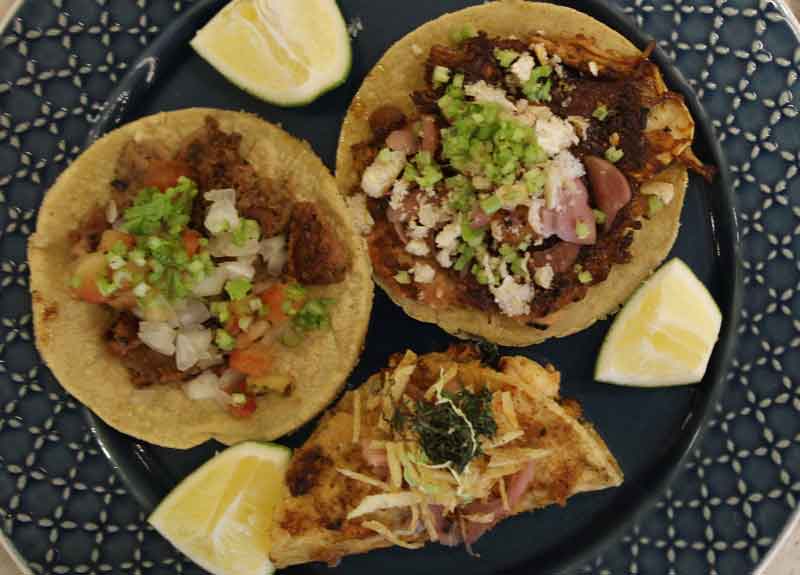 Carnitas
Just like in its BF Homes space, La Chinesca's offerings are based on the unique ingredients that Bruce and Jae Ricketts source from all over the world, prepared with Bruce's techniques best known in Japanese restaurants Mecha Uma and Ooma.
Best-seller: They sell at least 350 carnitas (P130) a day. "The method is carnitas — cooked in its own fat — while the flavor is al pastor taco, which is spit-grilled. Since we don't have a spit, we cook it like traditional carnitas and put achiote seasoning paired with pineapples."
Must-try: Get the uni tostada while supplies last and chicharron (P130), a The Grid exclusive.
Stall 11: Bun ApPetit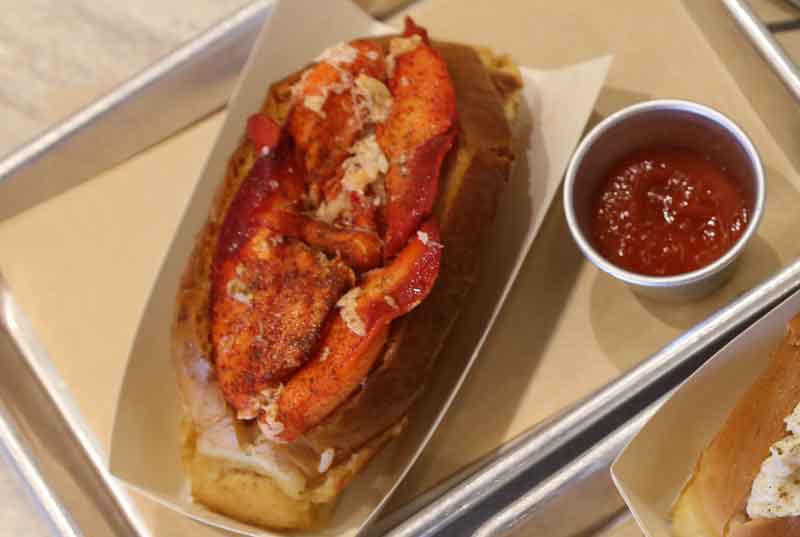 Lobster roll
Bun Appetit's Lawrence and Iya Cua first tried lobster rolls in the famous Luke's Lobster in New York in 2013, and to this day source their lobsters from there. There's no need to brave the inclement weather or wake up early to make it to Bun Appetit's weekend market stalls as they're now in stall 11.
Best-seller: Lobster roll (P695) for the past four years. They make 250 a day for The Grid and they always run out. "Our lobster is imported from Maine. We need claw meat for the rolls, and lobsters with claw meat are native to cold waters. Our method of preparation is very straightforward. We lightly line the bread with mayo and toss the seafood in lemon butter." A close second? The garlic noodles (P150).
Must-try: Crab roll (P495) with Locavore's labuyo aioli and shrimp roll (P395) in Pepita Lechon's labuyo sauce
Stall 12: EDSA BDG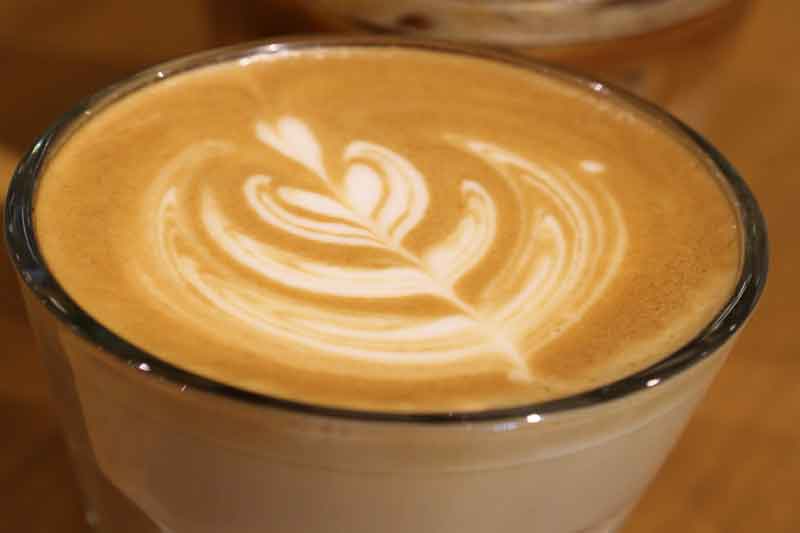 #YKW signature espresso latte
"Our thrust is to help people drink better," Jericson Co says, one half of EDSA Beverage Design Group with David Ong, known for their handcrafted coffees and cocktails in The Curator.
Best-seller: #YKW signature espressos (starts at P120) whether it's double ristretto by default, with water, with milk, or as their signature caffe mocha
Must-try: Green apple kaffir natural soda (P160). "When we say natural, we don't use corn syrup. No phosphoric acid, no colorants, just the fruit at its best. We work with carbonated water and syrup from good, in-season fruit in our distillation facility where we get the flavors of flowers and leaves. It's lighter, more finessed."
Retail: Workshop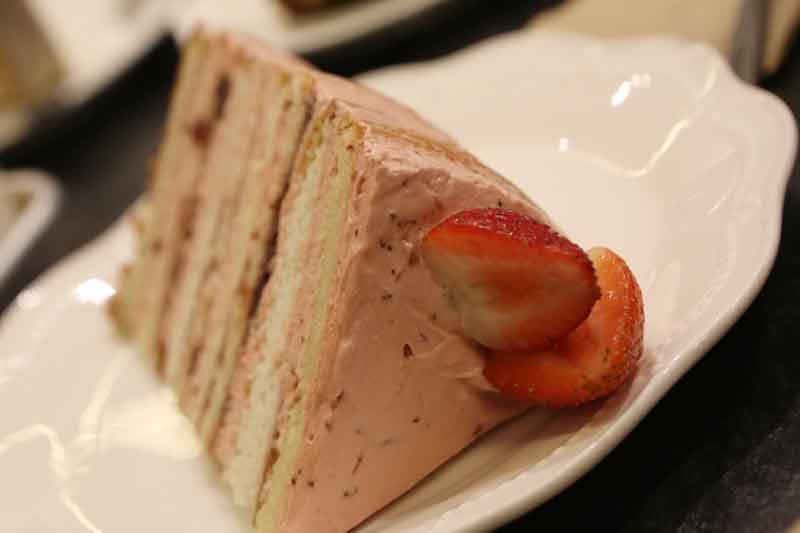 17-layer strawberry shortcake
Le Petit Souffle duo Miko Aspiras and Kristine Lotilla (pictured) bring in best-sellers from their Century City Mall restaurant. The space doesn't allow for their famous soufflés; instead, expect the addition of seasonal items to the menu inspired by their travels.
Best-seller: The 17-layer line, which comes in classic chocolate, chocolate caramel, and strawberry shortcake.
Must-try: Basque brun cheesecake. "This recipe is from San Sebastian, Spain. We baked it in high temperatures so it burns outside, but the inside is very custard-y."
Retail: Happy Barrels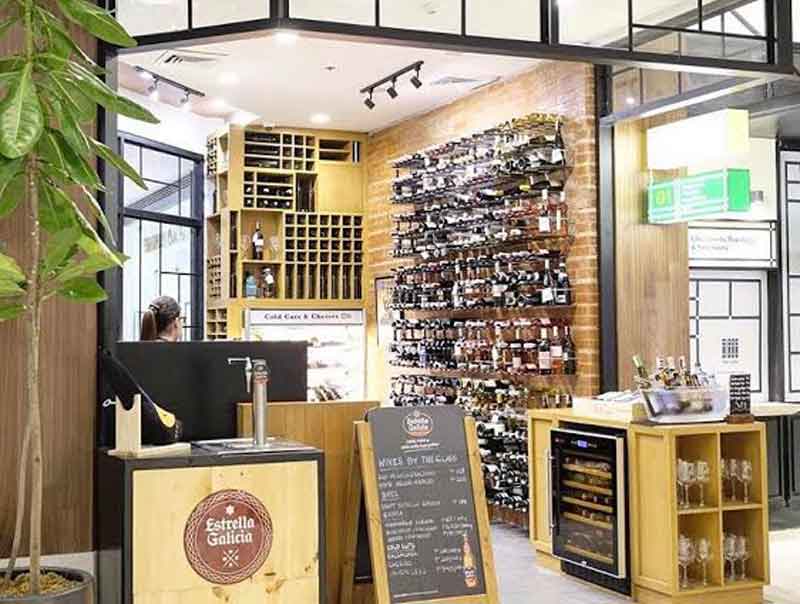 "Without people asking for it, they were looking for it. To have a glass of wine — in a food court! What I like the most is seeing people ordering from different stalls but eat everything with a bottle of wine," says Dani Aliaga. Happy Barrels also carries a variety of Spanish cheeses and cold cuts.
Best-seller: Draft beer Estrella Galicia (P150) and Melior Verdejo white wine by the glass (P200)