She who makes the pizza controls the toppings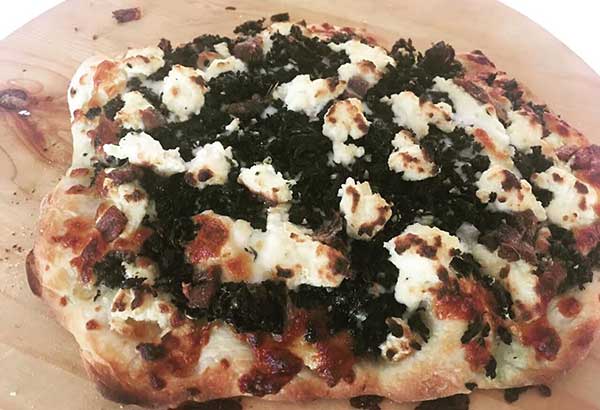 My all-time favorite pizza place is Pizzeria Delfina in San Francisco. Impossibly thin and crisp without being "cracker-y," Delfina's pies invariably transport me to some sunny piazza in Rome where I imagine myself Sophia Loren-ing it up in some café with a dashing gentleman named Giancarlo.
New York is famous for pizza, however, and rightfully so. Superstars include institutions like John's Pizzeria (there's a reason it's been around for 87 years), Roberta's (Manhattanites rejoiced when it finally opened in midtown food hall UrbanSpace) and Artichoke Basille at the High Line (which, strictly speaking, doesn't really serve New York-style pizza but is still good in its own way).
But while New Yorkers love their iconic pizzas, every single one has their own favorite pizza joint just around the corner from home. Mine was called Ultimate Pizza. It was a cheap and convenient source of nourishment and comfort for afterhours, hung-over mornings, and Blockbuster nights, my generation's equivalent of Netflix and chill.
Ultimate was perfect for when one headed home after the bars closed and needed something gloriously rich, carb-y and fatty to absorb all those Cosmos. I'd walk away with two steaming-hot slices with different toppings, savoring one right before bed and then saving the second for reheating the next morning or sometimes, just eating cold straight from the fridge.
Sausage, mushroom, pepperoni, broccoli, olives — toppings on one slice varied according to my moods, but the other one was a constant: spinach and ricotta… and always, always anchovies. Yet another reason to love New York slices, by the way, especially when eating with non-little-fishy-loving friends.
I make pizzas at home now, and while I still can't replicate Delfina's perfectly thin, crispy-chewy crust in my home oven, it's still better than most home-delivery options.
A pizza stone helps you come closer to approximating the blistering heat of a commercial pizza oven, but if you don't have one, use an upside-down baking sheet instead. Use Italian "00" flour if you can find it, but if you can't, don't sweat it. All-purpose flour makes great pies, too.
These days, pizza nights happen closer to dinnertime than dawn. A nice bottle of red has replaced the Cosmos, and hangovers are no longer required. Best of all, she who makes the pizza controls the toppings, which for me, means great quality ingredients and best of all, all the deliciously salty little fishes I could ever want.
Recipe File: Spinach-Ricotta Pizza
(Yield: 4 servings)
Ingredients:
Crust
3/4 cup warm water (105°F to 115°F)
1 1/2 teaspoons dry yeast
1 tablespoon extra-virgin olive oil
1 teaspoon salt
1 ½ cups "00" or all-purpose flour, with more for dusting/kneading.
Topping
Leaves from 1 bunch (500g) spinach
2 tablespoons extra-virgin olive oil
1 large garlic clove, minced
Salt and pepper to taste
8 ounces mozzarella cheese, coarsely grated
4 ounces ricotta, crumbled (about 1 cup)
Anchovies to taste (optional, but don't knock it until you've tried it!)
Procedure:
For crust:
Pour 3/4 cup water into a large bowl. Stir in yeast and let stand until mixture starts to foam, around 10 minutes. Add oil and salt, then 1 1/2 cups flour. Stir until well blended (dough will be sticky). Turn dough out onto generously floured surface and knead for around 5 minutes, until smooth and elastic, adding just enough flour to prevent dough from sticking.
Shape dough into ball; place in large oiled bowl and turn to coat. Cover bowl with kitchen towel. Let dough rise in cool room temperature until almost double, about 2 hours. Punch dough down; form into ball. Return to bowl; cover with towel and let rise until double, at least another 3 hours or overnight in the fridge. Allow to come to room temperature before using.
For topping:
Preheat oven to its highest setting (usually 500-550F/250C). If using a pizza stone, preheat this for at least an hour.
Blanch spinach in large pot of boiling salted water for 30 seconds. Rinse under cold water, squeeze dry and coarsely chop. Heat 2 tablespoons oil in small skillet over medium heat. Add garlic and stir 30 seconds. Add spinach and stir 1 minute. Season to taste with salt and pepper.
To assemble:
Flour your upside-down baking sheet (if using). Roll out dough on floured surface to one 12-inch or two 6-inch rounds. If you can't get them perfectly round, don't worry. Mine look like amoebas, but I tell people they're "rustic" and call it a day.
Transfer to baking sheet. Sprinkle mozzarella over dough, leaving 1-inch border. Scatter spinach and anchovies (if using) over mozzarella. Top with ricotta. Bake pizza until crust is brown, about 10 minutes, although this will vary depending on your oven. Remove from oven, slice and serve.
* * *
For questions, comments and suggestions, email me at [email protected], visit my website www.realgirltoykitchen.com or follow me on FB (Real Girl Toy Kitchen)/IG: realgirltoykitchen.