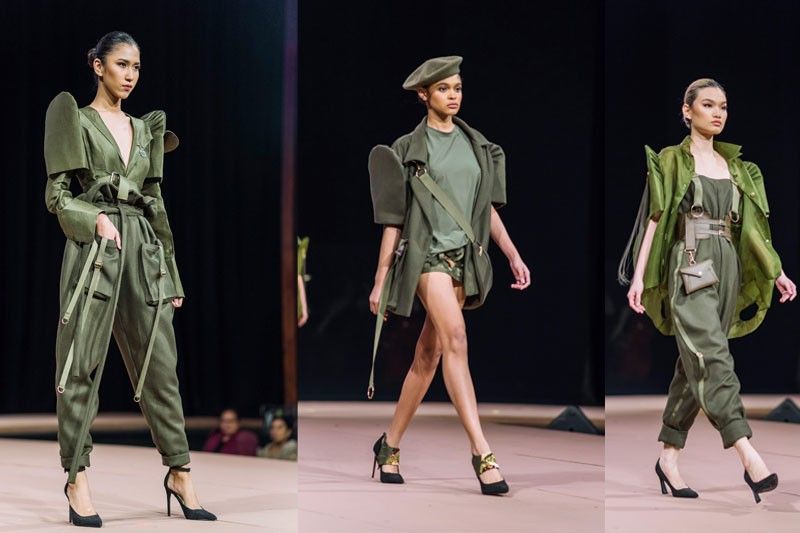 Ternocon 2020: wearability for millennials wins
MANILA, Philippines — Wearability is the newest addition to the contest rules of Ternocon 2020, the biannual terno-making convention by Bench and the Cultural Center of the Philippines. Just three years ago, before the Ternocon revived the Philippine national dress, you wouldn't associate that adjective "wearability" with the dignified terno. But with the change in this year's contest rules no dress codes the 12 finalists came up with a three-look collection all perfectly relatable to the newest generation of wearers. And wearable is the word.
Ternocon project director Gino Gonzales explains, "This time around, the understanding of the designers of contemporary wear, the line between formal and casual or semi-formal is blurred. I think it's a reflection of the times also. Not too many gowns. Everyone came up with a more contemporary take on the terno," he said in describing this year's entries.
Chief mentor Inno Sotto shares, "The aim of Ternocon is to create interest in wanting to wear it and revive interest. Design is a language of our profession as designers. People must understand and relate to the language we speak. I told the designers to do a design that is the equivalent of two sentences. In this aspect, Ternocon 2020 has succeeded."
The judges this year are Bench founder and Ternocon chair Ben Chan and all designers: Chito Vijandre and Ternocon 2018 mentors Len Cabili, Cary Santiago and JC Buendia.
Gonzales admits, "This year, we had no idea where the judging would go. It's really anybody's game — even though judges, I think, had a difficult time. "
Cabili explains the panel's decision: "We really wanted something that would speak to the younger generation. We felt that these three were a very good representation of what is to come in terms of the terno design."
It took the judges four deliberations before they could narrow down their top three. "It was very difficult this time. We kept going back to five. But I think what they need to realize is that all 12 of them presented something different. It's more like us figuring out what would best represent the future of the terno. We went with something that was different and something that would attract the younger crowd."
The contestants are Gavin Ruffy of Las Piñas; Krizia Jimenez of Quezon City; June Samson Pugat of Batac, Ilocos Norte; Dinnes Obusan of Tinambac, Camarines Sur; Abdul Dianalan of Iligan; Renz Reyes of Imus, Cavite; Hannah Adrias of Pasay; Windell B. Madis of Tarlac, Ilocos Norte; Jean Avellanosa-Dee of Manila; Toping Zamora of Davao; Jaggy Glarino of General Santos; and CJ Martin of Bayombong, Nueva Vizcaya.
Without further adieu: the winners of Ternocon 2020.

Gold: Hannah Adrias of Pasay
Camo green is a color you would least expect in a terno, but that's exactly why she won the grand prize. The designer explains, "My collection is inspired by military/utilitarian modern women. Women who are on the go and always moving."
She used wool, silk, silk cocoon, leather and bag straps. She hand-beaded the epaulettes and strips on A-skirts. She also wove bag straps, and turned this into a skirt. The result? The terno becomes an armor for the battles of modern life.
"In my collection, I want the terno to be wearable, for people to see it as not a costume. I want millennial women to appreciate the terno. That's the goal," she declares.
Sotto agrees: "I am glad that this is terno from the point of view of a woman who will wear it."
Gonzales adds: "Hannah's, in particular, reflects this generation's point of view. Finally, it's a female designer with an understanding of young woman's wants. It's deceptively simple. But it clearly demonstrates much skill in bespoke tailoring."

Silver: Jaggy Glarino of General Santos
Jaggy Glarino is no design competition novice (he was one of three winners of Bench Design Awards in 2017). He rightly brought showmanship in his all-white collection, "Malaya."
"It is an attempt to explore the idea of freedom as a generic and encompassing human experience. The ideas of corpinyo, the traditional bodice undergarment from the 1800s, French couture, Dior's new look and butterfly metamorphosis —though clichéd, I wanted to look at it from a new perspective," he explains.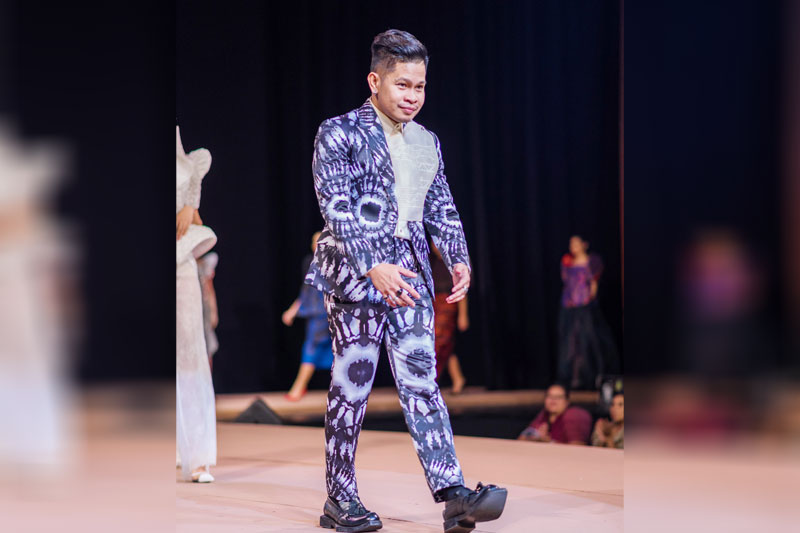 "Jaggy is a demonstration of technical skill. It's actually made of separates that can be worn individually," adds Gonzales.
What is it trying to say? "You can be individual. You can wear a terno in various ways. Some prioritize comfort over form, some the latter, just as long as tradition and culture are taken into consideration," Glarino says.
His fabrication is a high-low mix of matte and diamond organzas to expensive sheer silks and Chantilly laces, mimicking a cocoon shedding off of the body. He made lighter versions of form and structure and incorporated the idea of lingerie dressing. Very wearable for today's fashion girl.

Bronze: Dinnes Obusan of Tinambac, Camarines Sur
Dinnes Obusan showcased a progression from his printed neoprene Chinese garter dress, one of the most popular pieces in Slim's 2018 Student Work Exhibit themed "Laro." It was worn by actress Gabbi Garcia in Ternocon 2018, where she was named as one of the event's best dressed.
"Same technique and materials, but different color. I also added another fabric, velvet, para mas makita yung movements ng loops," he explains.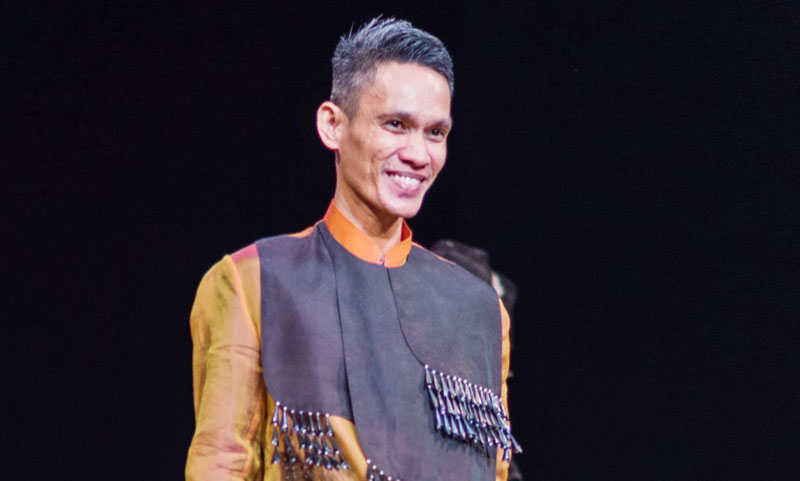 As a young designer leaving his mark on fashion, he explains the figurative meaning of his collection: "Yung movements and patterns ng loops ay inspired by fingerprints. Isa isa ko siya tinatahi by hand sa base ng dress." For the base, he used American tulle.
Slim's scholar Obusan caught Gonzales' attention in 2018 because of his resourcefulness, creating movement out of inexpensive neoprene by rolling individual strips of fabric into strings that have now become his signature.
"Dinnes' ternos swayed beautifully onstage. And they surprisingly had a theatricality," Gonzales describes. "It's called 'stage worthiness' in theater parlance."
With his return to Ternocon, he shares what he's learned: "Isa sa natutunan ko from last year's Ternocon ay pwede din pala gawing tapered yung shape ng sleeves. Kaya sa collection ko, ginawa kong tapered at maliit yung sleeves."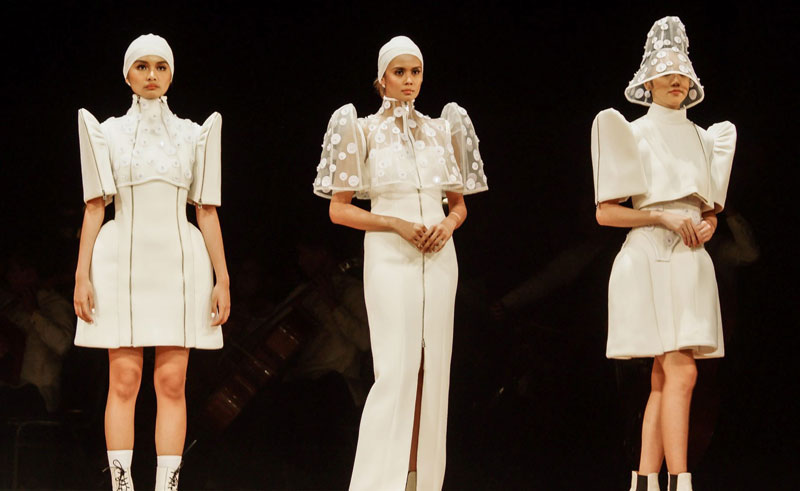 Bonus: Chief Mentor's Medal goes to...
"For technical excellence and dedication to the entire process of Ternocon 2020, awarded to Abdul Dianalan on January 27, 2020," Sotto quotes the contents of the certificate awarded to the Iligan-based young designer.
Signed by Sotto, Gonzales, and Cabili, they had a mini awarding among themselves backstage.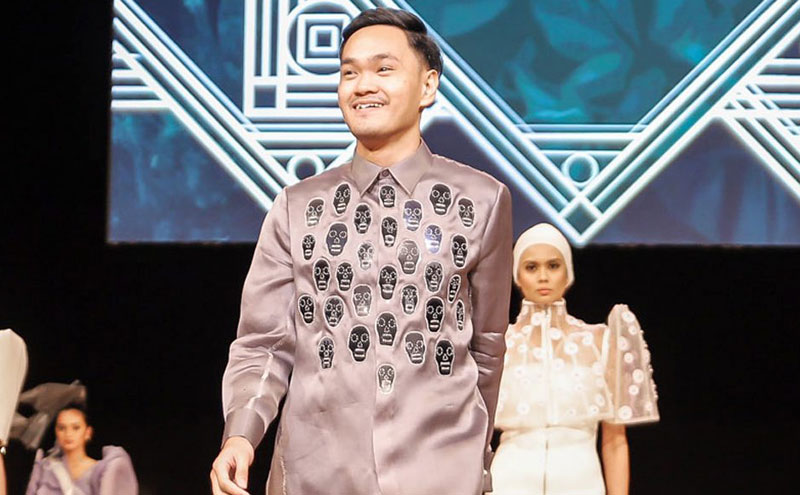 Sotto likens Dianalan's collection to sci-fi heroine Barbarella's wardrobe, but all white, varying in sheer and opaque, smooth and textured. As a nod to the Muslim hijab, the looks included wide headbands and sheer bucket hats. Sotto laughs as he recalls, "I tell him, 'Para kang Russian cosmonaut mag-isip.'"
That Dianalan hails from a conservative, predominantly Muslim hometown in Mindanao, yet manages to come up with something so retro-futuristic and refined, caught the attention of the Chief Mentor's Medal signatories. It's a perfect example of the transportive quality of fashion.
The Finalists: