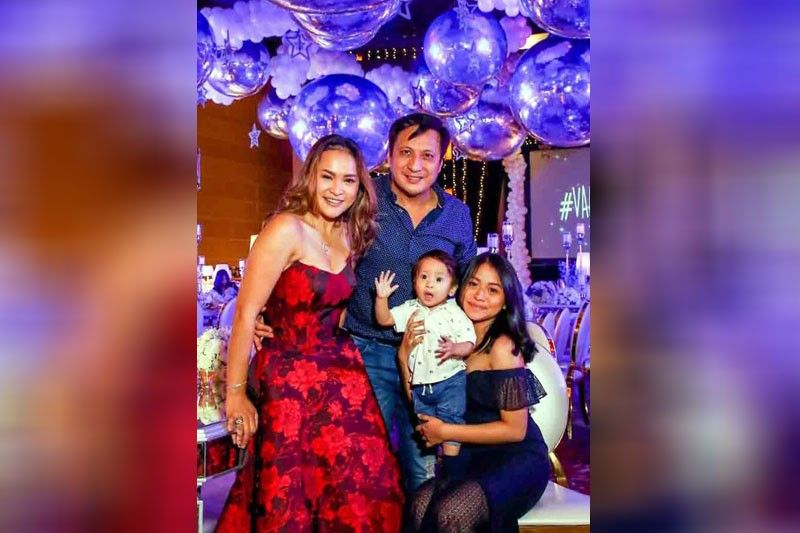 Proud parents Mitch Garcia and Ariel Arce with Amos and Azi Garcia
Alex Van Hagen for power MAC Center
A sweet and meaningful first
Hotelier prima Michelle Garcia and the brilliant Ariel Arce of the one-of-a-kind Arce Dairy Ice Cream, celebrated the first birthday of their son Amos at the Marriott Grand Ballroom. The occasion was attended by the name-droppables who indulged in an overwhelming spread of US prime rib steaks, baked salmon, prawns, pasta (for the baby's long life), Elarz lechon, other savories, and delectable desserts that Marriott Hotel Manila is known for. As a special treat, my favorite Arce Dairy Ice Cream rolled out a buffet of sweet indulgence,with guests loving the flavors of avocado, dark chocolate, coffee crumble, strawberry, ube, quezo, and buko sorbet! Wow!
To say that the venue was a sight to behold is a gross understatement. Designed by event maestro Teddy Manuel, the ceiling was adorned with bespoke balloons and stunning light installations for a burst of stars overhead. He also flanked the ballroom's entryway with a treatment of cutout stars and fairy lights that seemingly floated like stardust by the doorway, as if inviting guests into the night sky. Mirrored tables were adorned with glass candelabras and fresh blue Ecuadorian roses, while the white carpet led the invitees to the dancefloor where the DJs played the best hits of the '70s.
G Force warmed up the audience with a "Baby Shark" dance number, before revealing the birthday celebrant. To everyone's surprise, Amos' cake descended from the ceiling to loud applause.
The couple's passion for children and giving back didn't go unnoticed. While the kids reveled in cupcake decorating and coloring games, all prizes from the adult games were shared directly with Save the Children Organization, which helps underprivileged children around the world.
"My sleepy little infant has now grown into a cute, super-active and sweet baby. We adore the wonderful little boy that he is becoming and we love him so much," said the proud mother Mitch Garcia.