Alice Eduardo celebrates with overflowing bubbly, tons of whispers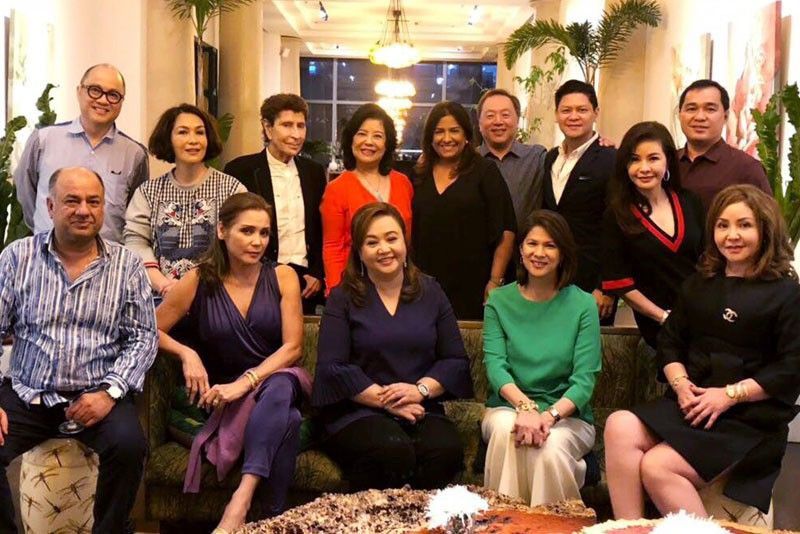 Business wiz Haresh Hiranand and his adorable wife, the well-respected lady of charity work Sharmila Hiranand, hosted a dinner for low-profile, but absolutely fun, construction magnate with a heart of gold Alice Eduardo to celebrate another year of her hectic lifestyle at the posh, members-only Manila House.
The evening was filled not only with overflowing bubby but tons of whispers while enjoying each other's company. The celebrant and the excellently chosen menu by the hostess consisted of bottarga uni pasta, hamachi carpaccio, Wagyu steak from Japan, Caesar salad, chocolate cake, cheesecake and the calorific red velvet cake.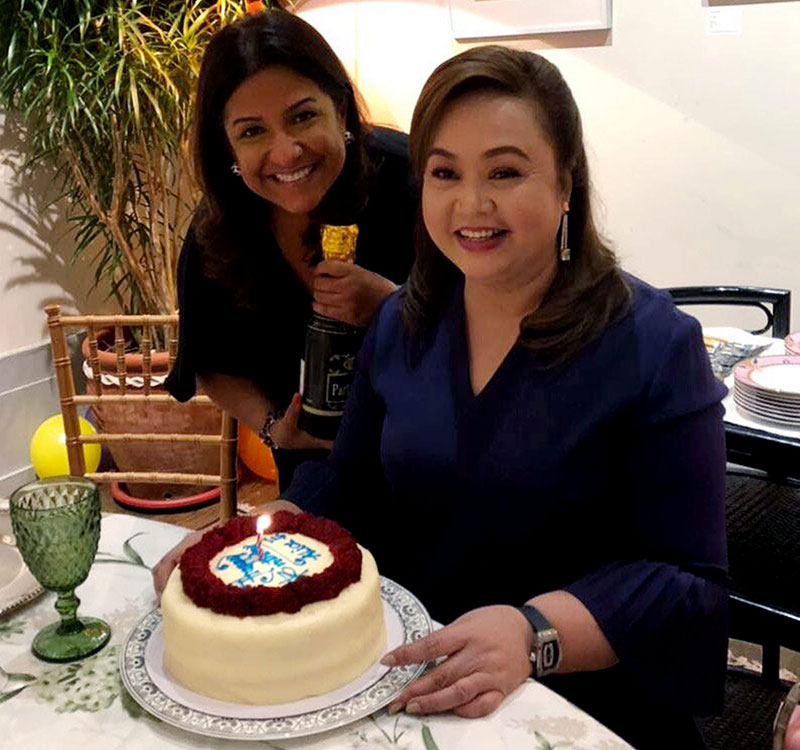 True pals: Honoree Alice Eduardo and host Sharmila Hiranand
Close friends included Marissa Cojuangco, Mikey and Lizette Cojuangco, Philip and Small Laude, Tina Ocampo, Elena Coyiuto, Menchu Katigbak, Tatler editor in chief Anton San Diego, Melba and Bayani Solidum who all stayed on and on, till everyone left fully satisfied, dahlings, with the superb food, endless drinks and naturellement, the elegant ambience which Anton and Sharmila provided in one of the private rooms of the club, dahlings, that blended so well with that stylish woman of the hour and noticeably trés happy and beaming with joy Alice, but who else, n'est-ce pas?
Sexy is Ageless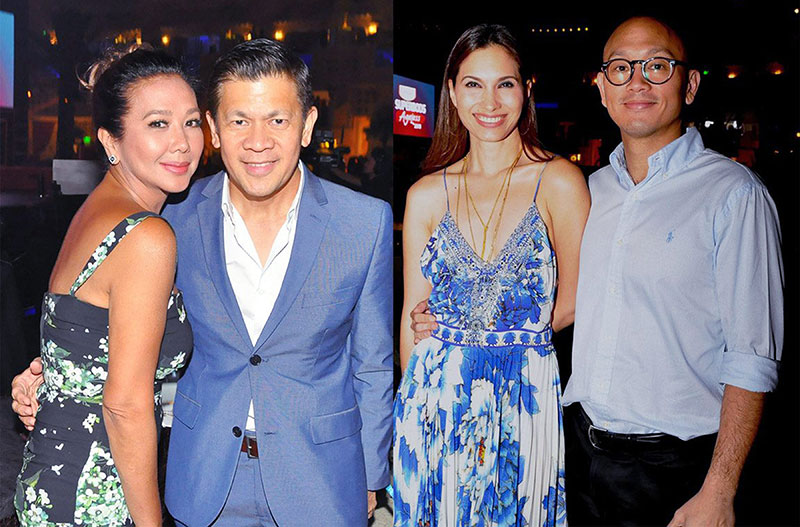 Korina Sanchez with Century Pacific Food Inc. EVP & COO Greg Banzon, Generation Hope Inc. and Friends of Hope Inc. founder Nanette Medved Po and CPFI CEO Chris Po
Indeed, palanggas, sexy knows no age — take it from me! Proof of this was the sizzling Century Tuna Superbods Ageless 2018 where a bevy of sizzling bodies took to the stage at The Cove in Okada Manila.
Unlike past Superbods, the Ageless category was introduced for those 38 to 50 years old, where the sultry singer and beauty consultant Angel Jones, 39, and the boyish BPO trainer Johann Ludovica, 42, emerged as winners. They proved that "one can be their fittest, healthiest and most attractive best regardless of age," dahlings.
The category for those 18 to 37 years old was grabbed by good-looking print model Jules Aquino, 25, and former Miss Arizona Maureen Montagne, 24, took home the top prize.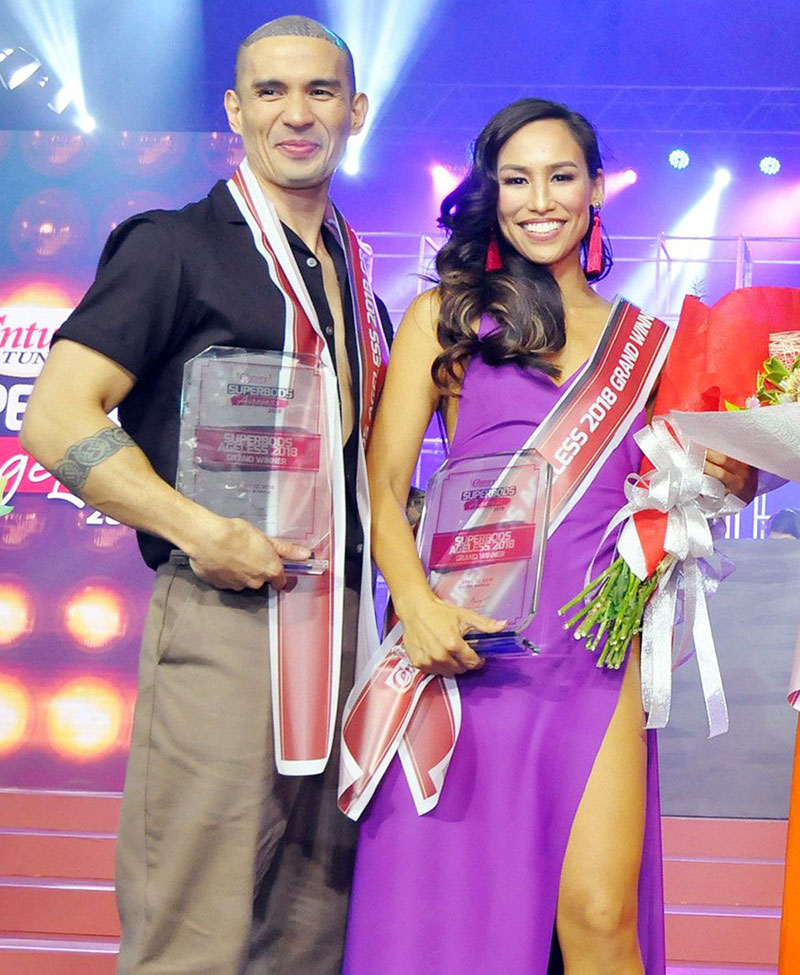 Superbods Ageless grand winners Johann Ludovica and Angel Jones
The first runner-ups were Anthony Wahl and Bella Ysmael in the Superbods category; and Mica Fuentes and Jerome Salvado for the Ageless category.
The four Superbods received P500,000 in cash each; an appliance showcase worth P250,000 from Indesit, Mabe and Philips; an editorial campaign from Zalora; a training contract from Star Magic; a one-year unlimited elite membership at Gold's Gym; a May 2018 Mega magazine supplement feature; P5,000 worth of Vansydical Sportswear; and a super special prize from Cove. A brand-new Chevrolet Trax went to Kim Ross Williams. Wow!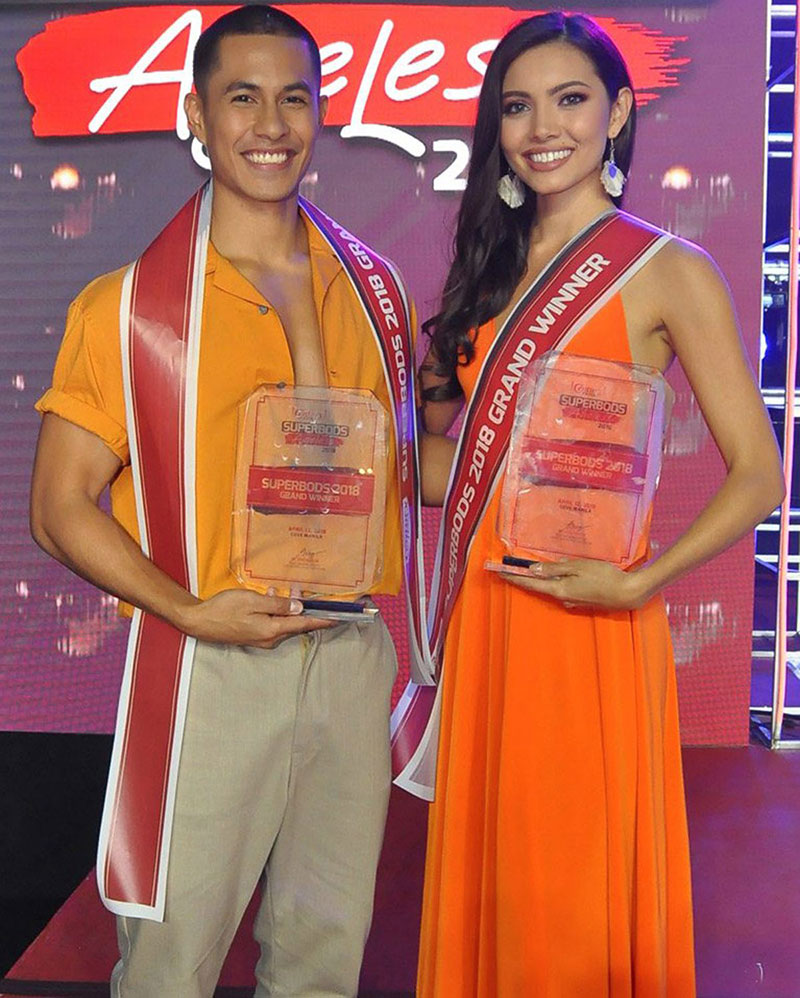 Superbods grand winners Jules Aquino and Maureen Montagne
Among the name-droppable invitees seen during the finals night were Century Pacific Food Inc. EVP and COO Greg Banzon, naturellement; Ariel Comia, the fabulous looker Korina Sanchez-Roxas, ageless Tweetie De Leon-Gonzalez, Francis Libiran, Solenn Heusaff, Kiefer Ravena and Century Tuna Superbods Ageless' celebrity endorsers, gorgeous gals Alice Dixson, Ina Raymundo and Sunshine Cruz, together with those yummy bodies of Gerald Anderson, Matteo Guidicelli and Paulo Avelino. Yeah! It sure was an exciting night for the winners and watchers, with the married men letting their fantasies flow and the women dreaming, "if only," palanggas.
The Century Tuna Superbods Ageless 2018 Finals Night was, oh, what a night, palanggas.