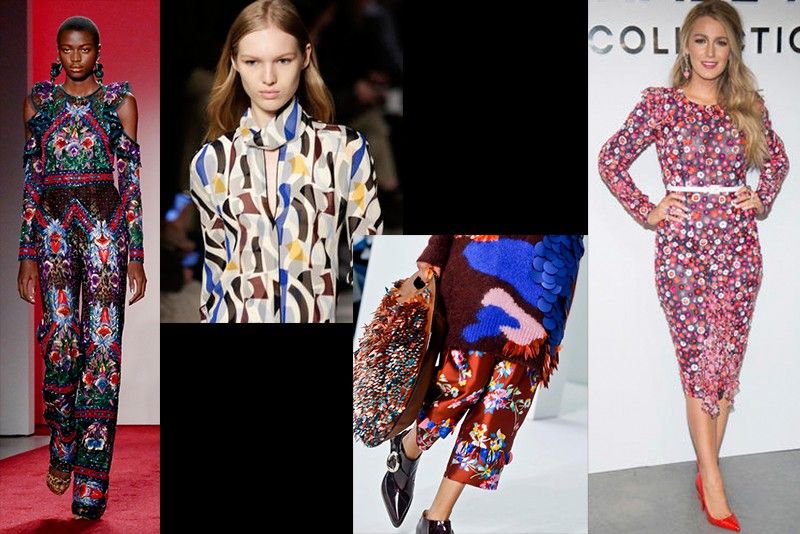 Kaleidoscope world: Psychedelic prints and patterns were featured in the fall-winter 2017 collections of Naeem Khan, Victoria Beckham and Delpozo, among others. Actress Blake Lively was also seen in New York Fashion Week wearing a summer-like floral dress for a fall-winter Michael Kors show.
Associated Press
LIST: New York Fashion Week fall-winter 2017 trends
The New York Fashion Week (NYFW) fall-winter 2017 just capped off with hints of trends that could hit shopping racks in the months to come.
Suede, velvet, cold shoulders, leopard prints, polka dots, military green, patchwork, and '60s, '70s, and '80s dressing are still in. But this season, the androgynous sports luxe, "athleisure" or athletic leisure trend that reigned last year has taken a backseat for fall-winter in New York this year.
Instead, there is a revival of the new romantic – think of feminine and opulent brocades, flowers, and bursts of summer colors, yes, for fall-winter!
Josie Natori, a Filipino-Japanese designer based in New York, presented a black, white, navy blue, red, and gold collection, accentuated with intricate tapestry prints, kimono-cut blazers, tattoo-embroidered stockings, and oversized, fan-shaped earrings.
Meanwhile, New York-based Filipino designer Monique Lhuillier showcased a fall 2017 read-to-wear collection with touches of elements she put into Dakota Johnson's "Fifty Shades Darker" gown —ostrich feathers, capes, and subtle sexiness. The collection's mostly black palette was broken by polka dots, ribbons, and pops of color and gold.
Other Filipino designers and brands that show collections at NYFW include Tina Maristela Ocampo of Celestina and Rafe Totengco under the brand name, Rafe New York.
Here are other fall-winter 2017 trends spotted on the runway.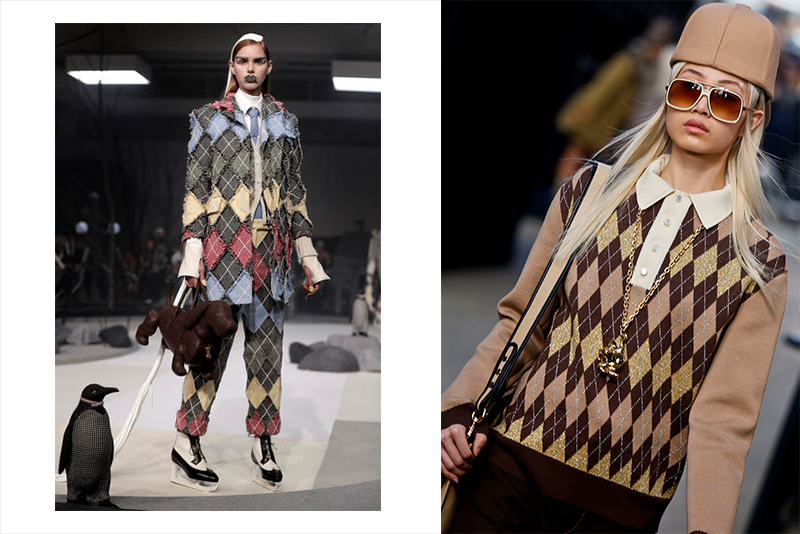 Argyle: Thom Browne, Marc Jacobs Associated Press
Argyle
Old-school diamond-shaped patterns that originated from the Argyll tartan of Scotland are back, giving an Ivy League look to cardigans and long blazers.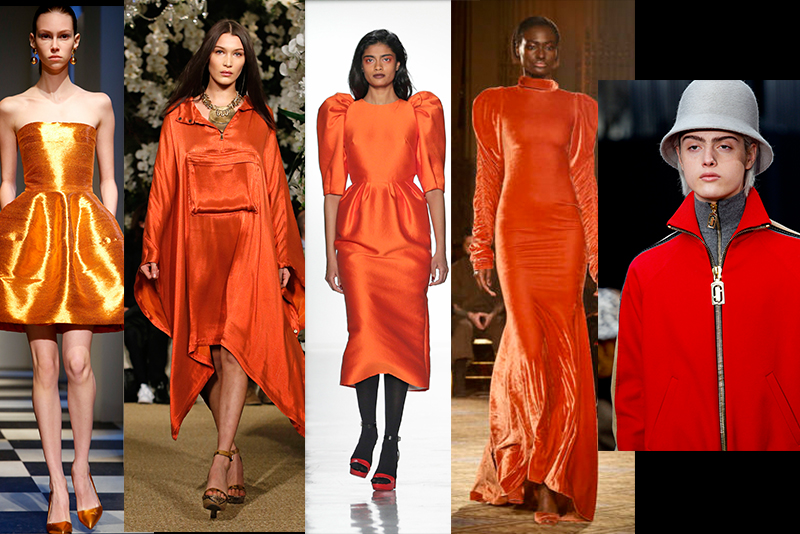 Auburn: Oscar de la Renta, Ralph Lauren, Bibhu Mohapat, Christian Siriano, Marc Jacobs Associated Press
Auburn
Green might be the Pantone color of the year, but New York designers picked mostly saturated oranges to include in their collections—from the fruity shade to red-orange.
Black and white
Monochrome and cinema noir still move fashion and fashion designers.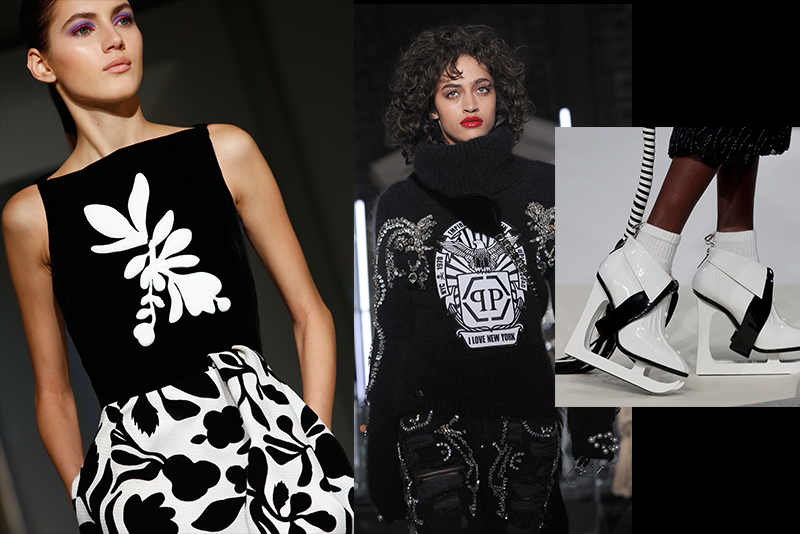 Black and white: Oscar de la Renta, Philipp Plein, Thom Browne Associated Press
Capes
Unlike their ancestors, this season's capes camouflage as long sleeves or are cut like slits on the shoulders.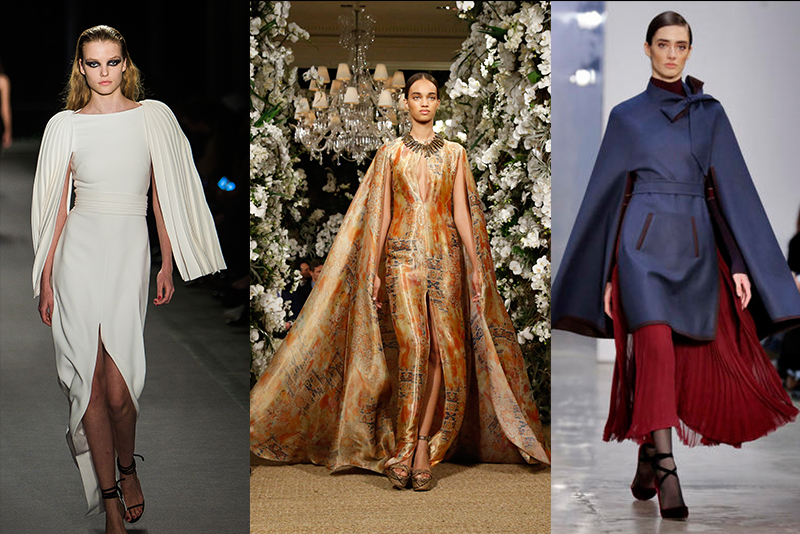 Capes: Brandon Maxwell, Ralph Lauren, Carolina Herrera Associated Press
Cold one shoulder
Whether inspired by Buddhist monks or seemingly ripped from a sleeve, the asymmetrical neckline is 'in' again.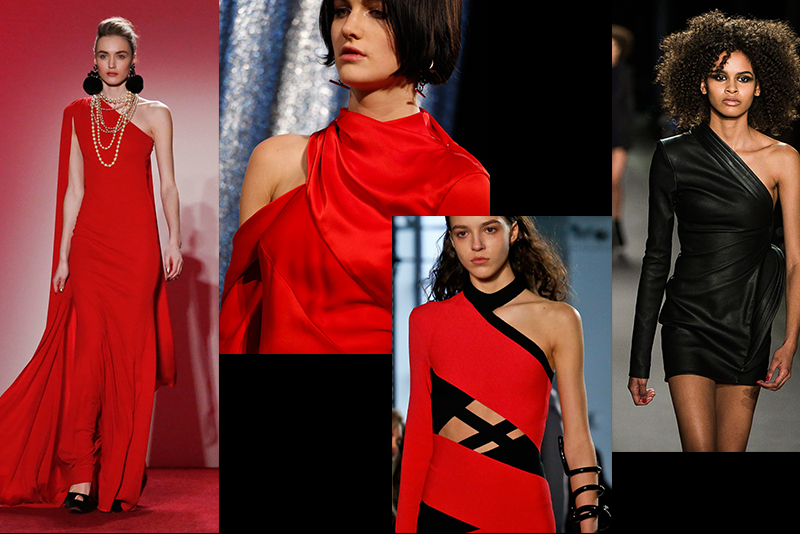 Cold one shoulder: Naeem Khan, Monse, Proenza Schouler, Brandon Maxwell Associated Press
Greenery
From last year's military-inspired olive to lush emeralds, NYFW this season is indeed green with looks to envy.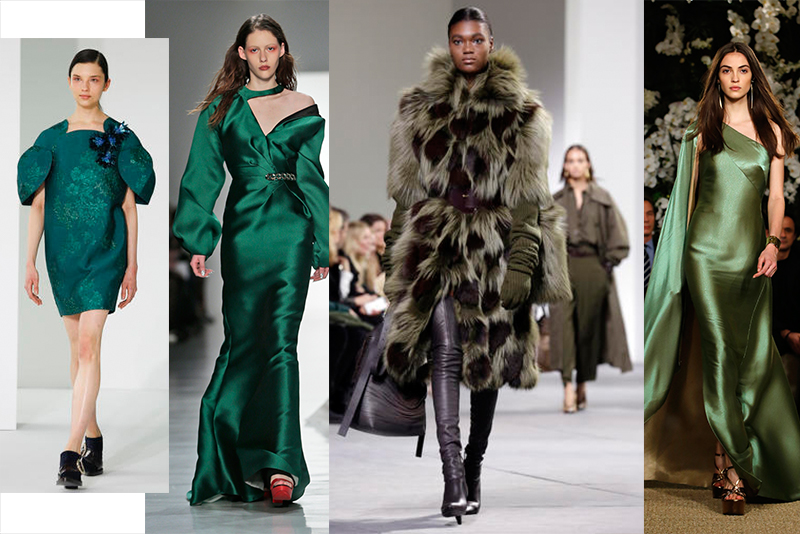 Greenery: Delpozo, Bibhu Mohapat, Michael Kors, Ralph Lauren Associated Press
Kaleidoscope
Mind-boggling color combinations, bordering to optical illusion, explode in prints and patterns for the season.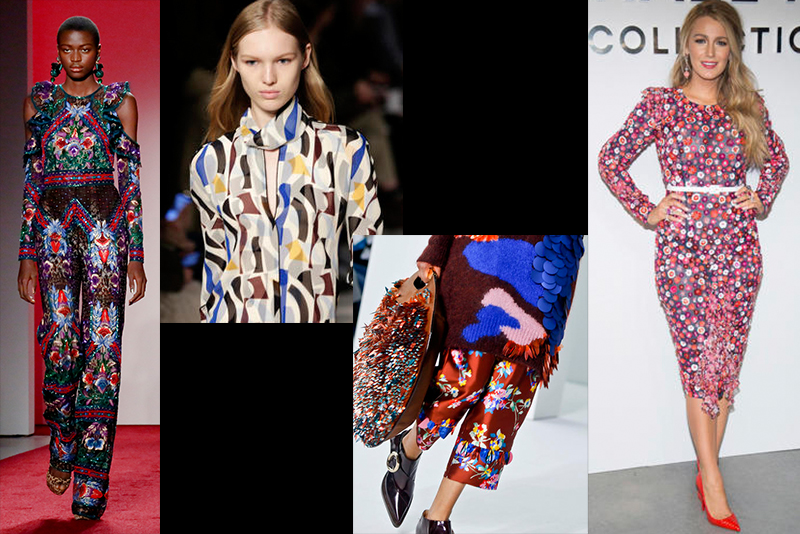 Kaleidoscope: Naeem Khan, Victoria Beckham, Delpozo, actress Blake Lively attending the NYFW Associated Press
Karate kid
Tying a skinny belt around the waist, as if just stepping out of a shower with a bath robe, is this season's no-fuss way to style a trench coat.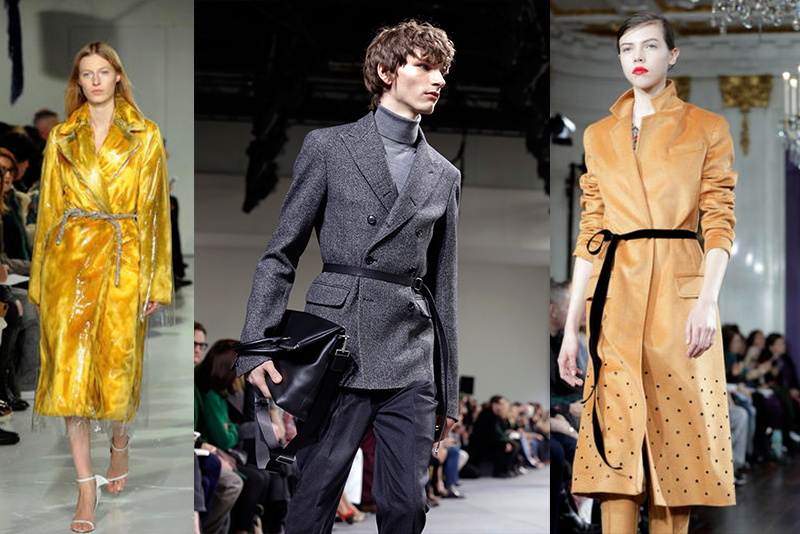 Karate kid: Calvin Klein, Michael Kors, Jason Wu Associated Press
Rainbow stripes
The rainbow bright trend borrowed from the '80s adds a dose of childlike playfulness to a traditionally dark fall-winter wardrobe.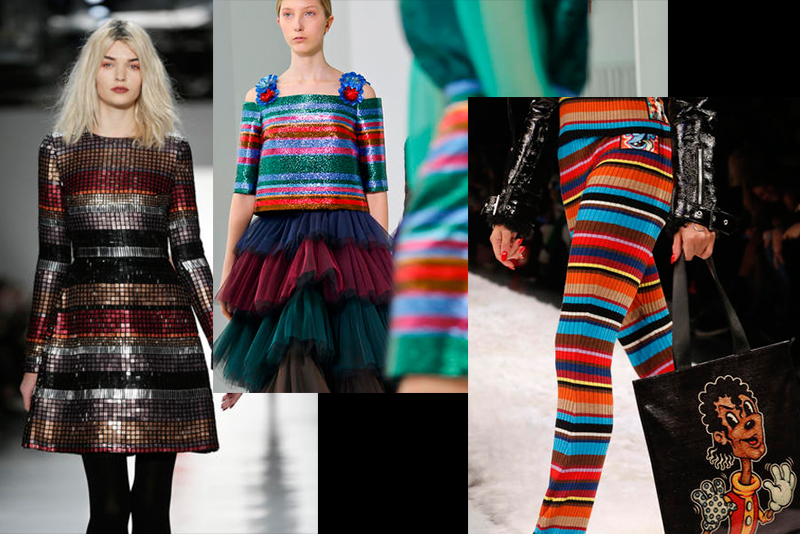 Rainbow stripes: Bibhu Mohapatra, Delapozo, Jeremy Scott Associated Press
School uniform plaid
While students try to inject casual clothes into their uniform, designers are doing just the opposite. Instead of looking at Britain's highly technical and intricately woven plaids for inspiration, designers just glanced at a nearby schoolyard.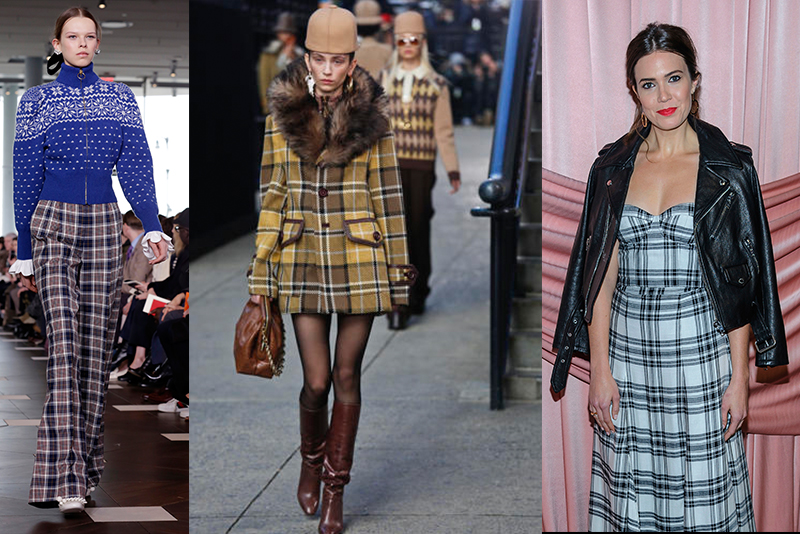 School uniform plaid: Tory Burch, Marc Jacobs, singer-actress Mandy Moore attending NYFW Associated Press
Slinky silk
Jean Harlow and the '70s disco era live on in silk and silk-like jerseys that feel like negligee worn as outerwear.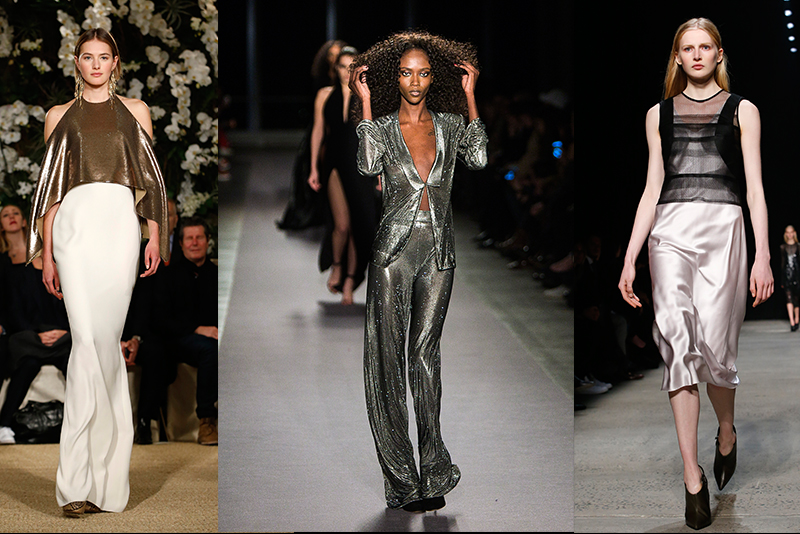 Slinky silk: Ralph Lauren, Brandon Maxwell, Narciso Rodriguez Associated Press
Spot color
Break a monochrome or a color-blocked outfit with an unexpected color splash.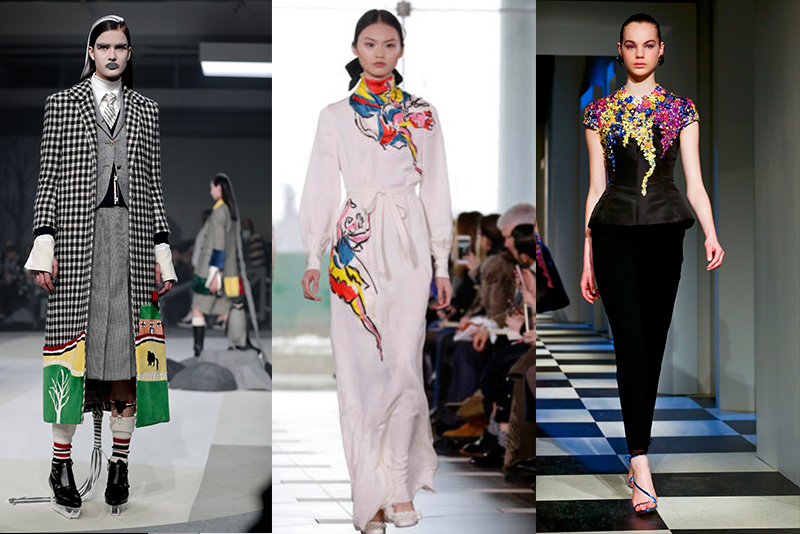 Spot color: Thom Browne, Tory Burch, Oscar de la Renta Associated Press
Yellow gold
From the Golden Globes to Miss Universe, and now, to NYFW, the official color of the Academy Awards wins.
After NYFW, London Fashion Week in now in full swing, followed by Milan Fashion Week on February 22 to 28, and Paris Fashion Week on February 28 to March 8.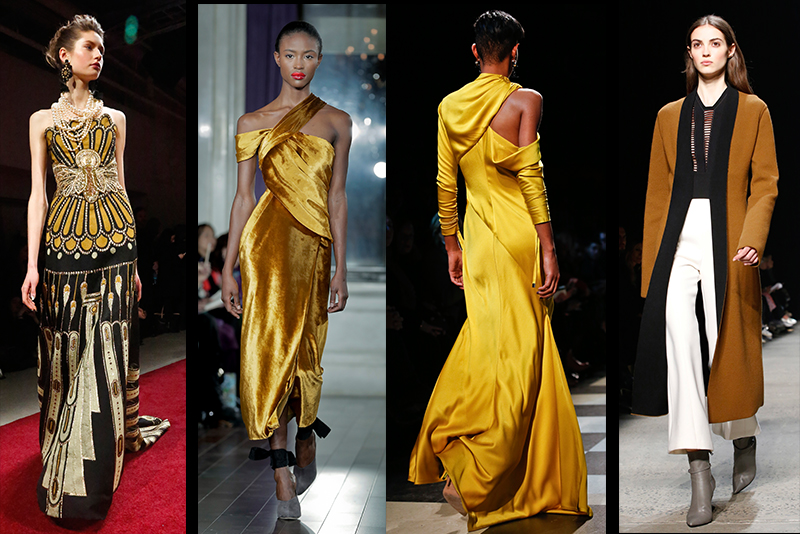 Yellow gold: Naeem Khan, Jason Wu, Monse, Narciso Rodriguez Associated Press
WATCH: Michael Kors and other celebrities on New York Fashion Week