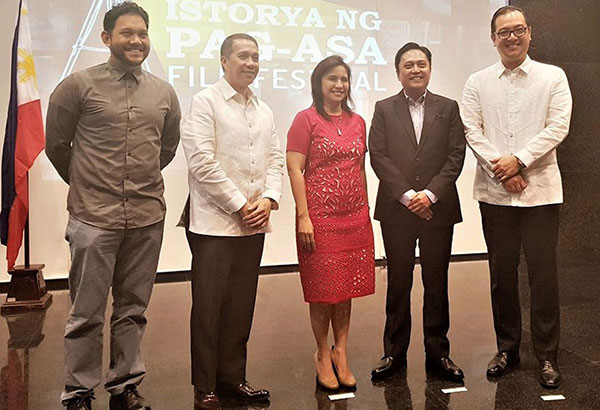 The Istorya ng Pag-asa Film Festival proponents: (from left) Quark Henares, director, Globe Studios; Ruel Maranan, president, Ayala Foundation; Vice President Leni Robredo; Augusto Bengzon, chief financial officer and vice president, Ayala Land; and Paolo Borromeo, chief executive officer, AC Healthcare Holdings, Inc.
Hope is the gateway to amazing prospects
Stories of hope are gateways into the amazing prospects life offers. They make lives happier and better, and they allow you to discover new roads through challenging times. You turn to them whenever there's a need to push or boost yourself and others as you journey towards the best being you can be.
Every Filipino has an origin, and with each origin is a story of hope. Every Filipino faces life challenges that are seemingly insurmountable, but he or she is poised to confront them with great courage and resolve. Every Filipino believes in hope — the spark that lights the dark path and our dreams. Every Filipino has a narrative of positivism that provides inspiration to his fellowmen.
Stories of hope
There is an abundance of stories of hope around us. Many of them have been documented in "Istorya ng Pag-asa," a traveling photo gallery featuring extraordinary stories of ordinary Filipinos. Through words and portraits, this noble and Nobel project aims to inspire, empower and be a source of hope for all.
Take the case of Jamil Montibon. He had a difficult beginning as a former trash collector in Tondo, where he and his family lived in poverty. But, as fate and faith would have it, he was handpicked to be part of Project Ballet Futures program by Ballet Manila's artistic director and CEO, Lisa Macuja-Elizalde. Ballet afforded him and his brood a more comfortable life. He conquered his fears and challenges and performed internationally. But, despite all the accolades and his continuing pursuit of perfection, Jamil's humility remains intact.
Judge Ave A. Zurbito-Alba's journey is another venerable story of possibility, from part-time janitress to judge of Albay province. Her childhood overflowed with adversities. Her mother died when she was 13, her father never received any formal education and she studied and worked at the same time, earning four pesos a day for pulling out weeds and P12 a week for doing laundry. She also toiled as a kasambahay for her teachers while in college. Judge Ave conquered all the challenges that came her way. With only P50 in her pocket, she traveled from Masbate to Legazpi to take her college exam, which she aced. She even earned a scholarship for it. Judge Ave supported herself to earn a law degree. She worked her way up from stenographer to Albay judge, a position she has served in for over a decade.
Teacher Sabrina Ongkiko graduated with a degree in Biology from Ateneo de Manila University and was planning to go to medical school after graduation. However, when she took a year off to volunteer for Jesuits Volunteer Philippines, she was assigned to teach at a public school in Iloilo City, where she discovered her love and passion for teaching. Teacher Sabs has been teaching in Culiat Elementary School since 2009.
Ding, a person with disability from Puerto Princesa, Palawan, suffered from polio when he was five years old, which left him without the use of one hand and both feet. In spite of this, he was able to establish himself as a TESDA-certified electronic technician and set up his own electronic repair shop in his hometown. Ding is also a regular volunteer at the Bathala Rehab Center, where he designs and assembles customized wheelchairs to meet the needs of other PWDs. He also serves as a trainer and mentor to newcomers at the rehab center.
" Istorya ng Pag-asa" was an offshoot of "Araw ng Pagbasa, Araw ng Pag-asa," an annual reading advocacy program that began in Quezon City. Officially adopted in November 2016, "Istorya…" is an initiative of the Office of Vice President Leni Robredo, which aims to direct people's social conversations away from animosity and toward positivity by spreading stories of hope. It invites all Filipinos to join and share their stories of hope as it continues to grow and expand to all corners of the country, with the support of partners and stakeholders from Cebu, Cagayan de Oro, Quezon City, Naga, Baguio, Palawan and Dumaguete.
Stories of hope on film
To give a more expansive level of awareness and support for "Istorya ng Pag-asa," a platform for short documentaries showcasing the true, unique, extraordinary and inspiring stories of ordinary people was launched last Nov. 27 at the Ayala Museum. The event, dubbed the Istorya ng Pag-asa Film Festival (INPFF), was jointly organized by the Office of the Vice President (OVP) and the Ayala Foundation, Inc (AFI).
"With Istorya ng Pag-asa, we can change the conversation and build our nation with hope that transcends gender, social status, political party, religion or region, or business affiliation," VP Leni Robredo says. Ayala Foundation president Ruel T. Maranan believes that Istorya ng Pag-asa is truly a laudable project. "There is so much goodness around us. We just have to remain open and belong to the community of doers of hope. Be that story," he said.
Hope is a weapon
You shouldn't allow pessimism to get the better of you. Regardless of how life treats you, hope is the psychological trump card that will help you win. You can't always have power over what the world brings your way, but you're free to direct your ideas and attitude. This gives you the capacity and opportunity to rise above trials and tribulations.
Instead of getting swamped, you must move forward. Harness the power of a positive perspective and view bad events as transitory occurrences that are sure to be trailed by better times.
Hope springs eternal, but you cannot count on it to just happen. Dr. Charles R. Snyder declared, "Hope helps move you in the direction of your goals and ambitions. It pushes you to make hope a habit. Practice it like a professional athlete would, armed with a relentless discipline and a fierce determination to improve."
Hopefulness is the attitude of champions. Julia Cameron claimed, "You can't change history, but you can change your thinking. Behave the way you want to feel, and your overall experience gravitates toward alignment with your visible actions. You become what you pretend to be. It is not becoming a fake. It means taking care of yourself."
* * *
The deadline for submission of entries for the Istorya ng Pag-asa Film Festival is Feb. 25, 2018. Only online submissions will be accepted. Application forms and frequently asked questions (FAQs) can be found on the INPFF website: istoryangpagasa.ovp.gov.ph.
* * *
Email bongosorio@gmail.com for comments, questions or suggestions. Thank you for communicating.