Agri journalists awarded in virtual format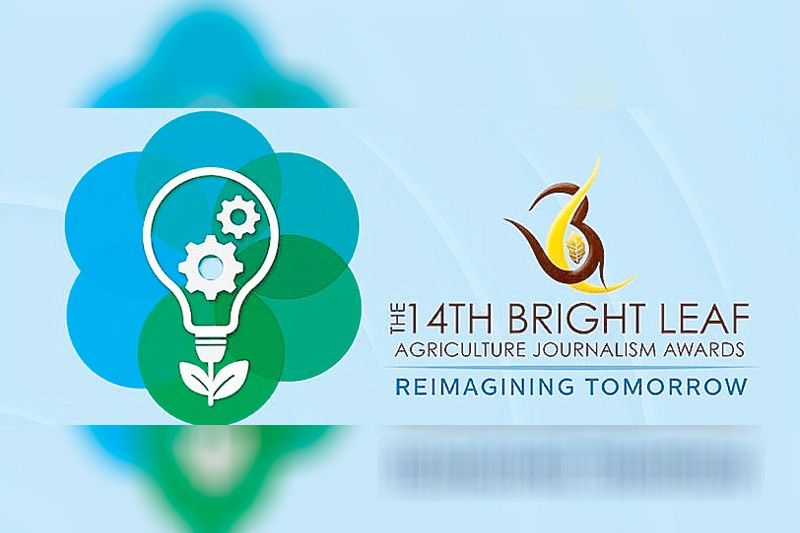 The prestigious Bright Leaf Agriculture Journalism Awards had to skip ceremonies last year due to the pandemic, but saw a revival for its 14th edition, with the awarding affair held as a noontime Zoom event on July 28.
Philip Morris Philippines sponsored the competition for the first three years starting in 2007, with PMFTC Inc. taking over in 2010. The inaugural edition drew less than a hundred entries, but this number grew constantly over the years, given the increased awareness about the national contest, with its handsome cash prizes supplemented by laptops and inclusion in a four-to-five-day sojourn in a neighboring Asian country.
This year, about 600 entries were received for the dozen categories involving photography, print, broadcast and online publication.
Louise Maureen Simeon of The Philippine STAR won for Agriculture Story of the Year with her piece titled "A Year Into Tarrification, Farmers Feel Worse Off."
Cai Ordinario of Business Mirror won for Best Tobacco Story with "Gold Leaf Farming Sector Still Searching for Own El Dorado." She won a second award, for Best Agriculture News Story National with "Pre- and Post-Rice Trade Liberalization Law, Big Traders Gaming Farmer Groups."
Erwin Mascariñas of Business Mirror won for Agriculture Photo of the Year with "Fish Drying," while Willie Lomibao of Sunday Punch (Dagupan) won for Tobacco Photo of the Year with "Ocean of Gold Leaves."
Karl Ocampo of Philippine Daily Inquirer won for Agriculture Feature Story National with "Movefood Serves Needs of Both Food Poducers, Consumers."
Poet-author Frank Cimatu of Baguio Chronicle won two awards, for Best Agriculture Feature Story Regional with "How Not to be Dumped in February: Notes on Tomato Dumping" and for Best Story in Tobacco Alternatives with "Philippine Tobacco Industry May Also Produce Our First Covid-19 Vaccine."
Erwin Nicavera of SunStar Bacolod won for Best Agriculture News Story Regional with "Urban Farming Gaining Ground Amid Pandemic."
Rose Malekchan of DZWT Kumpletos sa Rekados won for Best Agriculture Radio Program or Segment with "Polig Family Propagates Wild Berries."
Team MMPI of GMA Network Manila won for Best Agriculture TV Program or Segment with "Ati Arms to Farms — GMA Agripreneur."
Vina Medenilla of www.agriculture.com.ph won for Best Online Story with "An Agritourism Site Fosters Sustainable Agriculture Communities."
The prime winner was Business Mirror agriculture and commodities reporter Jasper Emmanuel Y. Arcalas, who was honored with the Oriental Leaf Award for winning his fifth regular award in different categories since 2017. He finally qualified for the Hall of Fame in 2019, but couldn't be inducted last year when BLAJA took a leave.
The judges included advertising and fashion photographer Francis Abraham, PDI columnist Rina Jimenez-David, PDI and bandera.inquirer.net columnist Jake Maderazo, Manila Times, Manila Bulletin and Business Mirror business columnist J. Albert Gamboa, Business Mirror digital content manager Ed Sallan, PDI photo editor Rem Zamora, UP Diliman College of Mass Communication associate dean and author Dr. Isabelita Reyes, UST Center of Creative Writing and Literary Studies assistant director and author Ralph Galan, and new additions Kristine Bersamin, managing editor for Philstar Global Corporation, and Yvette Tan, editor-in-chief of Agriculture Monthly Magazine and Manila Bulletin's Agriculture Section editor.
Emceeing the virtual format was TV and events host and automotive journalist James Deakin.
PMFTC president Denis Gorkun noted the appropriateness of the 2021 theme of "Reimagining Tomorrow" since "our agility to adapt and pivot were tested in this unprecedented global crisis."
PMFTC communications director Dave Gomez added: "Your stories are the stories that matter to us. Your eyes are our windows to our farmers' plight. Your masterpieces are a reminder of the industry concerns we should pay attention to."
As chair of the judges, this writer remarked:
"As we judged each piece, there were important questions we needed to ask ourselves. What is the deeper story to this stunning photograph? Does this story segment move me? Am I learning something new in this written piece? There was one ultimate bottom line that any storyteller must address; it's the question: 'Does it make me want to care?'
"Your photographs, articles and news segments should make us care about the farmers. Care about our environment. Care about crop sustainability. Does it make me care more for this industry that sustains us and the whole nation?
"Your stories serve as our connector. As meaningful reminders — opening our eyes to things and situations that would otherwise remain hidden from us. This is the deeper purpose of the Bright Leaf Agriculture Journalism Awards. And I'm always honored to be part of this year after year."