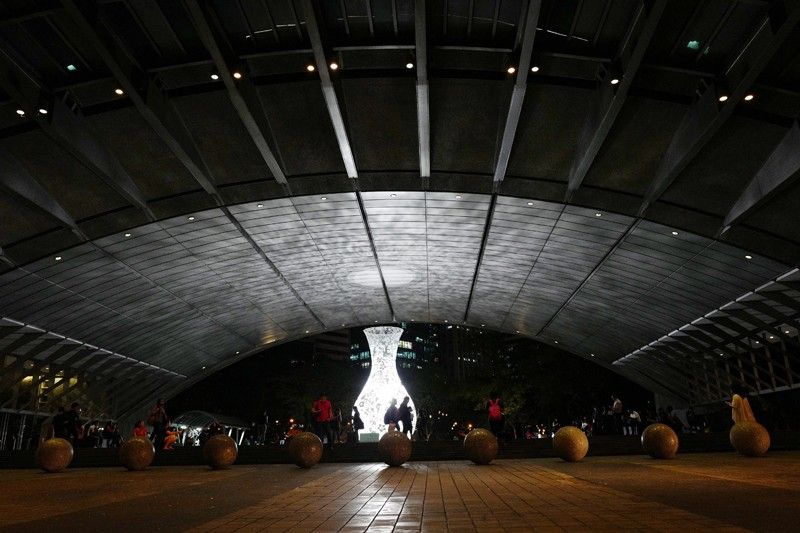 A journey through space and time with mind-blowing art: Art Fair Philippines has gone to where no other art fair has gone before from parking spaces
Love of Art and the Unexpected
Trickie Lopa
(The Philippine Star) - February 17, 2020 - 12:00am
MANILA, Philippines — Oscar Wilde decreed that to expect the unexpected shows a thoroughly modern intellect. One of those aphorisms that you shrug off — until the unexpected does happen to you. Then, you can only conclude that your intellect must actually dwell in the dark ages.
But another aphorism kicks in, about sitting back, taking stock, and all that. So when, as most followers of the country's art scene know by now, we found ourselves planning the eighth edition of Art Fair Philippines (AFP) lighter by a few galleries, I did stop to ask myself: why are you doing this again? And the answer to that is the same one that has guided all my involvements with art: I love art and I want others to love art just as much as I do.
Twelve years ago, in 2008, I started a blog called Snippets of The Manila Art Scene, with myself as the Manila Art Blogger. I did this because Art in the Park had introduced me to a circle of artists, collectors, gallerists and hangers on — the smallish coterie of what was then Manila's art crowd. Like any new enthusiast, I proceeded to try and learn as much as I could about this arena I found myself drawn to. But no matter what search engine I used (this was early days for social media; Facebook had just caught on, Twitter and Instagram still to germinate), I could hardly find anything at all about the fascinating pieces I saw at galleries and art spaces. So I decided to do the coverage myself.
I trekked to all the shows, from Fairview to BF Homes Parañaque, from Kamuning to Pasong Tamo Extension. I bought a camera just for art. I chased artists to sit them down about their work, to dissect their thoughts. At night, I tried to make sense of what they shared and pulled them together in my own words. I followed the art — to Beijing, Singapore, Hong Kong — ploughing my own resources to cheer on Pinoy galleries as art fairs sprouted around Asia. All these I dutifully documented, roughly every other day, week after week.
The blog lasted four years, until December 2012, right up to the eve of the first Art Fair Philippines. In its last six months, it averaged 500 views per day. Nothing at all compared to the hundreds of thousands of likes an Instagram post would now draw. Besides, with all the wonderful coverage that celebrates art and artists in today's Philippine press and throughout cyberspace, who would still need Manila Art Blogger?
And so, just like in any true romance, the love of art has taken on a different form, morphed into the beast that is Art Fair Philippines.
These past few weeks, with all the marketing efforts that inevitably come with the runup to the fair, we've taken the opportunity to underscore the fair's mission, the overriding belief that steers what we do, how we plan each edition of the fair. Art Fair Philippines is all about developing a local audience for the visual arts, for widening the exposure of our visitors to all its varied forms.
Yes, the fair is a commercial platform, and the Galleries section lies at its core. But because of the numbers we've managed to pull in year after year, we realize that we do have a role to play in educating our audience. And we're not just talking art appreciation. We didn't grow up with cultural events of this magnitude, and consequently, a good number of our visitors don't know how to behave around works of art. This educational opportunity even extends to the security providers we hire — the only experience they've had with large crowds probably happen during concerts and parties, when they need to keep people in line. They don't realize that a crowd that treks to immerse in art may require a softer approach. But how will you change mindsets if you don't provide the circumstances to do so?
I get that you can't expect everyone to buy into this goal, that the big picture could perhaps overcome other concerns. A gallerist told me, in good humor, that "the education of children does not concern me. I want to find good collectors for my artists, period." Point taken and accepted without rancor. An event the size of the fair can't always run smoothly. The art can be patchy. But should we turn into art snobs and keep the work of respected and critically recognized artists for the perusal of the few? How else will you elevate tastes and refine palates if we keep good art to just the insiders?
My own art education turned serious with what I saw and learned immersed as Manila Art Blogger. Hanging out at Tin-Aw while Mark Justiniani contemplated leaving painting behind to take his fascination with mirrors, lights, and anagrams further. Listening to Freddy Aquilizan go back to the first "Project: Another Country." Standing disconcerted over an expanse of Roberto Chabet's broken glass. Art Fair Philippines allowed this education to continue, most recently opening my eyes to photography, participating in one of David Medalla's early interactives, discovering Ray Albano. It felt good to have so many of our visitors sharing the awe.
In the end, I turned to another favorite English author for resolution. E. M. Forster in A Room With A View: "Take an old man's word; there's nothing worse than a muddle in all the world." Reiterating the fair's mission, especially to myself, made things simple, the way forward clear.
Just carry on.
Don't let the unexpected muddle your road.
* * *
Art Fair Philippines 2020 is from Feb. 21 to 23 at The Link Carpark Ayala Center Makati. Fair tickets can be purchased in advance at www.artfairphilippines.com. Tickets will also be available at the reception area of Art Fair Philippines from Feb. 21 to 23. For information, visit the Art Fair Philippines website and follow Art Fair Philippines on Instagram (@artfairph) and Facebook (www.facebook.com/artfairph).
Art Fair Philippines 2020 is co-presented by Ayala Land, Bank of the Philippine Islands, Globe Platinum, Hublot, and Julius Baer. The fair is also sponsored by AC Motors, Ayala Land Premier, Make It Makati, and Don Papa. Its official hotel partners are Fairmont and Raffles Makati, and Holiday Inn and Suites.
The Philippine STAR is a media partner of Art Fair Philippines 2020.