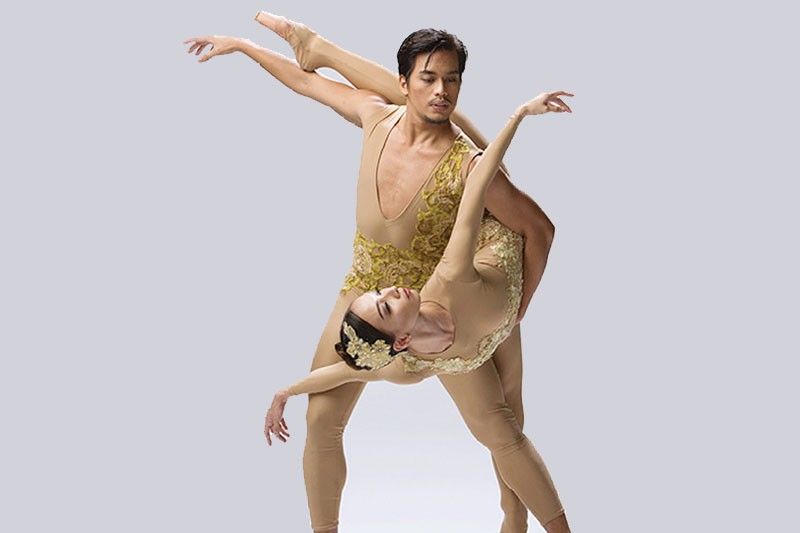 Magical evening: Ballet Philippines' A Midsummer Night's Dream will run from Oct. 11 to 13 at the Main Theater of the Cultural Center of the Philippines.
Ballet Philippines breathes new life into Shakespeare's 'A Midsummer Night's Dream'
Following the sold-out success of its golden-season opener, Swan Lake, Ballet Philippines offers William Shakespeare's A Midsummer Night's Dream as its second salvo in this year's 50th-anniversary season.
"It's surreal," says Ballet Philippines (BP) president Kathleen Lior-Liechtenstein. "Everything that you'll see in this ballet is out of this world."
Ballet Philippines tapped Hong Kong-based choreographer Carlo Pacis to reimagine The Bard's comedy of errors. Pacis, a now-retired senior soloist with the Hong Kong Ballet who won five Gawad Buhay awards for his 2013 production of A Midsummer Night's Dream for BP, put a neo-classical spin on the classic tale, breathing life into the magical tale of young lovers, fairies and sprites.
"I'm very excited to work again with Ballet Philippines, which is very close to my heart," Pacis says. "That's where I started ballet when I was six. I saw them on TV and copied everything they did."
Pacis says that it wasn't hard to tap into the plots and subplots of Midsummer. "First of all, I went to Makiling in high school, so I know the 'fairyland,'" he says. "And me being a dancer myself, having different layers of characters portrayed and choreographed for, that was really cool. Another thing was because I knew the cast. I had worked with them for three years before mounting the full-length ballet.
"Now, in terms of the music, the Mendelssohn score for A Midsummer Night's Dream is very short," he notes. "It's not long enough for full-length, evening ballet. So I borrowed from his other works."
Pacis hopes to make this production of A Midsummer Night's Dream even better than it was in 2013. "We're going to be revising, and fixing and it's a mountain of work. I'm scared but very excited about it."
Ballet Philippines principal dancer Denise Parungao will play the dual roles of Titania and Hippolyta, partnering for the first time with Ronelson Yadao as Oberon.
"Titania is queen of the fairies so she's in control of all the fairy scenes, and Hippolyta is (also a) queen, so I'm a diva in this production," she laughs.
"I'll be working side by side with my partner in crime, who is Puck," Yadao adds.
Both dancers started off as scholars with Ballet Philippines. "Then I was promoted to apprentice, then to junior member and to company member," Parungao says.
Liechtenstein says the heart of Ballet Philippines is the program STM: Share The Magic. A donation of P5,000 allows 100 street children from Tondo to come and watch the ballet for free. "So imagine if a corporate donor says, 'I have P100,000.' So we got in thousands last year; we had almost 8,000 Share The Magic children that got to watch ballet."
* * *
Ballet Philippines' A Midsummer Night's Dream will run from Oct. 11 to 13 at the CCP Main Theater. Tickets are available at Ticketworld (891-9999), the CCP Box Office (832-3704), Ballet Philippines box office (551-1003) or online at https://bit.ly/2OCgDnS. Enjoy 15 percent off when you use your RCBC credit card or Rustan's Frequent Shopper Program (FSP) and Beauty Addict cards to purchase tickets.